Illustration by Claudio Munoz, The Economist
This is merely a preliminary listing of ClimateGate items -- much more to be progressively added.
It has become obvious this archive was not "hacked" or "stolen" but rather is a file assembled by CRU staff in preparation for complying with a freedom of information request. Whether it was carelessly left in a publicly accessible portion of the CRU computer system or was "leaked" by staff believing the FOIA request was improperly rejected may never be known but is not really that important. What is important is that:
There was no "security breach" at CRU that "stole" these files
The files appear genuine and to have been prepared by CRU staff, not edited by malicious hackers
The information was accidentally or deliberately released by CRU staff
Selection criteria appears to be compliance with an or several FOIA request(s)
We have decided to host compressed archives of the hacked files and uncompressed directories you can browse online. Both are linked from the menu or you can simply point your browser to http://junksciencearchive.com/FOIA/
If you want to rummage through just the emails An Elegant Chaos has provided a search utility here, under constant development and improvement: Alleged CRU Emails - Searchable (An Elegant Chaos)
Advanced e-mail and document search (under development) (Your voice Matters)
Key Revelation: "we are no where close to knowing where energy is going"

Click here to see what we think is perhaps the single most significant scientific revelation yet in, uh, what are we calling it -- Warmergate, maybe? "Climategate" appears to be the preferred term.

On Oct 14, 2009, at 10:17 AM, Kevin Trenberth wrote:

Hi Tom
How come you do not agree with a statement that says we are no where close to knowing where energy is going or whether clouds are changing to make the planet brighter. We are not close to balancing the energy budget. The fact that we can not account for what is happening in the climate system makes any consideration of geoengineering quite hopeless as we will never be able to tell if it is successful or not! It is a travesty!
Kevin [My emphasis]

Seems very explicit, doesn't he? What possible context could change its meaning? Note, too, the recent date, long after the frequently cited Kiehl & Trenberth (1997) and subsequent revision (2008). This from the guy who claims we have a net surface absorption of 0.9 Wm2.

Why is this so important? It really invalidates climate models since they are allegedly driven by the global energy budget and how energy moves through the system. If we can not account for what is happening in the climate system we can not model it nor is there any basis for climate model "projections", "predictions" or whatever you want to call the fairytales released by Gore, the IPCC or anyone else.

John P. Costella has a preliminary analysis online, including excerpts from and links to the key emails here. Also an editorial explaining Why Climategate is so distressing to scientists (.pdf, December 10, 2009)
Announcing The Timeline, "ClimateGate: 30 years in the making"
Here's a Spectacular Poster of ClimateGate Covering 3 Decades
You have to see this to believe it. Look up close and admire the detail while you despair at how long science has been going off the rails. To better appreciate the past and what was exposed by the CRU emails, the Timeline chart consolidates and chronologically organizes the information uncovered and published about the CRU emails by many researchers along with some related contextual events. That the chart exists at all is yet another example of how skilled experts are flocking in to the skeptics' position and dedicating hours of time pro bono because they are passionately motivated to fight against those who try to deceive us.
Click on the image to see it enlarged, but download the full PDF to see the detail.
Download The PDF (788k)
Mohib Ebrahim has created this amazing document. I've produced a permanent Home page for this beautiful poster that will host the latest updates as a PDF. There are also printable versions in A4, A3, A2, US Letter and US Tabloid for those of you (like me) who need printed versions on which scribble, and scrawl exclamation marks.
and The ClimateGate Virus (Joanne Nova)
EDITORIAL: Biased reporting on Climategate - Associated Press coverage raises eyebrows
With trillions of dollars at stake in the battle over global warming, now would be the time for the press to closely scrutinize the claims of those who would reorganize the world's economy from farm to factory and laboratory to living room. And the Climategate scandal - where leaked e-mails and dodgy computer programs from the University of East Anglia raise powerful new questions about the role of politics in climate science - would be the perfect opportunity to explore what is going on behind the scenes.

That's not happening. To judge by recent coverage from Associated Press, the Fourth Estate watchdog has acted like a third-rate pocket pet. Case in point is an 1,800-word AP missive that appeared in hundreds of publications, many carrying it on the front page of their Sunday, Dec. 13 issue with the headline, "Science not faked, but not pretty." AP gave three scientists copies of the controversial e-mails and then asked them about their conclusions. The wire service portrayed the trio of scientists as dismissing or minimizing allegations of scientific fraud when, in fact, the scientists believe no such thing. (Washington Times)
Links to everything about Climategate here. Relevant links posted in comments will be added.

WUWT Stories in chronological order, newest first: (Watts Up With That?)
The IPCC Climategate investigation
There has been some interest expressed in the comments to the last posting as to when and where the IPCC will get around to completing their investigation into Climategate. A correspondent had sent me an interesting link that seemed to suggest that in fact there was to be no investigation - at least not into the actions of the Hockey Team: (Bishop Hill)
Good Science, Bad Politics - 'Climategate' reveals a concerted effort to emphasize scientific results useful to a political agenda.
"Frankly, he's an odd individual," a well-known climatologist wrote about me in a private e-mail to a friend in the U.K. On this, we agree—I am an odd individual, if by that we mean a climatologist whose e-mails would not document a contempt for such basic scientific virtues such as openness, falsifiability, replicability and independent review.

The colleague is a member of the CRU cartel—the influential network of researchers at the University of East Anglia's Climatic Research Unit and their colleagues in the U.S.—whose sanctum was exposed last month when a whistleblower or hacker published e-mails and documents from the CRU server on the Internet. What we can now see is a concerted effort to emphasize scientific results that are useful to a political agenda by blocking papers in the purportedly independent review process and skewing the assessments of the U.N.'s Intergovernmental Panel on Climate Change (IPCC). The effort has not been so successful, but trying was bad enough. (Hans von Storch, WSJ)
THE Climategate scandal continues to unfold. The thousands of emails leaked to the internet from the Climate Research Unit of the University of East Anglia reveal a tight-knit, influential group of scientists whose attitude to their profession is, to say the least, distorted.

It seems that a religious belief in disastrous climate change has destroyed their common sense and their appreciation of what is the appropriate way to carry out research. (Garth Paltridge, The Australian)
Climategate: Michael Mann's very unhappy New Year
As I said yesterday, one of our jobs this year is to wipe the complacent smiles off the smug faces of the lobbyists, "experts", "scientists", politicians and activists pushing AGW.

This is why I am so glad to report that Michael Mann – creator of the incredible Hockey Stick curve and one of the scientists most heavily implicated in the Climategate scandal – is about to get a very nasty shock. When he turns up to work on Monday, he'll find that all 27 of his colleagues at the Earth System Science Center at Penn State University have received a rather tempting email inviting them to blow the whistle on anyone they know who may have been fraudulently misusing federal grant funds for climate research.

Under US law, regardless of whether or not a prosecution results, the whistleblower stands to make very large sums of money: it is based on a percentage of the total government funds which have been misused, in this case perhaps as much as $50 million. (Hat tip: John O'Sullivan of the wonderful new campaigning site www.climategate.com) (James Delingpole, TDT)
Hide the decline – new Jones station data file from 1999
While discussing Darwin data I was pointed to this file master.dat.com in the FOIA(leaked ClimateGate file) documents folders. I was amazed to find the 14MB file is in fact the Jones et al 1999 station data – another gem from FOIA.

So this is a considerable step forward in our uncovering of Jones et al station data – the previous most recent Jones station data I had was the much expanded Jones 1994 data. (note the 1996 update has few stations). (Warwick Hughes)
Jones & Moberg 2003 – ~$10Mill worth of landmark IPCC climate research – now struck out at CRU
This CRU webpage where you can still download the CRUTEM3 datasets reveals the stunning fact that they no longer include the landmark paper Jones & Moberg 2003 in the list of references.

Instead, to keep their "chain of evidence" alive the CRU-Meisters now jump back to Jones et al 1999. (Warwick Hughes)
A Response to Mike Mann's Washington Post Op-ed
On December 18th, the Washington Post ran an op-ed by Penn State's Dr. Michael Mann—a central figure in the Climategate emails—arguing that the content of the released email "doesn't alter evidence for climate change."
But Dr. Mann is only coming at this from one side of the issue—that of the contents of the peer-reviewed literature. However, the Climategate emails contain ample evidence that the contents of the scientific literature were being influenced by an small group of researchers who sought to suppress 'bad' science—that is, science that they personally didn't like. This is not the way things are supposed to work and has an unknown, but potentially large impact, which makes it virtually impossible to make valid assessments of the "evidence for climate change" based on the contents of the extant scientific literature.
An article posted at the new blog from the Science and Public Policy Institute discusses this situation in a bit more detail and includes a letter-to-the-editor that never made its way into print at the Washington Post that makes the point that contrary to Dr. Mann's assertions, the Climategate emails reveal that it is not so much what is in the literature that is important, but what is not in the literature.
And this situation represents a true disservice to climate science at large. (WCR)
Message 'handled' by Fenton Communications? Climate expert in the eye of an integrity storm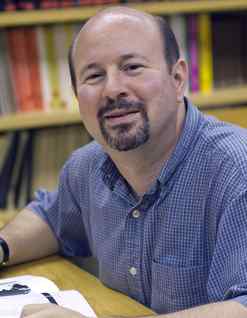 picture GREG GRIECO
Michael Mann has been assailed by critics and subjected to three probes. A bounty has been offered to anyone who can link him to fraud.
STATE COLLEGE, Pa. - Michael Mann switched from physics to climate science back in graduate school because he thought climate offered a better chance to work "on a frontier."

He got his wish, and now, as the director of Pennsylvania State University's Earth System Science Center, he has experienced an aspect of frontier life more like the Wild West - a bounty on his head.

After dozens of Mann's personal e-mails were hacked in November, the tenured professor has been called a fraud, a clown, and worse by columnists and bloggers.

Irate citizens complained to a Pennsylvania state senator, who demanded that the university conduct a probe into Mann's scientific integrity. That inquiry is ongoing.

This is hardly Mann's first review. His work has been the subject of at least two major investigations by outside experts.

And last week, a message went around his department at the university, notifying everyone that a whistle-blower could make up to $12 million by uncovering fraudulent use of federal grants. One blogger gloated that the offer would lead to Mann's having "a very unhappy new year."

Though he has been accused of dodging the press, Mann, 44, agreed readily to an interview on a bitterly cold day last week. The campus was deserted, as almost everyone was away for winter break. Mann was affable and calm as he answered the assertions of his critics.

The hardest part for him, he said, is having his integrity questioned. Scientists, he said, are "not trained to deal with these kinds of attacks."

"My suspicion is, this has been orchestrated at a high level," he said of the hacking. (Faye Flam, Philly Inquirer)
Mann-erisms: Where did we get that idea?
Guest post by John A
It's always a difficult place for me to deal with interviews with Michael Mann, because on previous occasions Mann gets to say ridiculous things and get praised for them by fawning interviewers. One of the great mysteries of climate science is why Mann never gets interviewed by an informed and intelligent interviewer in command of the facts – or maybe it isn't such a mystery after all.
Today's journalistic pulpit was provided by "Faye Flam" and published on Philly.com
For openers, Mann hasn't lost his touch for the paranoid conspiracy theory:
Though he has been accused of dodging the press, Mann, 44, agreed readily to an interview on a bitterly cold day last week. The campus was deserted, as almost everyone was away for winter break. Mann was affable and calm as he answered the assertions of his critics.

The hardest part for him, he said, is having his integrity questioned. Scientists, he said, are "not trained to deal with these kinds of attacks."

"My suspicion is, this has been orchestrated at a high level," he said of the hacking.
What? Where? This is Michael Mann, famous for questioning the integrity of others (especially if their surname begins with "Mc") in the most lurid terms yet when he's caught out orchestrating boycotts of scientific journals, journalists and scientists who dare peek at his data and methodology, undermining and subverting the whole scientific process, it's all a big conspiracy.
Now I have to reach for the Mylanta: Read the rest of this entry » (WUWT)
Peer-to-Peer Review: How 'Climategate' Marks the Maturing of a New Science Movement, Part I
How a tiny blog and a collective of climate enthusiasts broke the biggest story in the history of global warming science – but not without a gatekeeper of the climate establishment trying to halt its proliferation.
It was triggered at the most unlikely of places. Not in the pages of a prominent science publication, or by an experienced muckraker. It was triggered at a tiny blog – a bit down the list of popular skeptic sites. With a small group of followers, a blog of this size could only start a media firestorm if seeded with just the right morsel of information, and found by just the right people. Yet it was at this location that the most lethal weapon against the global warming establishment was unleashed. (Patrick Courrielche, Big Journalism)
Houston's Climate Debate (Hundreds respond to Neil Frank's Op-Ed, 'Climategate: You Should Be Steamed')
My recent post at MasterResource, Climategate: Here Comes Courage!, has been picked up in the blogosphere (such as at WattsUpWithThat) and has received several thousand views at MasterResource.
In my post, I profiled three individuals in the Houston area who in the post-Climategate environment have spoken up more forcefully against climate alarmism:
Dr. Neil Frank (a former director of the National Hurricane Center in Miami and a weather forecaster at KHOU-Channel 11 in Houston);
Michelle Michot Foss, an internationally respected energy economist with the University of Texas at Austin and the past president of both the U.S. Association for Energy Economics (2001) and the International Association for Energy Economics (2003); and
Peter Hartley, the George and Cynthia Mitchell Chair in Sustainable Development and Environmental Economics, and Professor of Economics, at Rice University.
Neil Frank's op-ed generated hundreds of online comments, and hundreds more views, with support being overwhelmingly positive (see for yourself). A number of comments are very appreciative of the Houston Chronicle for having published Frank's piece given the editorial position at the paper as New-York-Times alarmist. (A number of readers also take the opportunity to fuss that their hometown paper is so one-sided.) And I must add my frustration: the editorial board's jump from 'market failure' to government activism (support of cap-and-trade, etc.) as if there were not 'government failure' in the 'correction.' Political economy, anyone? [Read more →] (Robert Bradley Jr., MasterResource)
Pachauri in a spot as climategate hits TERI
Rajendra K. Pachauri, chairman of UN's Nobel Peace Prize-winning Intergovernmental Panel on Climate Change (IPCC), had advocated emission reductions at the recently concluded Copenhagen Climate Summit.

But back home in India, he seems to be failing to uphold standards of propriety in his professional dealings.

During his tenure, first as director from 1982, and then as director-general of The Energy Research Institute (TERI) since 2001, Pachauri was a member of the boards of the Oil and Natural Gas Commission (ONGC), Indian Oil Corporation (IOC) and National Thermal Power Corporation (NTPC), three of India's biggest public sector energy companies, all of whom by the very nature of their business contribute heavily to greenhouse gas emissions. These emissions, according to the IPCC, are adding to the country's growing carbon footprint and hastening climate change.

TERI, in fact, entered into business dealings with these companies and allegedly benefitted from Pachauri's association with them. Pachauri's dealings have also been noticed by the international media. Recently, the Sunday Telegraph of London had accused him of amassing a fortune using his links with carbon trading companies. Pachauri dismisses the report as "a pack of lies". (India Today)
Richard North's revelations about Rajendra Pachauri, now apparently going under the monicker of "Patchygate", have been delayed due to bad weather - really!
That said, they should be worth waiting for:
We have some stunning revelations to make – we have clearly landed some blows and there are white flags flying in certain quarters, with "Patchy", as he likes to call himself, squealing with indignation about a "vendetta."
(Bishop Hill)
Climategate: Glantz versus Chase
UPDATE: Mickey points me to the comment thread related to his article which he characterizes as "tongue in cheek" -- I've copied a few of Mickey's additional comments below.

Mickey Glantz is a longtime friend and mentor. A few days ago he had this letter in the Boulder Daily Camera, based on a posting at his new blog:
Let`s be honest. We have all said things on e-mail ranging from serious to silly to stupid. We have all sent curt responses based on the fact that those receiving it understand the context of the abbreviated message. I am not condoning or excusing the sometimes dumb, sometimes uncaring and sometimes deceptive comments that have appeared in the so-called "Climategate" so-called "scandal." That situation will be sorted out by others, most likely investigative committees. Yes, the e-mails were illegally hacked. Nevertheless, they are now public. So, the public will read them and they have through the media. E-mailing has its consequences.

There is no question in my mind that the integrity of both the scientists and of e-mail security has been damaged. Others will assess that level of impact. But here I want to call for a level playing field. It`s a good faith challenge to the climate skeptics who are using "climategate" (also called "emailgate") to discredit the science of climate change, though they cannot discredit the impacts of a changing climate on people today and in the future.

I call upon the climate change skeptics ---- political, scientific and media ----to share with the world a block of their unbroken, years-long chain of e-mails about climate change. I am asking them to do this on a voluntary basis in order to show us that they are super human and do not share the human frailty of "loose lips" that the rest of humankind is subject to.

Doing so would provide outsiders an even broader context in which they can evaluate the content of the e-mails that had been hacked and released from the Climate Research Unit (CRU) at the University of East Anglia (involving scientists at Penn State and at NCAR). Let society be the judge about the words and motives of all involved in the climate change issue at the political, scientific and media levels, and let society be the judge on the merits of the finding and interpretation of the science of climate change.

After all, isn`t turn about fair play? Or what is good for the goose should be good for the gander as well, no?
In response, Thomas Chase, a professor and climate modeler at the University of Colorado (and former student of one Roger Pielke, Sr. and a valued colleague of mine at CIRES here at CU) had this letter to the editor, published yesterday:
Michael Glantz offers an interesting challenge to climate scientists whose opinions differ from the party line ("Skeptics, show us your e-mails"). I am one of those scientists. This is, however, an impractical challenge because there is no way to remove all personal information involving one's self and countless others.

However, because I teach and do climate research at the University of Colorado, I do assume all my e-mails are the property of the Colorado State Government and if necessary could be examined in depth by the appropriate officials. I am confident that there would be no e-mails, even if "taken out of context," which would indicate (as the Climatic Research Unit e-mails do) that I was trying to rig the peer review process or trying to keep contrary information out of international summary documents. But these are relatively minor issues.

The real challenge to all scientists is to actively challenge the validity of their conclusions by seeking and supporting independent reproduction of their results. This is the foundation of science: intellectual self-criticism. The single biggest scandal revealed in the emails from the Climatic Research Unit is the lengths they went to refuse outside requests to make data and methodology available over the course of years including discussions about resisting Freedom of Information Act requests. Something like this would never show up in my e-mails. I have always enthusiastically aided anyone trying to reproduce or refute my results.

That the work produced by the Climatic Research Unit is not completely and independently reproducible because the data and methods were actively hidden from public scrutiny indicates that whatever was occurring over time at the Climatic Research Unit, it was never related to science.
It is nice to see a few fresh voices entering this discussion. Climate science will be better for it, wherever you stand on the issues.

UPDATE

Some additional comments from Mickey from the Camera comment thread:

I agree that there is an arrogance of climate science. i worked with them for 34+ years. i refused to work on the ipcc after the first one in 1990 because of politics of scientific information and manipulation. BUT, i have come to believe in various ipcc findings about global warming. i know the naysayers and later called skeptics (and now a.k.a. deniers). my concern is how to get back to objectivity -- AND civility --- on the part of both sides. I fear it is not possible. science suffered from the exposure of these emails but i fear the scientific establishment instead of improving the waay it operates, made a circle with the wagons to protect itself rather than correct itself.
(Roger Pielke Jr)
Leaked maybe, hacked, no: Police extremist unit helps climate change e-mail probe
A police unit set up to support forces dealing with extremism in the UK is helping investigate the leaking of climate change data in Norfolk.

In November it was revealed that the computer server at the Climate Change Unit at the University of East Anglia had been hacked and e-mails leaked.

An inquiry was started by Norfolk Police.

Now it has been revealed the force is getting help from the National Domestic Extremism Unit, based in Huntingdon.

A spokesman for the unit said: "At present we have two police officers assisting Norfolk with their investigation, and we have also provided computer forensic expertise.

"While this is not strictly a domestic extremism matter, as a national police unit we had the expertise and resource to assist with this investigation, as well as good background knowledge of climate change issues in relation to criminal investigations." (BBC)
A British government department, DEFRA, has paid taxpayers' money to a British University which in turn paid it to the British subsidiary of an Indian research organisation, which in turn seems to have paid it to a New Zealand university scientist so that he could work for an international organisation based in Geneva – the IPCC.

Welcome to the bizarre world of climate change politics, where nothing is what it seems and governments indulge in behaviour which, in other circumstances, would look very much like money laundering. But, bizarre though it might appear, this is only half the story. The reality is even more convoluted - the word "bizarre" doesn't even begin to describe it.

The tale emerges from our trail of the millions salted away by climate change "hero" Rajendra Pachauri, and the role of TERI Europe, his outpost of Empire in London. (Richard North, EUReferendum)
But only in a Crecy (1346) way rather than an Agincourt (1415) way – which is to say we've got an awful long way to go before this war's over.

Still, I do think we evil Climate Change Deniers can take heart from this characteristically incisive piece by Brian Micklethwait at the libertarian/classical liberal website Samizdata. (Hat tip: Richard North). (James Delingpole, TDT)
Candidates Who Invoke 'Climate-gate' Could Get Boost in 2010
Climate-gate could further complicate the re-election prospects of congressional representatives from industrialized states who are already playing defense over the economic costs of climate change legislation.

Thousands of emails leaked to the Internet from the Climate Research Unit (CRU) of the University of East Anglia in the United Kingdom appear to substantiate a growing body of research that questions the idea of man-made global warming. Climate-gate has the potential to emerge as an unexpected gift to Republican candidates in this year's midterm elections. But there's the rub.

With the exception of Sen. James Inhofe (R-Okla.), and a handful of other elected officials, Republicans have been reticent to engage and debate the dubious claims of human induced global warming, laments Steve Milloy, editor and founder of JunkScience.com.

"Too many of them don't understand the issue and the extremism that stands behind green activism," he observes. "They are afraid of being labeled as anti-environment and are just not well-equipped or well informed enough to confront policies that could result in an unprecedented expansion of government power."

At the very least, 2010 Republican challengers could invoke the email scandal to demonstrate how research has been falsified and distorted to advance a political agenda at odds with the economic well-being of many Americans. This in turn could open the way to a larger discussion of global warming science and the role of the United Nations. (Kevin Mooney, Big Government)
Introduction
The release of embarrassingly candid emails from the Climate Research Unit (CRU) of the University of East Anglia has intensified, if not vindicated, suspicions that scientific misconduct has played a significant role in fueling alarmism over supposed catastrophic manmade global warming.
Just days after news broke about what has been dubbed "Climategate," Penn State University (PSU) announced that it would investigate the conduct of Michael Mann, a professor in PSU's Department of Meteorology and a prominent figure in the Climategate emails.
While PSU is to be commended for recognizing that Climategate is a serious matter and that an investigation into Michael Mann's conduct is warranted, the investigation constitutes a conflict of interest for the university. Mann's climate work brings enough visibility, prestige, and revenue to PSU to legitimately call into question the university's ability to do a thorough and unbiased investigation.
To avoid this glaring conflict of interest and ensure that the investigation of Mann is credible, the Pennsylvania General Assembly should commission an external and independent investigation into Mann's potential scientific misconduct.
To download the full PDF version, please
click here
(Commonwealth Foundation)
Penn State at Center of Global Warming Debate
Harrisburg, Pa. - The debate over global warming has raged across the planet, but the epicenter the past few months has been Penn State, where a researcher is accused of fraud and perpetuating a hoax. He and the school are now feeling the heat.

Penn State professor Michael Mann is globally known for his research on global warming. His work concludes that temperatures rose in the 20th century largely because of man. But recently released private e-mails suggest Mann - the researcher - overstated the impact of man - the species - on climate change, and then tried to cover it up.

"The e-mails suggest that he has bullied critics, he has destroyed data, that he has engaged in behavior not becoming of a true academic in pursuit of accuracy and truth," said Matt Brouillette of the Conservative Commonwealth Foundation. He's called for lawmakers to independently investigate Mann before enacting policies partially based on his research.

"We need to make sure that Michael Mann has not been cooking the books and giving skewed data," he said.

Penn State is investigating. But Stephen Bloom, a Cumberland County attorney and Penn State graduate, says an internal inquiry isn't enough.

"Penn State has such a vested interest in keeping the big research dollars that are flowing in as a result of global climate change research they're doing now," said Bloom. "It's hard to imagine how Penn State can truly take an independent look at the situation." (Dennis Owens, ABC News (WHTM))
Peer-to-Peer Review (Part III): How 'Climategate' Marks the Maturing of a New Science Movement
PART III – A global warming skeptic receives the leaked files from an anonymous "Deep-Climate" insider. Release of files exposes gatekeeping and leads to the maturing of a new science movement – that of peer-to-peer review. Last in a series. Please click for Part I and Part II.
Few outside the climate skeptic circle have ever heard of Steven Mosher. An open-source software developer, statistical data analyst, and thought of as the spokesperson of the lukewarmer set, Mosher hasn't made any of the mainstream media outlets covering the story of Climategate. But make no mistake about it – when it comes to dissemination of the story, Steven Mosher is to Climategate what Woodward and Bernstein were to Watergate. He was just the right person, with just the right influence, and just the right expertise to be at the heart of the promulgation of the files. (Patrick Courrielche, Big Journalism)
Pachauri's Conflicts of Interest
When causes are popular it can be uncomfortable and inconvenient to realize that experts who render politically desired advice have potential conflicts of interest. Perhaps this helps to explain why investigative journalists (with only several exceptions), especially those who cover science, have turned a blind eye to the obvious and egregious conflicts of interest present in the case of Rajendra Pachauri, head of the IPCC. The longer this issue is allowed to percolate in plain view, the worse the outcome will be for the scientific community and perhaps also those whose job it is to hold experts accountable to basic standards of conduct.

In India on Sunday, the paper India Today had a detailed and hard-hitting story on Dr. Pachauri's conflicts of interest, revealing some very interesting new details and responses. The paper received a response from Dr. Pachauri which includes the following statement about the organization that he leads, TERI:

TERI is a not-for-profit organisation working for the welfare of society and its revenues cover costs and provide no private benefit to any party.
India Today notes that this response seems "untenable." They are correct. The existence of a conflict of interest does not depend upon what TERI chooses to do with the resources that it receives from interests who are direct beneficiaries of its advice.
A story last month in a newspaper focused on Indian business
chronicled on the rise of "TERI, Inc." The story explains that TERI is deeply involved with a wide range of for-profit enterprises, from which it benefits a great deal:
Banwari Lal has a problem with the numbers. He holds a PhD in microbiology and six or seven patents jointly with The Energy and Resources Institute (Teri), but he can't seem to figure out what will Teri's share of the profits be if it wins — it is one of the 60 bidders globally — a Kuwaiti government contract to clean up its oil spills. Along with a local partner who has a 40 per cent share, the contract will be executed by ONGC-Teri Biotech, a 49:48 joint venture whose CEO is Lal (he also heads the Environmental and Industrial Biotechnology Division of Teri). . .

The project involves cleaning up an 80x80 km area in Kuwait and is likely to cost around $3 billion. That's right, three billion dollars. Kuwait got this money from the United Nations as compensation after Iraq damaged its wells in the first Gulf War. The contract will be awarded in January.
The Kuwait project is just one of many enterprises that TERI is invested in:
Lal has got two joint ventures to help Teri make money, his neighbour Alok Adholeya (he has been with Teri for 23 years as compared to Lal's 21) has five licensees doing the same. Adholeya, who received his PhD from Govind Ballabh Pant University, heads the Biotechnology and Bioresources Division. He says his brief after he joined Teri was to create a bank of microbes that could help plants grow better. . .

Teri gets a 5 per cent royalty on all purchases and Rs 25 lakh in technology-transfer fee. Different species of mycorrhiza, Adholeya says, are being used to clean up ash ponds in thermal power plants, distilleries and so on. Talks are on with various mining companies to use the bio-mining microbes (this helps get the minerals out without damaging the environment). A joint venture for jatropha cultivation has been set up with a German company after an R&D project with British Petroleum on jatropha ended.

Saving carbon emissions
Another eight companies have been licensed to sell or implement Teri's biomass gassifiers which convert plant and wood residue to gas that drives an alternator to produce electricity. If an Australian government-funded project to develop a solar biomass-based cooling system works out, this too will convert into a series of licences. Eighty to 90 glass units in Firozabad near Agra use Teri's pot furnace and several brick kilns use its vertical shaft brick kiln. According to Teri, its technologies helped the medium- and small-scale sector save around 350,000 tonnes of carbon emissions last year.

A books division has a turnover that's already up to Rs 4 crore doing children's and other books. It plans to do college textbooks by next year and the "Soldiers of the Earth" global environment programme has actor Akshay Kumar offering ideas for attractive comic books.

Whatever the outcome of the Kuwait project, with so many commercial projects coming out of its R&D work on a regular basis, it is clear Teri is no longer your run-of-the-mill, though successful, policy institute.
If you read that last part closely you'll see that TERI is involved with reducing carbon dioxide emissions. In fact, it is a
key player in the Clean Develop Mechanism
of the Kyoto Protocol. If you connect the dots -- and there aren't many to connect -- you will quickly see that as Director of TERI Rajendra Pachauri's advice through the IPCC and his platform provided by the IPCC on climate change and carbon trading has direct and significant benefits to his own institution. These benefits find their way through a wide range of for-profit enterprises. So when Dr. Pachauri is advocating carbon trading -- a policy doomed to fail if one ever was -- his recommendation will lead to direct and significant benefits to the institution that he directs. Uncomfortable and inconvenient.
The situation is no different than would be the case if the head of a government advisory panel on drugs for heart disease were to recommend that everyone take Acme Pills for heart disease, while at the same time his research center would be the direct financial beneficiary of projects carried out in conjunction with Acme Pills, their suppliers and partners. In such a case the conflict of interest would have nothing to do with the benefits of Acme Pills, the importance of treating heart disease or the integrity of the science advisor. Such situations are of course why conflict of interest guidelines are developed in the first place, and one important reason is to maintain a sense of integrity and trust in advisory processes.
There is no problem with profit, enterprise or investment. There is a serious problem of rendering advice when that advice has a direct influence on money that one's organization receives. Isn't this fairly obvious? Do some people actually believe that the case for action on climate change will be made stronger by looking the other way when climate science advisors have conflicts of interest? Is it possible that climate science will be stronger by holding scientists to well-accepted standards of behavior? If Dr. Pachauri was an advisor on pharmaceuticals, and had parallel interests in drug companies, I'm pretty sure that he wouldn't be getting a free pass.
There is more to discuss. Such as how a venture capital firm associated with Al Gore invested $10 million in a company founded by Dr. Pachauri. TERI was also a primary investor in the company. The company -- the aptly named Glorioil -- is focused on getting even more oil out of seemingly spent wells. The Waxman-Markey cap-and-trade bill references enhanced oil recovery as a potential opportunity for offset credits. Would Glorioil's technology qualify? I don't know (and neither does anyone else, as that is all to be determined, and Glorioil's various technologies are mostly out of sight). Given the various shenanigans associated with cap and trade it is not too much of a stretch to think that it could. Is it worth looking into? Seems like it. But I've already see enough.
The sum total of the above signifies that at a minimum climate science needs to set forth and follow basic standards of conflict of interest. Otherwise, the apparent anything-goes approach is giving opponents of action to address accumulating carbon dioxide emissions plenty of legitimate material to work with. Journalists and others who turn a blind eye are their unwitting allies. (Roger Pielke Jr)
Pachauri: money laundering? Part II
Government projects costing respectively £1,436,162 and £30,417 miraculously shrink when MPs are formally told about them, to become a mere £543,816 and £5,800 – "losing" nearly a million pounds in the process.

Welcome to the second instalment of our look at the bizarre world of climate change politics, where nothing is what it seems and governments indulge in behaviour which, in other circumstances, would look very much like money laundering.

In our first piece, we introduced a new character to our growing cast of players – a certain Dr Andrew Reisinger. For his pivotal role in furthering the ambitions and interests of one R K Pachauri, he ought perhaps to be better known than he is.

We can see these two figures together – or at least at the same venue – on 8 November 2004, where they were both at the 32nd Session of the IPCC Bureau, held in Pachauri's adopted home town of New Delhi – a city which Reisinger was to get to known extremely well.

It was at that meeting, way back in 2004, that Pauchauri presented the Bureau with his "final proposal on scope and content of an AR4 Synthesis Report (SYR)." His outline was complete with "Options for a schedule for preparing an AR4 SYR and for managing the process, including resource implications."

Throughout the proceedings, Andy Reisinger was there on behalf of the New Zealand government, styling himself as belonging to the Climate Change Office, Ministry for the Environment. He was, however, doubtless fully attendant on the man who was a few years hence to become his boss and co-worker, Dr Pachauri.

The opportunity for Andy to jump ship was created the following year in Montreal when between the 26-28 September 2005 the full IPCC met in its 24th Session to discuss a report, submitted by Pachauri on the "Management plan for the AR4 Synthesis Report."

It says something of the persistence if Pachauri that the issue had already been raised at the 23rd Session of the IPCC held in Addis Ababa on 8 April 2005 (at which Reisinger was again present), when "progress" had been made. (EU Referendum)
NZ scientist at centre of Pachauri allegations refuses to talk
The New Zealand climate scientist named in a British news article headlined "Pachauri: Money Laundering?", is today refusing to talk to the news media about the allegations. (The Briefing Room)
Taxpayers' millions paid to Indian institute run by UN climate chief
Millions of pounds of British taxpayers' money is being paid to an organisation in India run by Dr Rajendra Pachauri, the controversial chairman of the UN climate change panel, despite growing concern over its accounts. (TDT)
The curious case of the expanding environmental group with falling income
When Douglas Alexander travelled to New Delhi last September to announce Britain was presenting £10 million to the Energy and Resources Institute (TERI), standing alongside him was an imposing, bearded figure. ( Christopher Booker and Richard North, TDT)
IPCC and Conflict of Interest: Anything Goes
The Sunday Telegraph has an interesting story on TERI-Europe and Rajendra Pachauri, chairman of the IPCC, uncovering what TERI admits are accounting "anomalies" -- never a good thing to hear when financial accounting is concerned. I will have more to say on that, but in this post I'd like to focus on a very interesting statement in the article on the UN and IPCC policies for conflict of interest:

Because Dr Pachauri's role at the IPCC is unpaid – although he does receive tens of thousands of pounds in travel expenses – he is exempt along with other panel members from declaring outside interests with the UN.
As far as I have been able to discern, the IPCC has no policy governing conflict of interests. This is remarkable, given the importance of the IPCC to international climate policy as well as the importance that has been given in recent years to conflicts of interest in scientific advice. The question that needs to be put to the IPCC is: why should it be exempt from adhering to conflict of interest policies that are deemed appropriate in every other important area of scientific advice?
Last month I posted up the standards of conduct regarding conflict of interest
for the IPCC's parent bodies: the United Nations and World Meteorological Organization. Based on what the Sunday Telegraph has reported the leadership of the IPCC falls through a bureaucratic loophole and is not accountable to UN or WMO conflict of interest policies. In fact, it appears that there are no such policies governing the IPCC -- which is remarkable.
Instituting such policies will be difficult as any reasonable conflict of interest policies will necessarily lead to some very uncomfortable questions about its current chairman, as well as others in leadership positions. There is no doubt based on publicly available information that Dr. Pachauri has material conflicts of interest as IPCC chair. At the same time, unless the IPCC sets forth such policies, it will continue to hang exposed like a virtual piñata, getting whacked repeatedly and justifiably for its "anything goes" approach. For the IPCC the better course is to clean up its act sooner rather than later, as uncomfortable as that might be in the short term. (Roger Pielke Jr)
Global Warming: The Other Side
EXCLUSIVE INFORMATION FROM KUSI ABOUT GLOBAL WARMING AND THE KUSI SPECIAL REPORT, GLOBAL WARMING: THE OTHER SIDE
KUSI meteorologist, Weather Channel founder, and iconic weatherman, John Coleman explains the science and controversy surrounding Global Warming
Is civilization doomed because of man-made global warming? You've been told your carbon footprint could lead to skyrocketing temperatures, melting ice caps, dying polar bears and "superstorms."
Click below to watch each segment of the KUSI Special Report, Global Warming: The Other Side
NASA has issued the following statement in response to the KUSI Special Report. This statement is from Dr. James Hansen, Director of the NASA Goddard Institute for Space Studies in New York City:
"NASA has not been involved in any manipulation of climate data used in the annual GISS global temperature analysis. The analysis utilizes three independent data sources provided by other agencies. Quality control checks are regularly performed on that data. The analysis methodology as well as updates to the analysis are publicly available on our website. The agency is confident of the quality of this data and stands by previous scientifically based conclusions regarding global temperatures." (GISS temperature analysis website: http://data.giss.nasa.gov/gistemp/) (KUSI)
The Fourth Estate and Uncomfortable Questions
Today's NY Times has a timely column by its Public Editor, Clark Hoyt, on conflicts of interest among sources used in news stories and who publish on the NY Time op-ed pages. The column details recent instances where financial interests were not disclosed (either to the NYT or to its readers). Hoyt notes:
These examples have resulted in five embarrassing editors' notes in the last two months — two of them last week — each of them saying readers should have been informed of the undisclosed interest. And on Thursday, the standards editor sent Times journalists a memo urging them to be "constantly alert" to the outside interests of expert sources. The cases raised timeless issues for journalists and sources about what readers have a right to know and whose responsibility it is to find it out or disclose it.

The ideal expert source is entirely independent, with no stake in an outcome. But in reality, the most informed sources often have involvements, which is why they know what they know. Readers are entitled to disclosure so they can decide if there is a conflict that would affect the credibility of the information.
A search of the NYT archives over the past 12 months for -- Rajendra + Pachauri -- results in 677 mentions. I can't find one that discusses or discloses his considerable financial interests as related to his frequent policy advocacy. The atmospheric and environmental sciences are at the frontier with respect to conflicts of interest (as I wrote in 2003 for the NRC, PDF) so it is perhaps not too surprising that these issues are only now emerging.

However, now that Pachauri's conflicts and interests are documented, real and being discussed openly in the media, the US media (not just the NYT) ought to be on this. There is a big, though uncomfortable, story here. If the major media were on it, then it would help the climate science community to clean up its act. Asking uncomfortable questions of those in power is one of the jobs of the Fourth Estate, right? (Roger Pielke Jr)
Recommended Reading – The Crutape Letters by Steven Mosher and Thomas W. Fuller
The first book on the released e-mails from CRU has been published. It presents an important and informative discussion of the issues that have been illuminated by these e-mails. The book is
The Crutape Letters by Steven Mosher and Thomas W. Fuller, 2010. ISBN/EAN13: 1450512437 / 9781450512435
I recommend this book to the readers of my weblog. I also look forward to other books on this topic, such as one prepared by the Real Climate authors in which they refute or accept the findings reported in the The Crutape Letters. (Climate Science)
Appeal
Sadly, just because the carbon scare is falling apart does not mean we can relax yet. Have no illusions, there remains an enormous and well financed industry seeking to have your funds diverted into their coffers. Similarly there are plenty of ideologues trying desperately to use the alleged issue in furtherance of their generally misanthropic causes. Expect a very large push this year before the U.S. mid-term elections and natural global cooling close their window of opportunity.

From Australia, on through Europe and the U.S., socialist-totalitarians are pushing urgently to use the fear of global warming in order to establish their desired "New World Order".

If you do not want your energy rationed, your lifestyle and your sovereignty sacrificed, the time to react is now!

Help JunkScience.com help you.
---
---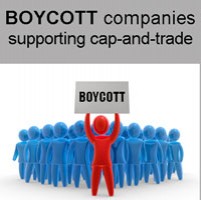 ---
---
Search:
---
---
---
---
---