Cap and Trade Returns From the Grave
Source: WSJ

by KIMBERLEY A. STRASSEL

The president's plans for "clean energy standards" amount to carbon controls by other means.

Cap and trade is dead. Long live cap and trade.

The president presented his new, conciliatory face to the nation this week, and his State of the Union was as notable for what it didn't include as what it did. He uttered not one word about global warming, a comprehensive climate bill, or his regulatory attempts to reduce carbon. Combined with his decision to give the axe to controversial climate czar Carol Browner, political analysts took all this as further proof that Barack Obama was moving to the middle, making nice with Republicans.

Snort. Guffaw. Chortle.

Listen carefully to Mr. Obama's speech and you realize he spent plenty of it on carbon controls. He just used a different vocabulary. If the president can't get carbon restrictions via cap and trade, he'll get them instead with his new proposal for a "clean energy" standard. Clean energy, after all, sounds better to the public ear, and he might just be able to lure, or snooker, some Republicans into going along. (SPPI)
Sen. Inhofe Shapes Major GOP Bills to Fight EPA's Greenhouse Gas Regs
The Senate's most vocal climate change skeptic has taken a key role in crafting two bills to be introduced next week that would both permanently stop U.S. EPA from regulating greenhouse gas emissions under the Clean Air Act.

Sen. James Inhofe (R-Okla.), who famously called climate change the "greatest hoax ever perpetrated on the American people," will unveil a bill with House Energy and Commerce Chairman Fred Upton (R-Mich.) that would strip EPA of its authority to limit carbon emissions from power plants, refineries and other stationary sources.

At the same time, he will be a "first co-sponsor" of a much broader bill that would bar the federal government from regulating greenhouse gas emissions under any existing environmental law. That measure will be introduced Monday by Sen. John Barrasso (R-Wyo.), who serves on the Environment and Public Works Committee, on which Inhofe is the ranking Republican. (ClimateWire)
Skinning the Cap-and-Trade Cat with Clean Energy Standards
Speaking before a new Congress in his State of the Union address, President Obama gave an alternative suggestion for Congress now that cap and trade is out of the picture. He pitched an aggressive clean energy standard, saying he wants 80 percent of our electricity to come from carbon-free sources of energy by 2035.

For reference, the Energy Information Administration shows that carbon-free sources generated 31 percent of our total electricity in 2009 (20 percent nuclear, 7 percent hydroelectric, and 4 percent other renewables). As Kim Strassel points out in today's Wall Street Journal, a clean energy standard is cap and trade without the carbon revenue: Continue reading... (The Foundry)

More propaganda needed: White House official cites 'education problem' on climate

By

"I think we have to educate [Capitol Hill]," said the head of the White House Office of Science and Technology Policy.

Read more... (E2 Wire)

and in progress: CDC Funding Fictional Warming Propaganda On TV

The Center for Disease Control and Prevention, an American government agency, is funding attempts to persuade people of global warming through fictional TV shows.

Climate Pravda reports that a organization called Hollywood Health and Society (HHS) which is funded by the CDC "and several other government sources" as well as the Bill and Melinda Gates Foundation, will work with writers to introduce ideas into TV shows and movies to help push the line that global warming is man-made and catastrophic. It explains that this will not be acknowledged in the credits, as it will be entirely "behind the scenes": (htl)

Squeezing in a few more exotic holidays before the nonsense finally dies: Extra U.N. climate talks set for April in Bangkok

Climate negotiators from almost 200 nations will hold an extra session in Bangkok in April to try to unblock work on a successor to the U.N.'s Kyoto Protocol for slowing global warming, officials said on Friday.

They said that 2011 is likely to mark a slowdown in the overall number of U.N. meetings about climate change after a rush of talks since 2007 failed to come up with a treaty.

"The session...will be held in Bangkok from April 3 to 8," according to an official who took part in a video conference meeting this week. The Bangkok talks will gather senior government negotiators.

The meeting adds to an existing schedule of a June session in Bonn, Germany and annual talks among environment ministers in Durban, South Africa, at the end of 2011. Another session is likely to be added between Bonn and Durban. (Reuters)

GOP sees looming 2012 elections as key to blocking climate rules

By

While a bill blocking EPA's climate authority is likely to pass the House, an uphill battle waits in the Senate.

Read more... (E2 Wire)

Goodbye, Hurricane Carol (1.28.11)

Climate czar Carol Browner resigned this week.

But for a mention on The Frank Beckmann Show, the news event was ignored by Michigan's media. It should not have been. Carol Browner should be a household name in a state where the former Clinton EPA chief has done more destruction to Michigan and its inner cities than any single bureaucrat in America.

Rather than silence, there should have been a parade down Woodward Avenue celebrating the end of Hurricane Carol.

A former commissioner of the Socialist International, Carol Browner was named climate czar as an end-run around the Senate because she was too radical to be confirmed. Like her unappointed administration colleague, former-Green Jobs Czar Van Jones, Browner's confirmation hearing would have tipped the public to the truly radical nature of the Obama Administration. Still, the fact that her name has not appeared in headlines is testament to how deep the Mainstream Media is in the tank for the leftist green agenda.

Browner first came to national prominence as Bill Clinton's EPA Chief — and Al Gore's indispensible aide. Browner was Gore's ghost-writer on "Earth in the Balance," the Tennessee senator's 1992 Apocalyptic call to arms against alleged global warming. (Henry Payne)

The UN IPCC – Influence Without Accountability

by Dennis Ambler

Donna La Framboise has an excellent piece on Dr Rajendra Pachauri and highlights the emergence of a new UN body similar to the IPCC, but in respect of Bio-Diversity. This is of course another objective that was decided at the Earth Summit in Rio in 1992, and is now being brought of the cupboard.

Mr. Chairman, Your Carriage Awaits January 28, 2011, Donna La Framboise

"According to some people the Intergovernmental Panel on Climate Change (IPCC) is a marvelous organization – so marvelous it should be regarded as a prototype. A month ago, therefore, the UN General Assembly formally created the Intergovernmental Platform on Biodiversity and Ecosystem Services.

As the press release explains, this body will be an "IPCC for Nature" which will:

…in many ways mirror the Intergovernmental Panel on Climate Change (IPCC) which has assisted in catalyzing worldwide understanding and governmental action on global warming.

There's just one problem. The IPCC model is utterly dysfunctional. It is a screeching, flashing, billboard-sized example of influence without accountability. For proof of this statement, one need look no further than the IPCC's chairman, Rajendra Pachauri." Read the rest of this entry » (SPPI)

I was going to slice & dice this one but Haunting the Library beat me to it: Reuters: Republican Party "Actively Caused Climate Collapse"

Reuters News Agency is carrying an extraordinary article claiming that the Republican Party "actively caused climate collapse" and that it is "in the pay of the fossil energy industry".

The highly unusual story is ostensibly on the subject of the tax that the Australian government plans to levy to cover the costs of the floods in Queensland, but soon veers off into what can most charitably be described as a rambling diatribe on global warming and how the Republicans caused it. (htl)

Updated 31 Jan 2011 -- Normalized Disaster Losses in Australia
Courtesy Ryan Crompton, the figure above shows the most recent insured loss estimates from the recent Queensland flooding based on an update from the Insurance Council of Australia (here in PDF). The estimated costs of the flood have increased from A$1.2 billion to A$1.51 billion (and shown as the bright blue bar on the far right of the figure above -- and is not normalized (the normalized values would be lower) -- the other data shows the normalized losses from Crompton and McAneney 2008 updated through 2010, more details here).

Writing in the Sydney Morning Herald, Ross Gittins offers a valuable perspective on the economic magnitude of the losses from the Queensland floods. I'll skip over the issues of domestic politics that he discusses to focus on the comments that he makes about the magnitude of the losses. He provides a useful bit of advice, which is exactly the advice that I give to my students (emphasis added): (Roger Pielke Jr.)

The Westerlies Explain The Recent Extreme Winter Weather, Not "Global Warming"

There have been a number of news articles that claim that a global average surface temperature trend (i.e. "global warming) explains the extreme cold weather and snow that has occurred recently; e.g. see

Comment On The CBS News Article "Is Extreme Weather a Result of Global Warming?"

In this post I want to illustrate why it is the location of the westerlies that determine areas that have extreme cold weather and snowstorms. (Roger Pielke Sr.)

Climate Change Claims Melt Away

Environment: In 2007, the U.N. said the Himalayan glaciers will be gone by 2035 due to man-made global warming. Yet four years later, some are advancing. What's retreating is the global warming narrative. (IBD)

How global warming became political poison

The chic World Economic Forum at Davos once considered global warming the greatest of threats to the planet:
"We are getting huge demand from our members to place climate change and issues of environmental security at the very heart of the programme," said Dominic Waughray, head of environmental initiatives at the World Economic Forum (WEF).
reassured that the global economy is recovering solidly from the financial crisis but struck by how the social networking revolution will force them to hand more power to both their employees and customers.
But now it considers global warming so yesterday:
Wesfarmers chief executive Richard Goyder told The Australian at the Swiss ski resort of Davos at the weekend ... (he) was struck by how climate change had taken a back seat at Davos to concerns about water scarcity and food security as the big emerging market economies drove global growth.
How can an existential threat to humanity suddenly become too boring for words? Impossible, unless it never was really a big threat to start with. (Andrew Bolt)
Czech climate change boss: it's nonsense to dramatically reduce emissions
Long-time Czech IPCC boss: adaptation to 11 °F of warming wouldn't be a problem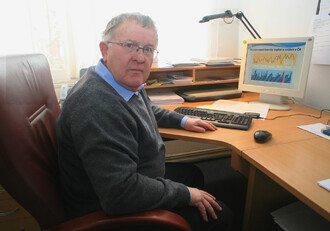 Dr Jan Pretel is the director of the Climate Change Department of the Czech Hydrometeorological Institute. For years, he was the top Czech representative in the IPCC; he is as mainstream as you can get (at least in Czechia).

In the newest interview for Ekolist.CZ ("Ecopaper"), he explains that climate mitigation plans are nonsensical:

Climatologist Jan Pretel: It's nonsense to drastically reduce emissions (automatic translation from Czech)
First, he is asked what he imagines under the term "climate change". He says that it's a fallacy to attribute e.g. traffic accidents to the climate change - the weather is the culprit - and it's nonsense to talk about catastrophes e.g. in the Czech context where they can't occur. The tropical zone requires a closer scrutiny.

» Don't Stop Reading » (TRF)

How BBC warmists abuse the science

Sir Paul Nurse, president of the Royal Society, is an expert in genetics, not climatology, writes Christopher Booker.

The timing was immaculate. Last Tuesday, across a two-page extract from the memoirs of Peter Sissons, the senior BBC newsreader, was the headline: "The BBC became a propaganda machine for climate change zealots – I was treated as a lunatic for daring to dissent." The previous evening the BBC had put out a perfect example of the zealotry which had made Mr Sissons, as a grown-up journalist, so angry. Horizon's "Science Under Attack" turned out to be yet another laborious bid by the BBC to defend the global warming orthodoxy it has long been so relentless in promoting.

Their desperation is understandable. The past few years have seen their cherished cause crumbling on all sides. (TDT)

Both climate alarmists and so-called sceptics seem to agree that the recent devastating floods can be attributable, at least in part, to the La Nina conditions in the Pacific Ocean. Where the two groups differ is that alarmists are claiming or implying that human activity has also had a significant influence. (John McLean, Quadrant)

Scientist: Climate changes are not caused by greenhouse gases

Dr. Noor van Andel, former head of research at Akzo Nobel, has a new paper out showing the available data to date contradicts the notion of greenhouse gas induced global warming or 'climate change.' He notes that while there have been extensive efforts to 'prove' the 'greenhouse' warming theory by bringing computer models and observations into agreement, this has been done "strangely only by adjusting the measurements instead of adjusting the models," in other words, via unscientific means. Dr. van Andel instead finds that ocean oscillations and the cosmic ray theory of Svensmark et al best explain climate changes. (Hockey Schtick)

Is It Really The Warmest Ever?

Both NOAA and NASA this month announced that 2010 was tied for the warmest year. The UK Climate Research Unit at East Anglia University proclaimed 2010 the second warmest year since 1850.

But after the incredibly cold and snowy winters in 2008/09 and 2009/10 and so far in 2010/11, those claims are falling on increasingly deaf ears. The public doubt about global warming has been increasing given the Climategate disclosures suggesting scientists have been 'cooking the books', especially when earlier promises of warm, snowless mid-latitude winters failed miserably. (Joseph D'Aleo, ET)

Wild extrapolation from trivial data series, again: More Frequent Drought Likely in Eastern Africa

The increased frequency of drought observed in eastern Africa over the last 20 years is likely to continue as long as global temperatures continue to rise, according to new research published in Climate Dynamics.

This poses increased risk to the estimated 17.5 million people in the Greater Horn of Africa who currently face potential food shortages.

Scientists from the U.S. Geological Survey and the University of California, Santa Barbara, determined that warming of the Indian Ocean, which causes decreased rainfall in eastern Africa, is linked to global warming. These new projections of continued drought contradict previous scenarios by the Intergovernmental Panel on Climate Change predicting increased rainfall in eastern Africa. (USGS)

UPDATE: Further Evidence of Low Climate Sensitivity from NASA's Aqua Satellite

After yesterday's post, I decided to run the simple forcing-feedback model we developed to mimic the Aqua satellite observations of global oceanic temperature and radiative flux variations.

I've also perused the comments people have made there, and will try to clarify what I've done and why it's important. (Roy W. Spencer)

Can scientists REALLY make it rain (or are they a useless shower?)

At the height of the Vietnam War, soldiers who heard U.S. aircraft flying high over the Ho Chi Minh trail might have feared bombs were about to fall from the sky, or at least that reconnaissance pilots were taking pictures of the Viet Cong's supply lines.

In fact, they had very little to fear. The planes were just trying to make it rain - but they weren't very good at it.

The idea was simple: seed the heavy clouds with tiny particles of silver iodide whose electrical charge would pull together the cloud's water droplets. Once enough droplets had gathered together, their weight would make them fall from the sky as rain.

The resulting deluge would turn the Vietnamese supply lines into a quagmire and halt the communists in their tracks.

Operation Popeye started in 1966 and ran for seven years. Pilots flew 2,600 rain-seeding sorties, but it was a dismal failure. There was a little rain but not enough to halt the supply lines. And it might well have rained anyway, even without U.S. intervention.

Fast-forward four decades and you'll find the same idea, and the same controversial result, is back in play.

A Swiss company called Meteo Systems claims to have seeded more than 50 rainstorms over the Abu Dhabi desert last year.

Some scientists have rubbished the claims. (Daily Mail)

A little rational thinking - and in the WaPo too! Cold truths about electric cars' cold-weather shortcomings

By Charles Lane
Friday, January 28, 2011;

Count me among the many thousands of Washington area residents who spent Wednesday night stuck in traffic as a snowstorm sowed chaos all around us. Being car-bound in sub-freezing weather for six hours can make a guy think. I counted my blessings. The situation could have been worse, I realized: My fellow commuters and I could have been trying to make it home in electric cars, like the ones President Obama is constantly promoting, most recently in his State of the Union address.

It is a basic fact of physical science that batteries run down more quickly in cold weather than they do in warm weather, and the batteries employed by vehicles such as the Nissan Leaf or the Chevy Volt are no exception.

The exact loss of power these cars would suffer is a matter of debate, partly because no one has much real-world experience to draw on. But there would be some loss. Running the heater to stay warm, or the car radio to stay informed, would drain the battery further. (WaPo)
Postmedia News

University of Alberta ecologist David Schindler holds a whitefish with a tumour.

The fix was in, most obviously from what the CBC's oil sands documentary left out

Ottawa announced before Christmas that it would beef up monitoring of the oil sands and make the facts about its environmental impact more transparent. This is much to be desired. Just why was evident after watching last night's CBC production Tipping Point: The Age of the Oil Sands. It would be hard to conceive of a more biased presentation. Its original title was Tipping Point: The End of Oil, but perhaps that label was ditched because it betrayed too much wishful thinking.

Although the two-hour documentary trotted out interviews with industry representatives and Alberta Environment Minister Rob Renner, the fix was clearly in, most obviously from what the film left out.

Tipping Point revolved around the alleged cancerous poisoning of the little community of Fort Chipewyan. It followed a veteran native activist, Francois Paulette, on his overseas campaign to establish that the oil sands were destroying his community and his culture. Mr. Paulette's coup was a meeting with film director James Cameron that led to the Avatar creator going on a fact-finding tour of the oil sands last year.

Read More » (Financial Post)

No Hot Air started talking up US gas exports last year, when the conventional wisdom was that it was to put it politely, insane.

Yesterday's crazy story, today's front page of the New York Times:

If Cheniere can obtain the necessary regulatory approval and financing, Mr. Souki says he can start exporting gas as early as 2015. He predicts he will eventually be able to export two billion cubic feet of liquefied natural gas a day from his facility, or about 3 percent of current domestic gas production. As other companies like Freeport LNG join Cheniere in exporting liquefied natural gas, Mr. Souki says the United States has the potential to become a premier global provider, capable of exporting 10 billion cubic feet a day, roughly the amount that Britain consumes.

That's 283 million cubic metres, which is actually equal on an annualised basis to 103 BCM.

How big a number is that: sit down if you're an LNG trader. The entire European (including Turkey) imports of LNG in 2009 was just under 70 BCM.

Cheniere of course is just ONE US terminal. There are others such as Cameron and Freeport also asking for export licenses. Kitimat in British Columbia is exporting to Asia from 2014. 10 BCF sounds too high, but based on his initial plans for 2.5 BCF from last year and throwing in other terminals, it's not completely out of the window either. (No Hot Air)

Ethanol trade groups bash draft EPA report

By

The ethanol industry is quickly attacking a draft EPA study that details a slew of ecological harms that could accompany increased biofuels production.

"EPA's failure to provide this report in any context with the environmental degradation done by fossil fuel exploitation and use is irresponsibly misleading. Energy and environmental decisions do not exist in a vacuum," the Renewable Fuels Association, an ethanol industry trade group, wrote in a statement.

"The use of biofuels, when all things are equally considered, is a far better energy choice than Canadian tar sands, oil shale, and other increasing sources of petroleum," the group added.

Read more... (E2 Wire)

On energy policy, Obama talks down to Americans

By Chris Horner

"Now, clean energy breakthroughs will only translate into clean energy jobs if businesses know there will be a market for what they're selling. So tonight, I challenge you to join me in setting a new goal: by 2035, 80% of America's electricity will come from clean energy sources. Some folks want wind and solar. Others want nuclear, clean coal, and natural gas. To meet this goal, we will need them all — and I urge Democrats and Republicans to work together to make it happen." — Barack Obama

Folks, you are being treated like infants — while you are being robbed. Windmills and solar panels are not "innovative"; they exist only because some politicians have made icons of them and are wedded to them as a result. (The Daily Caller)

Green Jobs Cronyism and Cannibalism
To rephrase President Obama's State of the Union theme: "This is our generation's apparatchik moment."
Yes, he said "Sputnik" instead, but his actual agenda is about the apparatchik—government by party leaders, bureaucrats and the well-connected.
His agenda is symbolized by his push for "green jobs" as the path to a better future.
Simply put, the green jobs agenda spends billions of taxpayer dollars to destroy existing jobs and replace them with jobs in politically-favored businesses, raising the costs of energy along the way.
The politically-connected win. Existing job-holders and companies lose. Home electric bills go up. Power also costs more for companies, making it more expensive to go into business or to stay in business.
It's cronyism that is building a political power structure based on false claims about clean green jobs. It's cannibalism because creating the green jobs requires killing off existing jobs. Continue reading... (The Foundry)
How to Get to 80% "Clean Energy" by 2035
Motivated by Michael Levi at the CFR, I have put together a quick spreadsheet to allow me to do a bit of sensitivity analysis of what it would take for the US to get to 80% "clean energy" in its electricity supply by 2035, as proposed by President Obama in his State of the Union Speech earlier this week. (Roger Pielke Jr.)
Austerity pulling plug on Europe's green subsidies
The Spanish and Germans are doing it. So are the French. The British might have to do it. Austerity-whacked Europe is rolling back subsidies for renewable energy as economic sanity makes a tentative comeback. Green energy is becoming unaffordable and may cost as many jobs as it creates. But the real victims are the investors who bought into the dream of endless, clean energy financed by the taxpayer. They forgot that governments often change their minds. (Globe and Mail)
German Ministries Debate Further Solar Power Cuts
Germany's Economy Ministry wants to see a further tightening of the Environment Ministry's plans to cut solar power incentives, sources in the government told Reuters on Friday.

But there was no agreement in talks on Friday between senior officials from the Economy Ministry and Environment Ministry.

"The Economy Ministry wants to have solar power production switched off when the grid is overloaded on sunny days," a government official said. The ministry would also like to see a greater July 1, 2011 reduction in incentives.

The Environment Ministry announced last week plans to bring forward solar power subsidy cuts by six months to July 1. The cuts could be as much as 15 percent if projections at the end of May suggest more than 7.5 gigawatts in new capacity will be installed in 2011.

The Economy Ministry would like to see cuts in July of up to 25 percent. (Reuters)
Obama Administration Sues to Stop China's Renewable Energy Policy
Whilst President Obama focussed on the need for renewable energy in his State of the Union speech, behind the scenes his administration is suing China in the World Trade Organization (WTO) over its support for its renewable energy strategy. (htl)
In China, the true cost of Britain's clean, green wind power experiment: Pollution on a disastrous scale
This toxic lake poisons Chinese farmers, their children and their land. It is what's left behind after making the magnets for Britain's latest wind turbines... and, as a special Live investigation reveals, is merely one of a multitude of environmental sins committed in the name of our new green Jerusalem (Daily Mail)
UN Sec. Gen. – Capitalism is "Environmental Suicide" Says "We Need a Revolution"
UN Secretary General, Ban-Ki Moon has launched an astonishing attack on the current economic system of Western-style capitalsim, saying that it was dangerous and outdated in the light of global warming, and calling for a new economic paradigm. (htl)
How Well Does a U.N. Agency Do Its Pricey 'Green Job'? Not That Well, Study Says
EXCLUSIVE: How much money did the United Nations Development Program, the U.N.'s flagship anti-poverty agency, spend to create 5,280 "green" jobs around the world?

UNDP has said the price tag is $53.9 million—an average of $10,208 per job spent in 2010 on 135 environmental projects world-wide.

But according to documentation obtained by Fox News, the projects that generated those jobs have a total cost of about $1.68 billion—which would work out to a much more staggering average figure of about $288,700 per job.

The wildly differing size of those price tags for a fairly trivial amount of employment emerged as part of a muted rebranding effort at UNDP. Top management is trying to burnish some of its credentials in the face of internal critics who feel that when it comes to merging environmental management and economic development to solve poverty problems, UNDP is not very good at its job. (George Russell, FoxNews.com)
Robert Redford is an eco-hypocrite, film claims
Hollywood A-listers love to trumpet their green credentials. Guy Adams reports on a film-maker who's out to expose them

For years, they've preached green living while travelling the world in SUVs, limousines and private jets. But now Hollywood's foremost tree-huggers face the prospect of being exposed as eco-hypocrites – in the very medium that finances their extravagant carbon footprints in the first place.

Robert Redford became the latest movie star to have his environmental credentials publicly ridiculed on film this week, when a hostile documentary was released in which he stood accused of failing to practise the environmentalism that he so vehemently preaches.

The short film, Robert Redford: Hypocrite, was released on Friday, via YouTube, to coincide with the closing days of his Sundance Film Festival. Depending on your point of view, it represented either a cheap hatchet-job or a stunning evisceration of a pioneering green activist who was once lauded on Time Magazine's list of environmental "superheroes". (Independent)
Shoppers' green fatigue hits refill revolution
Environmentalists' hopes dashed as latest trial to encourage supermarket customers to keep containers ends in failure

Green fatigue among shoppers has set back Britain's long-awaited refillable bottle revolution, with the latest attempts to persuade supermarket customers to reuse containers ending in failure.

Twelve years after one supermarket chain first began testing ways to encourage shoppers to refill detergent bottles rather than buy new ones, the group is no nearer to launching a national scheme across its stores.

Julian Walker-Palin, Asda's head of corporate sustainability, called its latest trial – which ran in five stores across the UK and offered customers the chance to save money while cutting their carbon footprint, by reusing specially designed fabric conditioner pouches – "disappointing". (Independent)
SciTech committee to investigate peer review
This could be interesting:
The Committee has today launched an inquiry into peer review. The committee invites evidence on the operation and effectiveness of the peer review process used to examine and validate scientific results and papers prior to publication.

The Committee welcomes submissions on all aspect of the process and among the issues it is likely to examine are the following:

the strengths and weaknesses of peer review as a quality control mechanism for scientists, publishers and the public;
measures to strengthen peer review;
the value and use of peer reviewed science on advancing and testing scientific knowledge;
the value and use of peer reviewed science in informing public debate;
the extent to which peer review varies between scientific disciplines and between countries across the world;
the processes by which reviewers with the requisite skills and knowledge are identified, in particular as the volume of multi-disciplinary research increases;
the impact of IT and greater use of online resources on the peer review process; and
possible alternatives to peer review.

The Committee welcomes submissions from scientists whose material has been peer reviewed, those who commission peer reviews and those who carry out peer review.

The Committee invites all written submissions on any of these issues by Thursday 10 March 2011.
(Bishop Hill)

Excessive Amounts of Lead Found in Reusable Grocery Bags Supplied by Major Retailers

Today, the nonprofit Center for Consumer Freedom (CCF) released new lab results showing that a number of major retailers' reusable shopping bags contained excessive levels of lead. Of the 44 organizations whose bags were tested, 16 are selling or distributing reusable bags containing lead in amounts greater than 100 ppm (parts per million), which is where many states set the limit for heavy metals in packaging.

»Click here to read the report

National chains such as CVS, Safeway, Bloom, and Walgreens were among those with high levels of lead found in their reusable bags. CVS and Safeway led the pack with 697 and 672 ppm respectively; both were nearly seven times the 100 ppm limit. To date, CVS is the only store that tested above 100 ppm to have recalled their bags. Previously lululemon athletica, Sears-Canada, and Wegmans have all recalled bags due to high levels of lead.

"Across the country legislators are proposing bills to ban or tax paper and plastic bags, but the unintended consequence of such legislation is that people are using reusable bags, which independent testing shows can often contain excessive levels of lead" said CCF Senior Research Analyst J. Justin Wilson. "As an advocate for consumer choice I believe consumers should have the option of using lead-free plastic and paper bags when they're bringing home their groceries." (Steve Milloy, CFP)

Packard's push against B.C. salmon

U.S. foundation pours millions into campaign against fish farming, to the benefit of Alaska's 'ranched' salmon

By Vivian Krause

Since 2002, the ex-vessel value of Alaskan salmon more than tripled from $125-million to $409-million in 2008.

After prices for Alaskan salmon began to improve, the Pacific Coast Federation of Fishermen's Associations wrote, "A lot of folks can take credit for the improved market for wild salmon, from the California Salmon Council and the Alaska Seafood Marketing Institute, to the chefs that revolted at serving farmed salmon, but the programs Packard [the David and Lucille Packard Foundation] helped fund played a big part in boosting our markets and no one in our industry should ever forget that."

Based in San Francisco, the Packard foundation is a charity created by a co-founder of tech giant Hewlett-Packard. With $5.6-billion in assets, it is the ninth-largest foundation in the U.S. and grants about $300-million per year.

Since 1999, Packard has been implementing a Market Intervention strategy as part of its program for Marine Fisheries. This program has a focus on "the U.S. Arctic," which presumably is Alaska.

Read More » (Financial Post)

Not feeling the love - check out the greenie misanthropy in this series:

Green Writer for BBC, Guardian, Demands: End Farming, Dismantle Civilization.

Dr John Feeney is a prominent green campaigner who has written for the Guardian newspaper, the BBC, and many other Green journals and websites. He was the winner of the 2007 ECO award. In 2009 he received the Global Media award from the Population Institute for his work.

Now this award-winning Greenie has joined the growing list of ecologists and activists who are saying that the root of the problem is agriculture, which enables humans to "circumvent" nature's sacred limits and build earth-destroying civilizations. Like many others, he accuses us of being in "denial" over the need to return to a hunter-gatherer way of life: (Haunting the Library)

Thank You For Not Breeding: Green Hypocrisy

Gro Harlem Brundtland, the UN Chair for the World Commission on Environment and Development, worries that population growth is a "ticking time bomb" and that "we may soon be facing a new famine on a scale dwarfing even Malthus's most pessimistic predictions. (Haunting the Library)

James Cameron's Avatar Wiki Asks – Overpopulation: Should We Take Extreme Measures?

The popular Green blog inspired by James Cameron's Avatar movie has posted an article asking if it's time to take "extreme measures" to reduce the world's population.

The article begins by saying that there are too many people, but that simply killing off unnecessary people can "seem elitist" and perhaps even cruel to some, even though in theory at least, this is an efficient approach: (Haunting the Library)

Uber-Warmist Mark Lynas on Why Humanity is a "Global Catastrophe"

In a recent interview with The Browser magazine, uber-Warmist Mark Lynas discusses his favourite books and the importance of their message for the green movement. And his choice offers a fascinating insight into the warmist psyche. (Haunting the Library)
Grist Asks: Is Communist Dictatorship the Way to Go?
Alarmist website, Grist.org has criticized American democracy for it's inability to enact legislation on global warming, and asks if the Chinese are better placed in the 21st century because of what it calls their "quasi-dictatorship".
Citing a BBC news story, the article comments that China's Communist rulers were able to shut down an electricity power station during the recent bitterly cold winter, something that free democracies were good at preventing. (Haunting the Library)
Why do greens keep mentioning the war?
We should all welcome The New Home Front: it reveals how nutty and mean-spirited environmentalists really are.

'If we are to overcome the threat of climate change, our country will need to move on to the equivalent of a war footing, where the efforts of individuals, organisations and government are harnessed together and directed to a common goal. Only this will provide the urgency, energy and creativity we need to avert disaster.'

So says Andrew Simms of the New Economics Foundation in a report launched at the Imperial War Museum last week: The New Home Front. The report, commissioned by Britain's one and only Green MP, Caroline Lucas, aims to bring the same urgency to the fight against trace atmospheric gases that the nation brought to the fight against that Mister 'Itler 70 years ago. (Rob Lyons, spiked)
CEZ Loses 700,000 CO2 Permits In Cyber Attack
Czech power group CEZ said on Thursday it had detected two unauthorized transfers of its emissions permits, totaling 700,000, in a cyber attack on the Czech registry last week.

CEZ said it had made a claim with Czech market operator OTE but had yet to receive a response. It has also filed a criminal report.

Czech newspaper Mlada Fronta Dnes reported on Thursday that the stolen permits were valued at 240 million Czech crowns ($13.6 million). CEZ declined to confirm the report pending an investigation. (Reuters)
European commission extends carbon market freeze indefinitely
Countries must prove their systems are protected against theft of credits by hackers

The European commission's emergency suspension last week of trading in carbon allowances to put a halt to rampant theft of credits by hackers has been extended indefinitely until countries can prove their systems are protected from further fraud.

While the suspension had been expected to end last night, Brussels now says that the freeze in trades had been imposed to give the commission executive some breathing space to figure out what to do. (Guardian)
Dutch Science Journalist Marcel Crok's New Book Rips IPCC – "Influence Of Weblogs Is Growing"
Marcel Crok is a Dutch chemist and scientific journalist who in 2005 made waves by publishing a slapdown of Michael Mann's hockey stick chart, which he based on McIntyre's and McKitrick's analysis and results. Crok concluded in 2005:
Mann's hockey stick is no more than a statistical artifact.
M&M's analysis was later confirmed by Hans von Storch and Ed Zorita. (No Tricks Zone)
Ban Ki-moon gives up fight against climate change
In November 2009, the ClimateGate erupted and many of us were convinced that the establishment of climate fear would quickly collapse. I was imagining that it would be as fast as the Velvet Revolution that began exactly 20 years earlier.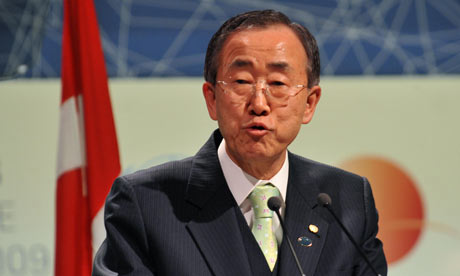 So many climate skeptics were disillusioned by the speed. Now, 14 months later, things are beginning to move at the top places. Barack Obama hasn't mentioned any climate, warming, disruption, carbon, or fossil fuels in his key annual talk - even though he was talking for a whole hour. The Guardian just brought us another dose of good news:

Ban Ki-moon ends hands-on involvement in climate change talks

The boss of the United Nations will stop his personal involvement in the battle to regulate the world climate. Instead, he will try to achieve "immediate gains" in the field of clean energy and sustainable development. Even his U.N. colleagues have apparently understood that there can't be any "deal".

» Don't Stop Reading » (TRF)

Uh-huh... Ban Ki-moon's green growth agenda can bring climate to the heart of the UN

Ban Ki-moon must shift the UN's focus to take climate into the mainstream debate on sustainable development (Yvo de Boer, Guardian)

Japan Says To Work On New Global Climate Framework

Japan said it aims to propose an alternative to the Kyoto Protocol in coming months, after criticizing the international climate framework as neither using effective technology nor including major emitters.

Tokyo will come up with a set of proposals to fight global warming beyond 2012, including bilateral agreements between countries on emission offsets generated by the use of clean-energy technology, government officials said on Thursday.

The move underlined Japan's urgent need to regain the trust of developing countries, many of which have blamed Japan's opposition to extending the Kyoto Protocol for causing a major delay in U.N.-led climate talks. (Reuters)

New Mexico Governor Loses Bid to Overturn Greenhouse Gas Cap

SANTA FE, New Mexico, January 26, 2011 - The New Mexico Supreme Court handed environmental groups a victory today in their unanimous ruling that Governor Susana Martinez violated the state Constitution when she prevented a rule establishing a statewide cap on greenhouse gas emissions from being published as codified state law. (ENS)

Question of the day: Why do you continue to use the term 'Climate Science'?

Just because a fragmented industry employs a substantial number of scientists, no matter how well qualified they are as individuals or how brilliant they are in their own specialty, does not make that industry per se a 'science'.

It's like calling financial derivatives a science because the big financial houses employed lots of brilliant Math PhDs to come up with even more complex financial instruments. Look at the problems those scientists - or rather their gullible and greedy bosses who had no idea of the science (math) concepts behind their 'products' - caused the world. In the greasy world of climate change read politicians for bosses and you arrive at the situation we have today where truly catastrophic decisions that affect all of us, whether we like or not, are made by gullible, greedy and ignorant politicians who don't have the faintest idea of what they legislating on. This applies especially in Europe where the die is well and truly cast. Hopefully, the US will avoid going down the same route but it's going to be a pretty damned close call with the likes of Obama and Gore around.

Repeatedly referring to the climate change industry as 'climate science' somehow gives it an authority and certainty that it truly does not merit. This is not to disrespect the qualifications or integrity of the individual scientists working in the industry - it is to acknowledge that accumulating a vast amount of data that is basically incapable of rational analysis on a global scale does not in itself constitute a science.

So I must admit I am perplexed as to why you continue to use the term 'Climate Science'. (Name & Contact supplied)
Global Warming Hoax Weekly Round-Up, Jan 27th 2011
The Round-Up has a whole new look to Part One, GE's boss will help Americans get back to work although the commute to China may deter some, and Apple has exciting innovations in iPolluting and iPoisoning. (Daily Bayonet)
Was 2010 the Hottest Year Ever?
According to the world's best-known climate change mouthpiece, 2010 was the hottest year on record.

Wrong. It's yet another example of a political activist with a Ph.D. donning a magician's cape to try pull one over on the audience.

Last week NASA's chief temperature trickster, James Hansen, issued a press release claiming, "Global surface temperatures in 2010 tied 2005 as the warmest on record."

Don't mean to sound like the kid in the front row that informs the cheap magician of a playing card protruding from beneath his shirtsleeve but, "I see the ace up your sleeve, Hansen." (Brian Sussman, Human Events)
With massive floods in Australia and Brazil, and bitter winter weather across the Northern Hemisphere, climate change alarmists have been quick to blame the severe weather on global warming. The fact that such weather is well within normal variation has not stopped the catastrophists from claiming vindication. No matter that those who study the Pacific and Atlantic decadal scale oscillations predicted a cold and snowy winter for Europe and North America, the recent blizzards are being offered up as "proof" that Earth's climate is changing for the worse. And what of the reports of widespread natural disaster from Rio, Brisbane and elsewhere? Even more global warming, of course. When it comes to wicked weather, the climate change cabal's misinformation machine is running at full tilt. (Doug L. Hoffman, The Resilient Earth)
Himalayan glaciers spell trouble for climate scientists
The abject admission by the official Intergovernmental Panel on Climate Change (IPCC) a year ago that it made a mistake, in its latest report, in predicting their disappearance by 2035 marked the lowest point in their reputation - and they have still far from recovered. (Geoffrey Lean, TDT)
Himalayan glaciers not melting because of climate change, report finds
Himalayan glaciers are actually advancing rather than retreating, claims the first major study since a controversial UN report said they would be melted within quarter of a century. (TDT)
Color me dubious: Warming North Atlantic water tied to heating Arctic, according to new study
The temperatures of North Atlantic Ocean water flowing north into the Arctic Ocean adjacent to Greenland -- the warmest water in at least 2,000 years -- are likely related to the amplification of global warming in the Arctic, says a new international study involving the University of Colorado Boulder.

Led by Robert Spielhagen of the Academy of Sciences, Humanities and Literature in Mainz, Germany, the study showed that water from the Fram Strait that runs between Greenland and Svalbard -- an archipelago constituting the northernmost part of Norway -- has warmed roughly 3.5 degrees Fahrenheit in the past century. The Fram Strait water temperatures today are about 2.5 degrees F warmer than during the Medieval Warm Period, which heated the North Atlantic from roughly 900 to 1300 and affected the climate in Northern Europe and northern North America.

The team believes that the rapid warming of the Arctic and recent decrease in Arctic sea ice extent are tied to the enhanced heat transfer from the North Atlantic Ocean, said Spielhagen. According to CU-Boulder's National Snow and Ice Data Center, the total loss of Arctic sea ice extent from 1979 to 2009 was an area larger than the state of Alaska, and some scientists there believe the Arctic will become ice-free during the summers within the next several decades. (University of Colorado at Boulder)
Trenberth at AMS defends himself against deniers
Post by Dr. Ryan N. Maue
Dr. Trenberth delivered his highly-anticipated presentation at the American Meteorological Society 91st Annual Meeting in Seattle on Wednesday. The talk was titled "Promoting climate information and communication of climate change", and an overflowing crowd of several hundred listened for about 20-minutes, then scattered. Those that read the preprint online (version 3 now) and expected Trenberth to back off on his rhetoric were sorely disappointed. Dr. Trenberth
vigorously defended himself against the out-of-context slanderous claims from ClimateGate emails
cheerfully promoted the science of the IPCC regardless of silly errors [like the Himalayan Glaciers -- Telegraph Jan 27 news article]
threw Phil Jones under the bus for being naive about "keeping papers out"
doubled-down on the denier vitriol
trashed the media for insufficiently sympathetic and woefully inaccurate climate change coverage
attributed a dozen recent extreme weather events to global warming including the Queensland flooding
and finally suggested that the "null hypothesis" concerning AGW attribution be turned on its head.
All in all, it was the stemwinder that everyone expected from the preprint preview/fiasco. Details from the talk follow…
Continue reading (WUWT)
Hiding the decline? Australian Bureau of Meteorology report conceals details of high rainfall in February 1893
On 25 January 2011 the BoM published an amended SPECIAL CLIMATE STATEMENT 24 (SCS24) originally published on 7 Jan on the subject "An extremely wet end to 2010 leads to widespread flooding across eastern Australia."

The revised SCS24 is nearly doubled in size and is titled, "Frequent heavy rain events in late 2010/early 2011 lead to widespread flooding across eastern Australia."
The revised SCS24 downplays the huge rain events in Feb 1893 – on page 7 of 28 the BoM says – "Insufficient rainfall data exist for a comprehensive assessment of the 1893 event. However, the available station data indicate that peak rainfalls in the region during the 1893 event were much heavier than those during either the 1974 or 2011 events."

First I would say – there is plenty of rainfall data from 1893 to allow the Feb 1893 floods event to be realistically compared in various ways with 1974 and 2010/11 – for example on maps – or as I show below with a few examples – by way of a table.

Second I would say that referring to "peak rainfalls" could leave an impression that overall the rain in the 1893 event was not so notable but there were heavy periods. Which is an incorrect impression for the BoM to leave readers with in terms of much of SE Qld. (Warwick Hughes)
New Results on Climate Sensitivity: Models vs. Observations
Partly as a result of my recent e-mail debate with Andy Dessler on cloud feedbacks (the variable mostly likely to determine whether we need to worry about manmade global warming), I have once again returned to an analysis of the climate models and the satellite observations. (Roy W. Spencer)
Caltech geobiologists uncover links between ancient climate change and mass extinction
PASADENA, Calif.—About 450 million years ago, Earth suffered the second-largest mass extinction in its history—the Late Ordovician mass extinction, during which more than 75 percent of marine species died. Exactly what caused this tremendous loss in biodiversity remains a mystery, but now a team led by researchers at the California Institute of Technology (Caltech) has discovered new details supporting the idea that the mass extinction was linked to a cooling climate. (California Institute of Technology)
From CO2 Science Volume 14 Number 4: 26 January 2011
Editorial
The Fate of Tropical Rainforests in a Super CO2 -Enriched and Warmer World: A look at the distant past provides a tantalizing view of the potentially bright future of earth's tropical ecosystems.
Journal Reviews
Precipitation: Models vs. Reality: Do the former adequately represent the latter?
Temperatures of the Past Six Millennia in Alaska: What do they reveal about earth's thermal health? Is the planet running a fever?
Moose on the Loose in a Warming Canadian Environment: Do they move about in ways that would reduce the heat stress they encounter at the southern edge of their range during periods of critically-high temperature?
Another Analysis of Biofuel Pros and Cons: Which perspective comes out on top?
The Effect of Climate Change on Malaria in Western Africa: What is it?
Interactive Effects of Elevated CO2 , Excessive Warmth and Water Stress on Photosynthesis and Growth of Canola: The ability of atmospheric CO2 enrichment to combat the deleterious effects of severe water and heat stress on plant growth and development is truly amazing.
Ocean Acidification Database
The latest addition of peer-reviewed data archived to our database of marine organism responses to atmospheric CO2 enrichment is Spiral Wrack [Fucus spiralis]. To access the entire database, click here.
Plant Growth Database
Our latest results of plant growth responses to atmospheric CO2 enrichment obtained from experiments described in the peer-reviewed scientific literature are: Paper Birch (Ambebe and Dang, 2009) and Pigeon Pea (Vanaja et al., 2010).
Medieval Warm Period Project
Was there a Medieval Warm Period? YES, according to data published by 926 individual scientists from 543 research institutions in 43 different countries ... and counting! This issue's Medieval Warm Period Record comes from Nevado Illimani, Eastern Bolivian Andes, Bolivia. To access the entire Medieval Warm Period Project's database, click here. (co2science.org)
By Geoffrey Styles
Ed. note: This piece first appeared on Energy Outlook, Geoffrey Styles' blog.
Energy didn't feature as prominently in last night's State of the Union Address as it has in some years, including last year's speech. Rather than making it a primary focus area, the President seemed to mention it more as an example of his broader innovation and competitiveness agenda. That's probably a good thing, because the administration's persistence in pitting conventional energy against renewables reflects the muddle in which US energy policy remains. We're desperately worried that China is getting ahead of us in renewable energy, yet we don't seem to notice that China is hardly treating oil and gas as yesterday's energy. I suspect that from China's perspective, their focus is not especially on renewable energy or clean energy but on cheap energy, which is what their economy needs to grow. I wouldn't think we're so different in that regard.
I won't waste time dissecting the President's suggestion to strip the oil & gas industry of its tax benefits in order to fund a new or expanded clean energy innovation effort. If the administration couldn't make that happen when its party dominated both houses of Congress by large majorities, then this idea is simply dead on arrival in an era of divided government. The best way to address those subsidies, along with the much larger per-barrel subsidy for ethanol, is through the kind of tax reform that would make all US industries more competitive globally. So I was pleased to hear the President suggest simplifying the tax code and reducing the corporate income tax. (ET)
Crank of the Week – January 24, 2011 - Sergio Marchionne & Lisa Jackson
This week we have a crank duet, provided by Chrysler CEO Sergio Marchionne and US EPA Administrator Lisa Jackson. The shakiest of America's three domestic car companies, Chrysler, and the US Government are teaming up to bring the world something nobody asked for—a non-electric hybrid mini-van. The company announced that it would partner with the US Environmental Protection Agency to build and test prototypes of a hybrid vehicle that accumulates energy not in a battery pack but by compressing a gas hydraulically. This could be final proof that both Chrysler and the EPA should be disbanded.

Chrysler CEO Sergio Marchionne joined US EPA Administrator Lisa Jackson for the announcement, made at EPA laboratories in Ann Arbor, Michigan. They spoke in front of a silver 2011 Chrysler Town & Country minivan, representing one vehicle that would be tested with the new technology. I said "representing" because no running prototype yet exists outside of lab mockups at the EPA. What is the EPA doing messing around with hydraulically augmented vehicles anyway?

While Chrysler restructured after its bankruptcy, merging its product development with new partner Fiat, it discovered that it had a paucity of "green" vehicles in the design pipeline. Showing that strong mendicant tendency so prevalent among American car makers (with the exception of Ford), Chrysler-Fiat turned to the US Government to bail them out—this time with engineering help instead of money. (The Resilient Earth)
Rep. Upton of Commerce and Energy: Is This the Real Deal?
Some very rational words on energy policy–long needed–have come from Chairman Fred Upton (R-MI) of the House Committee on Energy and Commerce. But will Congress act on them?
It will take a lot of heretofore undemonstrated courage for members of Congress to take the actions needed to:
1. Convince the Washington Establishment* to recognize that central planning really hasn't and doesn't work.

2. Get private sector companies to devote their financial and human resources to innovative and productive efforts rather than (like GE, Duke, Exelon, many Wall St firms, and many others) focusing those resources on "milking" federal and state tax breaks and subsidies.

3. Break the hammerlock that Federal agencies officials and employees, their favorite constituencies (who benefit from our tax dollars), Congressional committees and staff, and lobbyists have on appropriations, credit programs, and tax policies.

4. Give members of Congress and their staff the wisdom to discern the difference between facts vs. propaganda provided by lobbyists and federal agency staff — and then the courage to act in the national and public interest, rather than in their personal interests and those of the lobbyists that befriend them and contribute to their reelection.
[Read more →] (MasterResource)

Industry ramps up oil-sands campaign ahead of key decision

By

The oil industry is ramping up its campaign to pressure the Obama administration to approve a massive oil-sands pipeline project, arguing that approval of the project would aid the country's economic recovery.

The American Petroleum Institute, the country's most powerful oil industry trade association, urged the State Department to quickly issue a final environmental impact statement for TransCanada's Keystone XL pipeline Thursday. The final impact statement is a necessary for the ultimate approval of the project.

"We call on the department to grant the permit as a matter of critical national interest," Cindy Schild, refining issues manager at API, told reporters.

Read more... (E2 Wire)

SMOKESTACKS dot the horizon; a whiff of oil hangs in the air; gargantuan vehicles clog the highway. There is a din of heavy machinery, punctuated by blasts from cannons scaring birds away from toxic lakes. But golf courses and suburban housing make the place liveable, and some locals have grown attached to Alberta's tar sands and Fort McMurray, the town at the centre of them. "I'd like my son and grandson to work here," says a worker at one of Shell's mines.

He may get his wish. After a brief hiatus during the economic downturn, world oil consumption is rising again, pushing the price of a barrel towards $100. By 2035, believes the International Energy Agency (IEA), demand may reach 110m barrels per day (b/d), about 20% more than in 2009. For those who exploit the tar sands, which contain the world's second-largest trove of oil, this is a welcome forecast. (Economist)

Coal-country lawmakers ramp up push against EPA permit veto

By

A bipartisan group of House lawmakers is launching fresh attacks against the Environmental Protection Agency (EPA) over its recent decision to block a large mountaintop-removal mining project in West Virginia.

Lawmakers from West Virginia and Ohio introduced a measure Wednesday that would prevent EPA from vetoing Clean Water Act permits that have already been approved by the Army Corps of Engineers.

Rep. David McKinley (R-W.Va.) sponsored the bill, and co-sponsors include Reps. Nick Rahall (W.Va.), the top Democrat on the Transportation and Infrastructure Committee; Shelley Moore Capito (R-W.Va.); and Ohio Republicans Bill Johnson and Bob Gibbs.

Coal-industry allies are furious with EPA over its decision this month to veto the Clean Water Act permit for Arch Coal's Spruce No. 1 mine in West Virginia after the large project won approval from the Corps in 2007. The new bill would apply retroactively to the beginning of this year, thus blocking EPA's veto of the mine, McKinley's office said.

Read more... (E2 Wire)

Natural Gas To Power Growing Energy Demands -Exxon Mobil

Exxon Mobil Corp. projected global demand for oil, natural gas and other fuels to be about 35% higher in 2030 compared to 2005, as emerging markets drive the bulk of global demand.

Expanding prosperity in developing nations will increase energy demand more than 70% during the same time frame, the report said.

In contrast, Exxon said efficiency improvements and other measures will keep energy demand "essentially flat" in the so-called developed nations that are part of the Organization for Economic Cooperation and Development, even as their economic output grow an estimated 60%.

The forecast, from ExxonMobil's annual outlook for energy survey, drew on analysis of about 100 countries, 15 demand sectors and 20 fuel types combined with economic, population and energy efficiency projections.

"Natural gas will be fastest growing major energy source, overtaking coal as the second-largest global energy source behind oil, and serving as a reliable, affordable and clean fuel for a wide variety of needs," Exxon Mobil said. (DJN)

Great Green Fleet Neither Great Nor Green?
In my recent interview with Tom Hicks, who is the Deputy Assistant Secretary to the Navy (Energy), he explained some of the Navy's energy initiatives. One of those is to sail the "Great Green Fleet." [Read More] (Robert Rapier, ET)
Two-thirds of UK biofuel fails green standard, figures show
Just 31% of the biofuel supplied under the government's initiative to tackle climate change met its own green standards, the Renewable Fuels Agency reports (Guardian)
German FOCUS Magazine: Facts Show Planet Much Better Today
By P Gosselin
How many times has the demise of the planet or humanity been predicted? How many charlatans have passed through the revolving doors of history? You'd need the resources of the Census Bureau to tally that up.
A couple of days ago I presented yet another such prediction from a scientist at the Potsdam Institute For Climate Impact Research (PIK).
The planet is going to hell in a hand-basket they keep telling us. But when you boil it down, they all have one thing in common: They've been wrong every time.
The charlatans of the past have been replaced by a new generation of charlatans – government-funded climate scientists who are paid to get the masses to stampede in panic into the arms of government programs, all aided and abetted by the chatterbox media.
It turns out that life as a whole on the planet has never been better. (No Tricks Zone)
How Many Hazmat Suits Does It Take to Change a Light Bulb?
Lest anyone tell you that the phase-out of (non-toxic) incandescent light bulbs will be hassle-free (other than hugely expensive), herewith is the directive from the Environmental Protection Agency for ridding your home of toxic vapor in the event you or a loved one (or relative) breaks the mercury-laden compact fluorescent (CFL) pushed by the government as superior:
Have people and pets leave the room, and avoid the breakage area on the way out.
Open a window or door to the outdoors and leave the room for 5-10 minutes.
Shut off the central forced-air heating/air conditioning system (H&AC), if you have one.
Collect materials you will need to clean up the broken bulb:
Continue reading... (The Foundry)

Bad idea: Gingrich calls for replacing the EPA

By

Former House Speaker Newt Gingrich (R) called for replacing the EPA with what he called the Environmental Solutions Agency (ESA).

Read more... (E2 Wire)
Gibbs demurs on replacement for White House climate adviser

By

White House press secretary Robert Gibbs declined to say Wednesday whether Carol Browner, the departing White House energy and climate adviser, will be replaced.

Gibbs, in a briefing, answered a question on the topic by instead touting the administration's energy agenda. (E2 Wire)

Carol Browner Goes, Draconian Policies Stay

White House: With cap-and-trade seemingly dead and EPA's regulatory authority under attack, the administration's climate czar is abandoning ship. Too bad she's not taking the administration's energy policies with her.

Carol Browner, former EPA director now serving as a senior Obama adviser for energy and climate change, a formerly nonexistent position created to avoid Senate confirmation to a real position, has decided to hang it up. Or she's been thrown under the bus, depending on your point of view. (IBD)

Gasp! Climate change: Barack Obama less interested than Bush, analysis reveals

Obama made no mention of climate change in his state of the union speech, appearing to signal a shift by White House

Barack Obama has paid less attention to climate change in his State of the Union addresses than any other president in the past 20 years, an analysis by a British researcher has found.

Obama made no mention of the words climate change, global warming or environment in his hour-long speech on Tuesday night – when presidents typically employ the pomp and ceremony of the annual occasion to put forward their priorities before an American television audience in the tens of millions. (Guardian)

Absence of climate change in Obama address a sign of the times

By

President Obama's State of the Union speech Tuesday includes repeated calls for expanding green energy, but the lack of explicit mentions of climate change and greenhouse gases reflects the sagging fortunes of emissions-capping bills on Capitol Hill.

Flashback: In his February, 2009 address to a joint session of Congress (which was not technically a State of the Union), Obama explicitly called for a cap-and-trade plan after touting the benefits of green energy and efficiency.

"[T]o truly transform our economy, protect our security, and save our planet from the ravages of climate change, we need to ultimately make clean, renewable energy the profitable kind of energy. So I ask this Congress to send me legislation that places a market-based cap on carbon pollution and drives the production of more renewable energy in America," Obama said in 2009.

Read more... (E2 Wire)

Obama Recycles Waxman-Markey Utility Sector Target - Neglects to Inform Congress, Public

by Marlo Lewis
26 January 2011 @ 5:01 pm

Last night's State of the Union Address shows that President Obama learned only one lesson from the failure that was Copenhagen, the farce that was Cancun, the death of cap-and-trade, and the "slaughter" of House Democrats who voted for Waxman-Markey. Namely, dissemble, repackage Kyotoism in new verbiage, and press on with an agenda that voters rejected in November.

Anyone paying attention to Obama EPA's campaign to 'legislate' climate policy through the regulatory backdoor would expect as much. But — true confession — I was surprised when Obama proposed to restructure the U.S. electric power sector along the lines contemplated by H.R. 2454, the American Clean Energy and Security Act of 2009 (ACESA), the infamous Waxman-Markey cap-and-trade bill.

In his SOTU speech, President Obama said:
Now, clean energy breakthroughs…
Read the full story (Cooler Heads)
TIME Magazine: It's Carbon Rations or "Relentless March Into a Furnace"
TIME magazine has an admiring piece on the UK government's plans to impose carbon rationing on all citizens, comparing global warming with the Nazis and their gas chambers.
It says the choice now for America as well as the UK is between carbon rationing and the furnace:
It may be that even Britain, which still prides itself on its plucky courage and solidarity during WWII, has become too individualistic a nation to stomach enforced sacrifice. Brits and Americans and everyone else in the rich nations may end up deciding that they would simply prefer the good life now, even if it means continuing on this absurd and relentless march into a furnace of their own creation
Imposing carbon rationing in America as well. Good luck with that one. (Haunting the Library)

Senate Republicans lay down markers in bid to block EPA climate rules

By

The scores of Senate bills introduced Tuesday include a measure to block Environmental Protection climate change rules, and there's more to come.

Sen. David Vitter (R-La.) introduced a bill to "prohibit the regulation of carbon dioxide emissions in the United States until China, India, and Russia implement similar reductions," according to the Congressional Record.

There's more en route. Sen. John Barrasso (R-Wyo.) is planning a bill that would broadly prevent EPA and other federal agencies from addressing greenhouse gases under the Clean Air Act, the National Environmental Policy Act, and other statutes.

Read more... (E2 Wire)

Minister rejects national cap-trade system

OTTAWA - Canada's new environment minister, Peter Kent, is rejecting the advice of a government advisory panel that has urged him to moved ahead with made-in-Canada climate change policies, despite uncertainty about United States measures and regulations. (Montreal Gazette)

Energy, enviro reactions to Obama's address

By

Well, President Obama's State of the Union address is over and the reactions are pouring in.

Environmentalists praised Obama for calling on lawmakers to require that 80 percent of the country's electricity come from "clean energy" by 2035. But many environmental groups expressed concern that Obama included nuclear and coal with carbon capture technology in his definition of "clean energy."

Oil industry groups, on the other hand, criticized Obama for neglecting to call for expanded oil and gas drilling. The wind industry lauded Obama for his comments on renewable energy, but raised concerns about competing with other fuel sources in a clean energy standard.

Read more... (E2 Wire)

Bingaman 'anxious' to work with Obama on clean energy standard despite skepticism

By

Senate Energy and Natural Resources Committee Chairman Jeff Bingaman (D-N.M.) said Wednesday that he's planning talks with the White House on President Obama's State of the Union call for a "clean energy" standard.

Obama last night called for obtaining 80 percent of the nation's power by 2035 from "clean" sources, including renewables, natural gas, nuclear energy and coal plants that trap carbon emissions.

Bingaman has for years pressed for a more narrowly cast "renewable electricity standard" that would require utilities to supply escalating amounts of power from sources like wind and solar. He has opposed proposals in years past that credit non-renewable sources.

But Bingaman told reporters Wednesday that he's planning to work with the White House on the "clean" standard idea.

Read more... (E2 Wire)

White House fact sheet details Obama's SOTU energy plan

By

A fact sheet released by the White House gives more detail on the energy items in President Obama's State of the Union address.

Obama's speech, according to the fact sheet, lays out a five-part plan "to win the future." The five parts are can be broken down into the following categories: innovate, educate, build, reform, responsibility. (E2 Wire)

Alternative Fuels Don't Benefit the Military, a RAND Report Says

The United States would derive no meaningful military benefit from increased use of alternative fuels to power its jets, ships and other weapons systems, according to a government-commissioned study by the RAND Corporation scheduled for release Tuesday.

The report also argued that most alternative-fuel technologies were unproven, too expensive or too far from commercial scale to meet the military's needs over the next decade.

In particular, the report argued that the Defense Department was spending too much time and money exploring experimental biofuels derived from sources like algae or the flowering plant camelina, and that more focus should be placed on energy efficiency as a way of combating greenhouse gas emissions.

The report urged Congress to reconsider the military's budget for alternative-fuel projects. But if such fuels are to be pursued, the report concluded, the most economic, environmentally sound and near-term candidate would be a liquid fuel produced using a combination of coal and biomass, as well as some method for capturing and storing carbon emissions released during production. (NYT) | The study, "Alternative Fuels for Military Applications," can be found at www.rand.org.
Sissons on BBC climate change coverage
The Mail has a devastating extract from the new book by ex-BBC newsreader Peter Sissons, showing just how corrupt the corporation has become, particularly on the subject of climate change.
From the beginning I was unhappy at how one-sided the BBC's coverage of the issue was, and how much more complicated the climate system was than the over-simplified two-minute reports that were the stock-in-trade of the BBC's environment correspondents.

These, without exception, accepted the UN's assurance that 'the science is settled' and that human emissions of carbon dioxide threatened the world with catastrophic climate change. Environmental pressure groups could be guaranteed that their press releases, usually beginning with the words 'scientists say . . . ' would get on air unchallenged.
Read the whole thing. (Bishop Hill)
WTF? Scientists Claim "Slow Wind" May Make Trees Extinct.
Here's a new one I bet you haven't heard before: global warming is slowing the wind down, and could lead to certain species of trees becoming extinct.
Just when you thought that the predictions couldn't possibly get any more bizarre (remember "Global warming will cause killer cornflakes"?), scientists in Jerusalem have released a study, based on computer modelling (natch) that predicts global warming may well lead to certain species of trees becoming extinct soon by slowing down the wind. (Haunting the Library)
Climate research by PETA? Climate tax on meat and milk results in less greenhouse gases
A climate tax corresponding to €60/ton CO2eq on meat and milk could reduce greenhouse gas emissions from European agriculture by around seven per cent. If the land made available is used for bioenergy production, the decrease in emissions can be six times greater. This is shown by the researchers Kristina Mohlin, Stefan Wirsenius and Fredrik Hedenus, University of Gothenburg, Sweden, in an article published in the scientific journal Climatic Change.

Kristina Mohlin is a PhD student at the Department of Economics at the University of Gothenburg. She wrote the article together with her research colleagues at Chalmers University of Technology in connection with her degree project at the Department of Energy and Environment.

In the article, the researchers show that reduced meat, milk and egg consumption has two effects: a direct one which means significantly lower emissions of methane and nitrous oxide and an indirect one through land being made available which can be used for bioenergy cultivation. (University of Gothenburg)
Oh No! Global Warming Giving Oysters Herpes!
The alarmist headlines just keep getting whackier and whackier . . . (Haunting the Library)
Rogue storm system caused Pakistan floods that left millions homeless
Last summer's disastrous Pakistan floods that killed more than 2,000 people and left more than 20 million injured or homeless were caused by a rogue weather system that wandered hundreds of miles farther west than is normal for such systems, new research shows.

Storm systems that bring widespread, long-lasting rain over eastern India and Bangladesh form over the Bay of Bengal, at the east edge of India, said Robert Houze, a University of Washington atmospheric sciences professor. But Pakistan, on the Arabian Sea west of India, is substantially more arid and its storms typically produce only locally heavy rainfall. (University of Washington)
Rainfall dwarfed by 1974 figures
BRISBANE had more rainfall in the 1974 floods than it did in the latest episode, preliminary figures show.

And rainfall during the 1893 floods may have dwarfed both the 1974 and 2011 events. (Courier-Mail)
Lawrence Solomon: Has the IPCC discovered the Sun?
The IPCC is investigating the Sun as a driver of global warming
The IPCC for the first time will investigate "in depth" the role of global cosmic rays in climate change, according to a report last week in the Hindustan Times. Many solar and space scientists believe that cosmic rays, whose ability to enter Earth's atmosphere is regulated by the Sun, are a dominant factor in global warming.
The turnaround in the IPCC position was announced by the chairman of the IPCC, Rajendra Pachauri, in a communication with India's Environment Minister, Jairam Ramesh. The announcement followed the release of a paper by U R Rao, the former chairman of Indian Space Research Organization, that showed cosmic rays alone were responsible for 40% of global warming. These findings by one of Pachauri's most distinguished countrymen, rebutted IPCC claims that carbon dioxide and other man-made causes were responsible for more than 90% of global warming. Ramesh, who commissioned Rao's paper, in 2009 had also released a report rebutting the IPCC's claims that Himalayan glaciers would melt by 2035. The IPCC subsequently retracted its claims in an embarrassment now known as "Glaciergate."
Until now, the IPCC has argued that the Sun is all-but-irrelevant to global warming, consistent with the IPCC's very mandate, which dismisses the Sun as a major factor worthy of investigation. Ramesh is hopeful that Pauchari and the IPCC will now open their minds to dissenting scientists. ""There is a groupthink in climate science today," the minister explained. "Anyone who raises alternative climate theories is immediately branded as a climate atheist in an atmosphere of climate evangelists."
The Danish National Space Center has pioneered the theory that cosmic rays, by seeding clouds, regulate Earth's climate – the Danes astounded the scientific world when they actually created clouds in a chamber on Earth. A photo of the path-breaking Danish cloud chamber, and a brief explanation of the science, can be found here.
LawrenceSolomon@nextcity.com
Lawrence Solomon is executive director of Energy Probe and the author of The Deniers.
New study affirms natural climate change
CHURCHVILLE, VA—It's nice when people validate your work. Fred Singer and I—co-authors of Unstoppable Global Warming Every 1500 Years—are currently basking in the glow of a new paper that affirms the earth's long, moderate, natural climate cycle. The study is by Dr. U.R. Rao, former chair of India's Space Research Organization. He says solar variations and cosmic rays account for 40 percent of the world's recent global warming.

Dr. Rao says the data between 1960 and 2005 show lots fewer cosmic rays hitting the earth, due to a periodic expansion of the sun's magnetic field. The bigger solar magnetic field blocked many of the cosmic rays that would otherwise have hit earth. Fewer cosmic rays hitting the earth meant fewer water droplets shattering in our atmosphere, and thus fewer of the low, wet clouds that deflect solar heat back into space. So the earth warmed.

Fred and I tried to tell the world in 2007 that the moderate 1500-year Dansgaard-Oeschger cycle was the cause of the warming since 1850, based on historic and paleoclimatic evidence. The cosmic ray linkage was put forth in 2008 by Henrik Svensmark of Denmark. The UN's panel on climate change dismissed that whole approach, claiming the variations in the sun's irradiance were far too small to account for the rapid warming from 1976–98.

The flaw in the UN reasoning is clear, however. (Dennis Avery, CFP)
Experts Seek Arctic Climate Early warning System
Scientists sought on Wednesday to pin down triggers for abrupt climate shifts in the Arctic, such as a feared runaway melt of Greenland's ice sheet, to create an early warning system for governments.

"We need leading indicators to see when we are approaching a threshold so that we can stop before we reach it," Carlos Duarte, a professor at the Spanish Council for Scientific Research, told a conference on "Arctic Frontiers" in Norway.

Scientists at the conference sought to identify advance signs of instability that could lead to radical changes -- such as a disappearance of Arctic sea ice in summer or a melt of Greenland's ice that would raise world sea levels. (Reuters)
"Hotter summers may not be as catastrophic for the Greenland ice sheet"
'Hidden plumbing' helps slow Greenland ice flow
Hotter summers may not be as catastrophic for the Greenland ice sheet as previously feared and may actually slow down the flow of glaciers, according to new research.
A letter published in Nature on 27 January explains how increased melting in warmer years causes the internal drainage system of the ice sheet to 'adapt' and accommodate more melt-water, without speeding up the flow of ice toward the oceans. The findings have important implications for future assessments of global sea level rise.
The Greenland ice sheet covers roughly 80% of the surface of the island and contains enough water to raise sea levels by 7 metres if it were to melt completely. Rising temperatures in the Arctic in recent years have caused the ice sheet to shrink, prompting fears that it may be close to a 'tipping point' of no return.
Continue reading (WUWT)
Mid-Atlantic Ocean temperatures peaked in 1998
The water temperature in the subtropical Atlantic Ocean has cooled down since 1998, oceanographers report. Measurements since 1957 had shown a rise of more than ¼ of a degree up to that point, but between 1998 and 2006 the ocean stopped warming and cooled by 0.15°C in the same area.

The measurements of sea temperature were carried out along the parallel 24.5 degrees of latitude north of the equator running from the African coast to the Caribbean by Spanish government oceanographers. The oceanographers used a network of "Argo" instrument buoys and survey vessels. The scientists describe the cooling as "unusual".

"The ocean's natural variability mechanisms are more significant than we thought," says Pedro Joaquín Vélez Belchí of Spain's Canarian Oceanography Centre. (Lewis Page, The Register)
Data availability and consequences in cancer and climate science
Last time, I examined the issue of data availability in climate science in the context of Phil Jones' paper on the urban heat island in Nature. The case of the Jones paper is simple — data supporting conclusions of this important paper are not available and there are serious doubts whether such data was present at the time the paper was written. As first author, Jones has however categorically stated he does not intend to correct the situation or address it in any fashion.

It is notable that Nature magazine's editorial policy states:

After publication, readers who encounter refusal by the authors to comply with these policies should contact the chief editor of the journal (or the chief biology/chief physical sciences editors in the case of Nature). In cases where editors are unable to resolve a complaint, the journal may refer the matter to the authors' funding institution and/or publish a formal statement of correction, attached online to the publication, stating that readers have been unable to obtain necessary materials to replicate the findings.

In the present situation, after many years and attempts by several parties, Nature has reported a direct admission from the paper's author Phil Jones that making data available is 'impossible'. In some ways, this is quite unprecedented. A request that Nature publish a formal statement of correction therefore seems logical.

It has to be pointed out, perhaps much to the chagrin of climate science activists, that reproducibility of published studies is an acute concern in science. (Shub Niggurath Climate)
Comment On The CBS News Article "Is Extreme Weather a Result of Global Warming?"
There is a news article by CBS titled (h/t to Marc Morano)
Is Extreme Weather a Result of Global Warming? (Roger Pielke Sr.)
House Democrats introduce oil spill legislation
By
Key House Democrats introduced legislation Wednesday to implement a series of recommendations outlined by the national oil spill commission.
But the legislation could face opposition from senior House Republicans, who have responded coolly to the spill commission's report. (E2 Wire)
The Exorbitant Dream of Arctic Oil
International oil companies are racing to develop new oilfields in the Arctic. But developing the vast reserves could be far more expensive than first thought, according to new calculations by US geologists obtained by SPIEGEL ONLINE.
U.K. Energy Policy Risks Prompting Renewed `Dash for Gas,' Lawmakers Say
Changes to U.K. energy policy may lead to a renewed "dash for gas" as utilities choose cheap gas-fired plants over renewable projects, Parliament's Energy and Climate Change Select Committee said in a report today.

Government policy needs to "put the cleanest form of energy at the top of the agenda," Committee Chairman Tim Yeo said in a statement. If the type of capacity is not part of the decision-making process, companies will choose the "cheap and easy" option, the committee said in the report.

The British government is in the process of reshaping the country's energy market and changing how plants are approved to meet climate change targets and replace aging stations. The U.K. has pledged to get 15 percent of its energy from renewable sources by the end of the decade and about a quarter of the country's generation capacity will go off line by 2015.

"The first so-called 'dash for gas' took place in the 1990s and helped to provide affordable energy, but a second dash for gas could crowd out the development of renewables and make the U.K. miss its climate change targets," the report said. (Bloomberg)
Watermelons not pleased: The Labour Party calls for shale gas drilling halt
The Labour Party has called for a temporary halt to drilling for shale gas while its safety is checked.

Shadow energy minister Huw Irranca-Davies has called on the government to put it on hold in England and Wales.

Shale gas exploitation is beginning in Lancashire but campaigners have raised concerns that the extraction process can contaminate local ground water. (BBC)
Asia's first shale gas pool found near Durgapur
DURGAPUR: The potential answer to the world's energy woes, lying buried under 1770 metres of hard rock in the Damodar basin, has finally been unearthed.

ONGC scientists have found an "unlimited reserve" of shale gas, touted as the low-cost, eco-friendly fuel of the future with vast untapped resources, at Sarpi on the outskirts of Durgapur at a site spread over an area of 1250-1300 sq km. (Times of India)
Ross Clark: How To Warm Your Mansion With Other People's Money
Let no one say this is not a redistributive government. It is taking benefits away from the poor and giving them instead to people with large houses and a bit of spare capital. How? Through a great green energy scam, originally devised by Labour, which could not be better designed to penalise the poor and reward the rich. In fact, the government might just as well have come up with Spat Credits or a Top Hat Top-Up Allowance. Here is a brief guide to benefits for the better-off. (The Spectator via GWPF)
Windpower Emissions: The Kleekamp Critique (Part II – Capacity Considerations)
by Kent Hawkins
January 25, 2011
Part I of this series critiquing an article by Chuck Kleekamp dealt with the more general issues of examples used, one of the major references and electricity markets. There is a lot found to question his analysis. This post focuses on capacity considerations and other miscellaneous issues raised by Kleekamp. Finally, Part III addresses his remarkably inappropriate warning, "If you think wind power is expensive, wait till you have to pay for electricity from a new nuclear plant." (MasterResource)
Europe's Green Energy Faces Subsidy Shake-Up
The European Union looks set to overhaul the way renewable energy projects and power grids are financed, launching a new type of infrastructure bond and converging the EU's tangle of overlapping subsidies.

European leaders will meet in Brussels for a February 4 summit to reconcile an EU goal of getting 20 percent energy from renewable sources by 2020 with a debt crisis that has driven several EU countries to the brink of insolvency. (Reuters)
Global food system must be transformed 'on industrial revolution scale'
The existing food system fails half the people on the planet, and needs radical change if world is to feed itself, report warns (Guardian)
Terence Corcoran: How to feed a food crisis
Members of the G20, the UN, the FAO, the EU, and other bastions of state planning and intervention – having misread the causes of the global financial meltdown and the associated U.S. mortgage crisis—now seem set to mastermind another misdirected venture. A global move is underway that would have the great meddlers tackle what they see as the next crisis: food.
The immediate focus is food prices, which are rising around the world. The UN Food and Agriculture Organization (FAO) — itself a leading think-tank for bad policy — talked of a "food price shock" in a recent report. It noted that commodity prices were approaching 2008 levels again and that food price inflation appeared to be escalating within many nations. There is no sign of crisis yet, but the FAO and others seem ready to give it a try. One of the surest ways to precipitate a crisis would be to unleash a batch of global initiatives to try to manage, regulate and control the supply and price of food.
Many nations, from Canada to France to India and Malaysia, already have policies that maintain prices and manipulate agricultural production, disrupting markets and often limiting output. The objective now, in many places, is to do more of the same, except on a grander scale. Read More (Financial Post)
Michael Pento: Easy money behind food prices
From all accounts, it appears the world is in the early stages of a major leg up in food prices. The major macroeconomic trend will likely drive economic policy and the investment outlook for years to come. Although mainstream pundits like to focus on such cyclical drivers as the weather, the real force behind the move is secular. The U.S. is leading the world in a pandemic of monetary inflation that is helping to cause commodity prices, food in particular, to skyrocket across the globe.
The U.S. Federal Reserve's monetary excess is currently being magnified by China's misguided currency peg policy. As the United States debases its currency through excess printing, China must follow suit. In order to maintain a consistent relative valuation, China must adopt the monetary policy of the United States. Read More (Financial Post)
Regulatory Costs Are Boiling Over
The Environmental Protection Agency (EPA) has been ordered to issue job-killing regulations that the agency and industry both agree are faulty and unfeasible. The EPA's blunder is an object lesson on the costly consequences of reckless rulemaking and regulatory excess.
The impending regulations address emissions from industrial boilers and incinerators.
Agency officials have projected that the new standards will kill (yes, kill!) between 5,000 and 10,000 jobs—and cost nearly $10 billion to implement. In contrast, an independent study by IHS Global Insight, an economic forecasting firm, determined that 16,000 jobs would be at risk for every $1 billion spent on compliance. Continue reading... (The Foundry)
Blue day for reds as Browner leaves White House
Obama energy and environment czar Carol Browner reportedly is leaving the White House. She can now rejoin her comrades at Socialist International. Dasvidania, Carol. Drop us a line from the scrap heap of history — let us know how Al Gore is doing. (Green Hell Blog)
Director of Policy on Climate Will Leave, Her Goal Unmet
WASHINGTON — Carol M. Browner, the White House coordinator for energy and climate change policy, will leave the administration shortly, officials confirmed Monday night. Her departure signals at least a temporary slowing of the ambitious environmental goals of President Obama's first two years in the face of new Republican strength in Congress.

Ms. Browner, a former administrator of the Environmental Protection Agency, was charged with directing the administration's effort to enact comprehensive legislation to reduce emissions of climate-altering gases and moving the country away from a dependence on dirty-burning fossil fuels. That effort foundered in Congress last year, and Mr. Obama has acknowledged that no major climate change legislation is likely to pass in the next two years.

No decision has been made on whether she would be replaced or if the position would simply disappear, a White House official said. (NYT)
Global Warming: After the 1998 tobacco deal, many wondered where the next battleground for the shakedown lawyers would be. Few wonder now. The legal war over climate change is heating up — and it'll be costly.

The $246 billion tobacco settlement, reached by 46 state attorneys general and the tobacco industry, was not designed to improve public health. It was simply a way to line lawyers' pockets and create a slush fund for lawmakers.

Private plaintiffs' lawyers took in $8.2 billion in legal fees, and states have spent their share of the funds on items unconnected to tobacco-related illnesses and anti-smoking education.

It was, as we said a few years ago, "a naked cash grab."

Having exhausted that lucrative source, trial lawyers went trolling for another. Would it be the fast-food industry? Gun makers? What about companies that sell sugary drinks? Or those making pharmaceuticals?

While those industries will be beset by suing lawyers, they will be spared relative to the target that attracts the most attention. As we predicted on these pages, global warming will be the vehicle for the next litigation lottery. And the media are finally picking up on this. (IBD)
Climate litigation: hundreds of billions of dollars


The AFP is writing about the emerging field of climate lawsuits:

Climate change: Dogs of law are off the leash
While no court has awarded anyone a single cent for climate-related damages yet, some people are getting ready for the possible explosion of such lawsuits in the future. At hundreds of billions of dollars, the damages could humiliate all the cancer-related tobacco and asbestos lawsuits. So it makes sense for many people to dream about these "opportunities" and to get ready.

» Don't Stop Reading » (TRF)

Accountability: The new GOP Congress is preparing to cut U.S. funding of the United Nations and the latter is hollering. But with the U.N. doing all it can to undercut its top donor, we fail to see why Congress shouldn't cut.

The biggest disconnect of all time must be between the U.N. and the donor that funds nearly half its budget: the U.S.

For two years, the Obama administration has paid obeisance to the U.N., sending it far-left Ambassador Susan Rice and all the funds it's asked for, while heaping it with presidential praise.

As China's leaders make extravagant claims about surpassing the U.S. in economic might, as they did last week, the fact remains China pays about 2.1% of the U.N. budget while the U.S. pays 41%.

What the U.S. gets in return for the billions it pays is an ever-more bloated, corrupt, insolent bureaucracy carrying on as it always has, stuck in an entitlement mentality. (IBD)

"Kiss goodbye" to Cancun CO2 goals, says IEA chief economist
It is "virtually impossible" for the world to keep CO2 emissions within the "safe" limits agreed by world governments just weeks ago in Cancun. Speaking what for climate alarmists is 'the unspeakable', Dr Fatih Birol, Chief Economist at the International Energy Agency, was addressing an audience at London's Imperial College on January 19. [Read More] (Peter C Glover, ET)

Rep. Waxman wants GOP chairman to probe climate skeptic's industry funding

By

Rep. Henry Waxman (D-Calif.), the top Democrat on the Energy and Commerce Committee, is urging committee Chairman Fred Upton (R-Mich.) to probe whether a high-profile climate skeptic misled the panel about how much the petroleum industry funds his work.

In a letter to Upton Monday, Waxman urges Upton to help him explore how much the petroleum industry backs Dr. Patrick Michaels, a scholar with the conservative Cato Institute who testified before the committee about climate change in 2009.

"I am writing you about his testimony because it now appears that in both the materials he initially submitted to the Committee and in response to questions for the record submitted by a Committee member after the hearing, Dr. Michaels may have provided misleading information about the sources of his funding and his ties to industries opposed to regulation of emissions responsible for climate change," Waxman writes in his letter to Upton.

Read more... (E2 Wire)
Hansen Savages Democrats In Shock Statement. Turns on Clinton Administration.
James Hansen, the controversial scientist at the centre of the global warming movement has turned on America's Democrat party in a shock announcement, savaging past Democrat administrations for "huge mistakes" that denied America the possibility of producing zero carbon emissions energy by now. (Haunting the Library)
Flawed 'Climategate' Inquiries Failed To Restore Confidence In UK Climate Science
The Global Warming Policy Foundation (GWPF) remains deeply concerned about the failure by academic and parliamentary inquires to fully and independently investigate the 'Climategate' affair.
The latest follow-up report by the Science and Technology Committee on the disclosure of climate data from the Climatic Research Unit (CRU) at the University of East Anglia (UEA) confirms that the Climategate inquiries had serious flaws, lacked balance and transparency and failed to achieve their objective to restore trust and confidence in British climate science.
The report by the Science and Technology Committee shows that the inquiries into the conduct and integrity of scientists at the Climatic Research Unit were deficient and biased. (GWPF)
Five Reasons the Planet May Not Be Its Hottest Ever
The predicted temperature changes (darker red indicating greater change) due to global warming, based on data that scientists, policymakers and the public are now questioning.
Global warming is in full swing, say some of the world's climatologists. Or is it?

On Thursday the U.N.'s weather agency announced that 2010 was a milestone, the warmest year on record, in a three-way tie with 2005 and 1998. "The 2010 data confirm the Earth's significant long-term warming trend," said Michel Jarraud, the World Meteorological Organization's top official. He added that the ten warmest years after records began in 1854 have all occurred since 1998.

But how reliable is the data? Here are five good reasons some scientists are skeptical of these claims. (FoxNews.com)
Contrary to claims of many modern Holocene denying climate hysterics, the 1970s did have a number of writers who believed that the world was going to cool down. Among these were Stephen Schneider, the founder of the Climate Project at the National Center for Atmospheric Research. He wrote:

" I have cited many examples of recent climatic variability and repeated the warnings of several well-known climatologists that a cooling trend has set in-perhaps one akin to the Little Ice Age-and that climatic variability, which is the bane of reliable food production, can be expected to increase along with the cooling." Stephen Schneider, The Genesis Strategy, (New York: Plenum Press, 1976), p. 90

Notice that Schneider says climate variability is caused by the cooling. Schneider eventually became a global warming alarmist but back in the 1970s when he wrote the above, he also wrote:

"The Dramatic importance of climatic changes to the world's future has been dangerously underestimated by many, often because we have been lulled by modern technology into thinking we have conquered nature. But this well-written book points out in clear language that the climatic threat could be as awesome as any we might face and that massive world-wide actions to hedge against that threat deserve immediate consideration. At a minimum, public awareness of the possibilities must commence, and Lowell Ponte's provocative work is a good place to start." Book jacket endorsement of Lowell Ponte's, The Cooling, (Englewood Cliffs: Prentice-Hall, 1976)

I point this out to show that at that time the hysteria was on cooling, at least as far as Schneider was concerned. I also point this out to verify that this book was within the mainstream of climatological thought at that time. This makes the following passage from Ponte's book interesting, at least to me. (G.R. Morton, The Migrant Mind)
Really silly: Cuts in emissions are at a premium
Liam Phelan

Is there a link between human-caused climate change and the extreme flooding in Queensland and Victoria? And if so, what does it mean for insurance, society's primary mechanism to manage financial risks?

No insurance policy will bring back loved ones. For flood victims with insurance, questions about whether their policies will cover financial losses are immediate, frustrating and may come to be heartbreaking.

But beyond individual policy fine print, insurance is supposed to provide societies with a measure of economic security, a way to manage financial risks. Beyond the immediate recovery efforts, the flooding raises questions about the viability of insurance in a climate-changed world. (SMH)
Precipitation, Convection & Climate Change
An increase in tropical storm activity has long been predicted as a harmful side-effect of human induced global warming. Hurricanes are to become more frequent and more deadly. All of this is predicated on the notion that a hotter climate will result in more moisture in the atmosphere and more frequent tropical storms. As it turns out, this is only half true. There may be more precipitation in the temperate zone, but an increase in tropical storms is not predicted—even by the IPCC models. (Doug L. Hoffman, The Resilient Earth)
Confessions In The News On The "Predictability" Of The Climate System
I was alerted to a post on Climate Progress (h/t to Dan Hughes) titled
Another terrific ABC News story — on the role global warming is playing in extreme winter weather
where it is written
"ABC news contacted 10 climate scientists to ask their take, if the extreme winter like the one we're having is the way of the future. The consensus: global warming is playing a role by shifting weather patterns in unpredictable ways. Many say the forecast for the future calls for record-breaking precipitation and extreme temperatures year-round — and that means winter with more snow"
This statement encapsulates where we are in being able to predict the climate in the coming years and decades. Climate, as affected by both natural and human forcings and feedback, is unpredictable on these time scales! (Roger Pielke Sr.)
Victorian floods Jan 2011 may not be caused by La Nina
I am amazed at the way the "authorities" have seized on the current La Nina phase of the SOI as the reason for the Victorian floods – the media repeat this as gospel truth.

This flies in the face of the crystal clear evidence from satellite images that the two rain events over western Victoria for the 12th and 14th of January 2001 originated as southward eruptions from the monsoon trough over northern Australia.

When starting the animation it restarts several times before running the full 93 images.

Remember rain is recorded at 9am each day for the previous 24hrs. (Warwick Hughes)
Guest Post "Global Floods – Why Were They Not Predicted?" By Will Alexander
Will Alexander has provided us with another excellent guest post which is presented below. WJR (Will) Alexander is Professor Emeritus of the Department of Civil Engineering of the University of Pretoria, South Africa, and Honorary Fellow of the South African Institution of Civil Engineering. See also his previous posts
Climate Change: The West vs The Rest by Will Alexander
A Guest Weblog By Will Alexander "Climategate Chaos" (Roger Pielke Sr.)
Oh boy... Man has been provoking climate change for thousands of years!
The Roman Conquest, the Black Death and the discovery of America – by modifying the nature of the forests – have had a significant impact on the environment. These are the findings of EPFL scientists who have researched our long history of emitting carbon into the environment. (EPFL)
No longer pining for organic molecules to make particles in the air

New work will help researchers refine atmospheric weather, climate models

RICHLAND, Wash. -- The fresh scent of pine has helped atmospheric scientists find missing sources of organic molecules in the air -- which, it could well turn out, aren't missing after all. In work appearing in this week's Proceedings of the National Academy of Sciences Early Edition Online, researchers examined what particles containing compounds such as those given off by pine trees look like and how quickly they evaporate. They found the particles evaporate more than 100 times slower than expected by current air-quality models.

"This work could resolve the discrepancy between field observations and models," said atmospheric chemist Alla Zelenyuk. "The results will affect how we represent organics in climate and air quality models, and could have profound implications for the science and policy governing control of submicron particulate matter levels in the atmosphere."

Zelenyuk and colleagues at the Department of Energy's Pacific Northwest National Laboratory were able to measure evaporation from atmospheric particles in a much more realistic manner than ever before. This allowed them to show that they are not liquids, as has been assumed for two decades, and to get an accurate read on how fast these particles evaporate. What researchers previously thought takes seconds actually takes days. (DoE/PNNL)

Easterbrook on the magnitude of Greenland GISP2 ice core data

MAGNITUDE AND RATE OF CLIMATE CHANGES

Guest post by Dr. Don J. Easterbrook,
Dept. of Geology, Western Washington University

The GISP2 Greenland ice core has proven to be a great source of climatic data from the geologic past. Ancient temperatures can be measured using oxygen isotopes in the ice and ages can be determined from annual dust accumulation layers in the ice. The oxygen isotope ratios of thousands of ice core samples were measured by Minze Stuiver and Peter Grootes at the University of Washington (1993, 1999) and these data have become a world standard. (WUWT)

Could Dimming the Sun Change Teleconnections in Weather Patterns as we Know Them?

Solar radiation management projects, also known as sun dimming, seek to reduce the amount of sunlight hitting the Earth to counteract the effects of climate change. Global dimming can occur as a side-effect of fossil fuels or as a result of volcanic eruptions, but the consequences of deliberate sun dimming as a geoengineering tool are unknown. (Atmospheric Science Letters)

Barrasso slams spill commission, says members weren't experts on drilling

By

A member of the Senate GOP leadership team is bashing the presidential oil spill commission's final report, a sign that the panel's ideas will have trouble gaining bipartisan support.

The criticism Monday from Sen. John Barrasso (R-Wyo.) — the vice-chairman of the Senate Republican Conference — comes two days before the leaders of the National Commission on the BP Deepwater Horizon Oil Spill and Offshore Drilling will appear at a pair of Capitol Hill hearings.

"They weren't experts. They weren't experts on oil drilling, on the Gulf," Barrasso said of the seven-member commission. "It was a self-selected group that really opposes drilling in the Gulf, and they came out with the recommendations that you would expect that group of people to come up with. And those are all things that are going to make energy more expensive."

"We need to make energy as clean as we can as fast as we can, but do it in a way that doesn't raise energy prices for American families," Barrasso added in an interview on CNBC.

Read more... (E2 Wire)

U.S. wind power drops off despite falling prices

by Martin LaMonica

The American Wind Energy Association reported a substantial fall in U.S. wind power installations in 2010, saying some project developers held off from investing because of uncertain federal policies.

The trade association said that 5,115 megawatts of wind power capacity were put online last year, compared to 10,000 megawatts of capacity in 2009. The 2010 number also falls below annual installations for 2008 and 2007, according to AWEA data. (Click for PDF of report.) (Green Tech)

Missouri Senate to reconsider renewable-energy mandate

JEFFERSON CITY | Depending on whom you believe, state lawmakers are about to slap Missouri voters in the face — or rob them blind.

The Missouri Senate is poised to debate a resolution this week that would determine how and where certain utility companies can buy wind and solar power.

At issue is the fate of Proposition C, which voters passed with a two-thirds majority in November 2008. The proposition requires Ameren Missouri and other investor-owned utilities to start buying at least 2 percent of their energy portfolio from renewable energy sources this year. By 2021, the percentage rises to 15. (St. Louis Post-Dispatch)
Windpower Emissions: Kleekamp Critique (Part I – Introduction)
by Kent Hawkins
January 24, 2011
This post is the first in a three part series that critiques the recently published article "Wind Power Always Replaces Fossil Fuels" by Chuck Kleekamp, which provides material for another in the series of my critiques of wind proponents' claims. Previously analyzed were papers by Milligan, Komanoff and Gross. My understanding is that this author has previously made notable contributions to environmental matters. Let's see how he does with respect to wind.
To begin, I cannot help commenting on the inclusion of "Always" in the title. The apparent certainty in this term immediately alerts me to a questionable analysis. Perhaps the author meant to be provocative, and was not serious in the use of this word. If so, this does not give due consideration to the importance of the matter.
This leads to another general comment. In a circulation of a draft of these posts to a panel of reviewers, one commented on the nature of Kleekamp's article as that of not having sufficient knowledge of the subject, but attempting to appear so. He provides descriptions, but makes errors in the process. Cases in point are his (1) example of the Mirant Canal oil-fired plants and (2) description of electricity system markets and activities of the System Operator of New England (ISO NE). [Read more →] (MasterResource)
New study of environmental contaminants in breast milk
The levels of environmental contaminants in a mother's body decrease during breast-feeding. After a year of lactation, the levels of a number of environmental contaminants in breast milk drop by 15 – 94 per cent, according to a recent study from the Norwegian Institute of Public Health. There has been little study into this topic previously.

Breast milk is nutritionally the best food for infants and contains all the substances a child needs for optimal growth and development. However, breast milk contains low but measurable concentrations of environmental contaminants, health-harming chemicals from industry and manufacturing products that are widely spread in the environment. (Norwegian Institute of Public Health)
Regular readers of this blog know that I am no fan of the cholesterol theory of heart disease. Despite the mountain of evidence against this so-called causation, (cholesterol-lowering) statins are the best-selling class of drugs in the world.

Late last year, Pfizer started running a print campaign on Lipitor® with the unintentionally paradoxical headline "Are You Kidding Yourself?" (Shaw's Eco-Logic)
My goodness! Montrealers are feeding fish Prozac
Research shows influence on brain activity while long-term consequences are unclear

Around one in four Montrealers take some kind of anti-depressant, and according to new research, the drugs are passing into the waterways and affecting fish. The findings are internationally significant as the city's sewage treatment system is similar to that in use in other major cities, and moreover, it is reputed to be the third largest treatment system in the world. Lead by Dr. Sébastien Sauvé at the University of Montreal's Department of Chemistry and André Lajeunesse, a PhD candidate, the research team found that the drugs accumulate in fish tissues and are affecting the fish's brain activity.

The Saint Lawrence is a major international waterway that connects the Atlantic Ocean to the Great Lakes, and it surrounds the island of Montreal. Sauvé has been looking at the chemical pollution of the water system for years. "Montreal has a very basic sewage system – the city basically only removes solids, there's no disinfecting of the water," he explained. "In any case, the chemical structure of anti-depressants makes them extremely difficult to remove from sewage, even with the most sophisticated systems available." (University of Montreal)
Genetically modified crops are the key to human survival, says UK's chief scientist
Sir John Beddington argues that moves to block GM crops on moral grounds are no longer sustainable

Moves to block cultivation of genetically modified crops in the developing world can no longer be tolerated on ethical or moral grounds, the government's chief scientist, Sir John Beddington, has warned. He said the world faced "a perfect storm" of issues that could lead to widespread food shortages and public unrest over the next few decades. His warning comes in the wake of food riots in north Africa and rising global concern about mounting food prices. (Robin McKie, The Observer)
Example to accompany previous comment: EPA Sued Over Pesticides, Endangered Species
Environmental conservation groups sued the U.S. Environmental Protection Agency on Thursday to force it to tighten regulation of pesticide use, arguing that the agency was not consulting wildlife officials.

The Center for Biological Diversity has successfully sued the EPA on similar grounds, focusing on individual species, but the new suit seeks a broad change in policy by the agency to meet what it says are Endangered Species Act rules. (Reuters)
Reality check for moonbat: Flashback 2002: Monbiot Quotes Director of "Hate Group", Claims End of Meat, Dairy & Eggs by 2012
In a recent article George Monbiot lambasted his opponents (and to be fair, they are legion) for claiming that many of his fellow greenies were anti-human and spouted hate-filled rhetoric. "The great majority of greens are powerfully motivated by a concern for social justice, and recognise that if we don't defend our life-support systems, humanity will suffer grievously" he wrote sententiously.
Really? Let's examine that claim. In fairness to Monbiot, rather than picking someone from the green movement at random we'll restrict ourselves to people whom Monbiot himself relies on when writing his articles telling us how we must live. (Haunting the Library)
Eye-roller brought to you by htl: UNEP: Is This Their Dumbest Claim Yet?
Take a look at the following graphic from the United Nations Environment Program (UNEP):
(looks like a hockey stick standing on its end, doesn't it?)

It shows a huge rise in natural disasters since 1900, from zero to around 450 per year, and asks us to consider what percentage of these are caused by global warming. (Haunting the Library)

With climate bill dead, Obama faces pressure from greens on address

By

White House officials are crafting this year's State of the Union amid pleas from environmentalists to play climate defense.

Read more... (E2 Wire)

UK Government Goes MAD: Plans to Airlift Fish to "Cope With Global Warming".

The British Government appears to have been poisoned with LSD or a similar hallucinogen, and has announced that it will be releasing more than ONE HUNDRED reports on how it intends to cope with global warming.

The first of the reports, due to be released later this week, will lay out plans – apparently in all seriousness – to airlift fish from areas like the lake district hundreds of miles north to Scotland. (Haunting the Library)

Exxon forecast: 25% more CO2 emissions

It's good news for green plants but bad news for green people: carbon dioxide emissions will increase by 25 percent in the next 20 years, according to ExxonMobil.

The UK newspaper, The Guardian, expressed the lament of the green people, observing that the forecast:
in effect [dismissed] hopes that runaway climate change can be arrested and massive loss of life prevented.
Speaking on behalf of green plants, we observe that greater CO2 emissions represents more life for plants and, subsequently, better lives for people (even the green ones, though they'll never admit it!) (Green Hell Blog)
This is what they want the US to sign on to: Traders condemn EU's 'Mickey Mouse' carbon market after botched trading statement
A city trader accused the European commission tonight of running a "Mickey Mouse" carbon-trading scheme after some traders lost heavily on the market owing to a botched trading statement.

The commission is already under fire over an entirely separate fraud inquiry that has closed parts of the EU's emissions trading scheme, which is seen by many as crucial to tackling climate change.

The commission said on its website this morning that the EU's climate change committee had voted to ban the most common type of carbon "offsets" from 1 January 2013, amid concerns that these offsets were being abused.

Half an hour later the EC rescinded the statement, but not before the price of carbon had risen to a three-month high at €11.84 a unit, with more than 1.5m units traded. A huge sell-off then followed that bought the price back to €10.56.

Three hours after that, the commission put out a third statement which said that offset credits for the substances in question, which include HFC 23 and nitrous oxide – both potent greenhouse gases – would be banned from 2013, but not until May of that year.

"This is a significant mistake on the part of the European commission. Some traders have lost a lot of money today. If I want a Mickey Mouse market, I'll go to Disneyland," one trader told Reuters. (Guardian)
Cry 'havoc!' and let slip the dogs of climate lore: Climate change: Dogs of law are off the leash
PARIS — From being a marginal and even mocked issue, climate-change litigation is fast emerging as a new frontier of law where some believe hundreds of billions of dollars are at stake.

Compensation for losses inflicted by man-made global warming would be jaw-dropping, a payout that would make tobacco and asbestos damages look like pocket money.

Imagine: a country or an individual could get redress for a drought that destroyed farmland, for floods and storms that created an army of refugees, for rising seas that wiped a small island state off the map.

In the past three years, the number of climate-related lawsuits has ballooned, filling the void of political efforts in tackling greenhouse-gas emissions.

Eyeing the money-spinning potential, some major commercial law firms now place climate-change litigation in their Internet shop window. (AFP)
Commentary: Hansen Draft Paper: Paleoclimate Implications for Human-Made Climate Change

January 24th, 2011

by Dr. Martin Hertzberg

As the saying goes:

"If all you have in your hand is a hammer, then everything looks like a nail".

It is hopeless to expect that Hansen could possibly analyze data objectively – all he has in his head is "CO2 climate forcing" and everything else has to be "forced" into that ridiculous paradigm. It makes no difference to him that the predictions of his past half-baked computer models based on "CO2 climate forcing" were completely wrong.

It is not worth my time (or anyone else's in my opinion) to try to critique the entire paper, but the final paragraph on his p. 11 stands our like a sore thumb. In it he states:

" Earth orbital (Milankovic) parameters have favored a cooling trend for the past several thousand years, which should be expected to start in the Northern Hemisphere (NH). For example, Earth is now closest to the sun in January, which favors warm winters and cool summers in the Northern Hemisphere." Read the rest of this entry » (SPPI)

Sigh... Wartime posters to fight climate change

Wartime-style posters are to be used in a new campaign against climate change following a hard-hitting report that compares the current environmental crisis to World War II. (TDT)

Junior gets carried away with advocacy, again: FT Column on Disasters and Climate Change

Writing in today's FT, Simon Kuper has a great essay on disasters and climate change that draws on some of my work. Here is the bottom line:
When it comes to preventing today's disasters, the squabble about climate change is just a distraction. The media usually has room for only one environmental argument: is climate change happening? This pits virtually all climate scientists against a band of self-taught freelance sceptics, many of whom think the "global warming hoax" is a ruse got up by 1960s radicals as a trick to bring in socialism. (I know, I get the sceptics' e-mails.) Sometimes in this squabble, climate scientists are tempted to overstate their case, and to say that the latest disaster proves that the climate is changing. This is bad science. It also gives the sceptics something dubious to attack. Better to ignore the sceptics, and have more useful debates about disasters and climate change – which, for now, are two separate problems.
Read the whole thing. (Roger Pielke Jr.)
Erroneous Lessons from Earth's Past
Climate alarmists have been slow to learn that their over-reliance on computer models and unproven theories has harmed their public credibility. In an attempt to counter the richly deserved bad press that climate science has been garnering these days, a number of global warming true believers are trying a different, more fact based approach to scaring the public. One such attempt recently appeared in the journal Science—not as a paper describing original research but as a perspective article. In it, a Senior Scientist at the National Center for Atmospheric Research, in Boulder, Colorado, attempts to "weave together" some carefully selected "threads in the discussion of climate" to arrive at a very familiar and unconvincing conclusion. (Doug L. Hoffman, The Resilient Earth)
New melt record for Greenland ice sheet
CCNY's Marco Tedesco says 'exceptional' season stretched up to 50 days longer than average

New research shows that 2010 set new records for the melting of the Greenland Ice Sheet, expected to be a major contributor to projected sea level rises in coming decades.

"This past melt season was exceptional, with melting in some areas stretching up to 50 days longer than average," said Dr. Marco Tedesco, director of the Cryospheric Processes Laboratory at The City College of New York (CCNY – CUNY), who is leading a project studying variables that affect ice sheet melting.

"Melting in 2010 started exceptionally early at the end of April and ended quite late in mid- September."

The study, with different aspects sponsored by World Wildlife Fund (WWF), the National Science Foundation and NASA, examined surface temperature anomalies over the Greenland ice sheet surface, as well as estimates of surface melting from satellite data, ground observations and models. (City College of New York)
New paper: Cosmic rays contribute 40% to global warming
From the Hindu
Physicist U.R. Rao says carbon emission impact is lower than IPCC claim
A key belief of climate science theology — that a reduction in carbon emissions will take care of the bulk of global warming — has been questioned in a scientific paper released by the Environment Ministry on Monday.
Physicist and the former ISRO chairman, U.R. Rao, has calculated that cosmic rays — which, unlike carbon emissions, cannot be controlled by human activity — have a much larger impact on climate change than The Intergovernmental Panel on Climate Change (IPCC) claims.
In fact, the contribution of decreasing cosmic ray activity to climate change is almost 40 per cent, argues Dr. Rao in a paper which has been accepted for publication in Current Science, the preeminent Indian science journal. The IPCC model, on the other hand, says that the contribution of carbon emissions is over 90 per cent.
'Cosmic ray impact ignored'
Releasing Dr. Rao's findings as a discussion paper on Thursday, Environment Minister Jairam Ramesh noted that "the impact of cosmic ray intensity on climate change has thus far been largely ignored by the mainstream scientific consensus." He added that the "unidimensional focus" on carbon emissions by most Western countries put additional pressure on countries like India in international climate negotiations.
Continue reading (WUWT)
Why include the nonsense? Researchers find smoking gun of world's biggest extinction
Massive volcanic eruption, burning coal and accelerated greenhouse gas choked out life

About 250 million years about 95 per cent of life was wiped out in the sea and 70 per cent on land. Researchers at the University of Calgary believe they have discovered evidence to support massive volcanic eruptions burnt significant volumes of coal, producing ash clouds that had broad impact on global oceans.

"This could literally be the smoking gun that explains the latest Permian extinction," says Dr. Steve Grasby, adjunct professor in the University of Calgary's Department of Geoscience and research scientist at Natural Resources Canada.

Grasby and colleagues discovered layers of coal ash in rocks from the extinction boundary in Canada's High Arctic that give the first direct proof to support this and have published their findings in Nature Geoscience.

Unlike end of dinosaurs, 65 million years ago, where there is widespread belief that the impact of a meteorite was at least the partial cause, it is unclear what caused the late Permian extinction. Previous researchers have suggested massive volcanic eruptions through coal beds in Siberia would generate significant greenhouse gases causing run away global warming. (University of Calgary)
EPA to allow higher ethanol blends in newer vehicles

By

As expected, the Environmental Protection Agency granted a waiver Friday allowing model year 2001-2006 vehicles to fuel with gasoline blended with up to 15 percent ethanol.

The decision is certain to raise the ire of the oil industry and other groups, who argue that consumers with older vehicles will accidentally put so-called E15 into their vehicles. EPA said it is in the process of developing new labeling requirements to prevent misfueling.

The move expands on a similar waiver granted in October for 2007 and newer vehicles. EPA has denied a request to allow E15 blends in vehicles older than 2001. The agency said Friday it will not allow E15 blends in motorcycles and off-road vehicles.

Read more... (E2 Wire)

Inhofe to target EPA's ethanol waiver

By

Sen. James Inhofe (R-Okla.) is calling for oversight hearings on the Environmental Protection Agency's (EPA) decision Friday to allow higher blends of ethanol in newer vehicles' gasoline.

EPA signed a waiver Friday allowing vehicles manufactured between 2001 and 2006 to fuel with gasoline that contains up to 15 percent ethanol, or E15. The agency had previously approved the use of E15 in 2007 and newer vehicles.

Inhofe, the ranking Republican on the Senate Environment and Public Works Committee, called on the panel's chairwoman, Sen. Barbara Boxer (D-Calif.), to conduct oversight hearings on the decision.

Read more... (E2 Wire)

By

Sen. John McCain (R-Ariz.) sees an easy target in the drive to cut spending while leaving no "sacred cow" untouched.

Read more... (E2 Wire)

More scams falling apart: Biofuel Jatropha Falls From Wonder-Crop Pedestal

Jatropha, a biofuel-producing plant once touted as a wonder-crop, is turning out to be much less dependable than first thought, both environmentalists and industry players say.

Some biofuel producers found themselves agreeing with many of the criticisms detailed in a report launched by campaign group Friends of the Earth this week -- "Jatropha: money doesn't grow on trees."

Jatropha has been widely heralded as a wonder plant whose cultivation on non-arable land in Africa, Asia and Latin America would provide biodiesel and jobs in poor countries without using farmland needed to feed growing numbers of local people.

"The plant can withstand dry conditions, low nutrient levels and exposed conditions," according to the website of the Netherlands-based Jatropha Investment Fund. "Many desert areas and land which is not currently cultivated will be very suitable for the establishment of plantations."

But some biofuels producers have found the plant less robust than first thought.

"Jatropha is not the miracle crop that many people think it is," said Dominic Fava, business development manager of British biofuels firm D1 Oils, which processes jatropha grown in Asia and Africa.

Other company managers say that while the plant needs no irrigation, high yields depend on good soil and chemical additives.

"The idea that jatropha can be grown on marginal land is a red herring," Harry Stourton, Business Development Director of UK-based Sun Biofuels, which cultivates jatropha in Mozambique and Tanzania, told Reuters.

"It does grow on marginal land, but if you use marginal land you'll get marginal yields," he said. (Reuters)

Senior Republican rejects call for higher offshore drilling fees

By

House Natural Resources Committee Chairman Doc Hastings (R-Wash.) is rebuffing the presidential oil spill commission's call.

Read more... (E2 Wire)

Citing gas prices, oil industry calls for expanded U.S. oil drilling

By

Citing rising gas prices, the oil industry called on the Obama administration Friday to expand domestic oil-and-gas production.

The call comes as gas prices have reached a two-year high and Republicans are planning to focus on the issue in the coming months to criticize the administration's offshore drilling policies.

American Petroleum Institute chief economist John Felmy said Friday that the Obama administration needs to set in motion policies that will ensure a robust supply of domestic oil-and-gas resources.

Read more... (E2 Wire)

The Love Affair With the Fireplace Cools

WINSOME BROWN, an actress and writer, and her husband, Claude Arpels, own an enviable apartment in TriBeCa worthy of a spread in an interior design magazine. The apartment — which is, in fact, being considered for an issue of Elle Décor — has maple floors, casement windows and all the character one would expect to find in a building that was once a factory.

But one of the features that many people in the city would pay a premium for is something the owners don't like: the fireplace.

"A wood-burning fire in the city is a ridiculous luxury — we would never have put it in ourselves," said Mr. Arpels, grandson of one of the founders of Van Cleef & Arpels and the former managing partner of Netto Collection, a baby furniture company bought by Maclaren. "In the city, it doesn't make sense to burn fires, because it's inefficient and it's polluting."

Hard as it may be to believe, the fireplace — long considered a trophy, particularly in a city like New York — is acquiring a social stigma. Among those who aspire to be environmentally responsible, it is joining the ranks of bottled water and big houses. (NYT)
Germany to cut solar subsidies to households

BERLIN — Germany plans to slash subsidies paid to households generating electricity with their own solar panels by up to 15 percent, and six months earlier than planned, the government said Thursday.

Consumers generating electricity with solar panels have been able to sell any excess at an artificially inflated price subsidised by the government, leading to a boom in recent years, fuelled also by cheap Asian imports of panels.

But this has drastically increased the cost to taxpayers and led to higher energy bills for consumers. The economy ministry expects the total bill to be more than 13 billion euros ($17.5 billion) in 2011.

Last year, half of solar panels installed worldwide were installed in Europe's biggest economy, although solar power accounts for just two percent of national electricity generation.

The subsidies have already been cut by a third since late 2009. (AFP)

House backs repeal of Obama healthcare law

The Republican-led House of Representatives passed legislation that would repeal President Barack Obama's landmark healthcare reform law on Wednesday in a mostly symbolic move likely to be scuttled in the Senate. (Reuters)

House Republicans launch healthcare law push

Republicans in the U.S. House of Representatives on Thursday launched a plan to replace President Barack Obama's healthcare overhaul "branch by branch" with measures they say would bring down soaring costs.

"The tree is rotten, you cut it down. If we can't cut it down and succeed doing that all at once, we'll prune it branch by branch," said House Ways and Means Committee Chairman Dave Camp.

His is one of four committees tasked on Thursday with rewriting the healthcare law. (Reuters)

Scientist: Farming Causes Obesity, Mental Illness, Overpopulation and Global Warming – Says Eugenics "Inevitable"

In an article that makes you roll your eyes and wonder "where do they find these people?" the BBC interviews Dr Spencer Wells, explorer-in-residence at the National Geographic Society and in charge of their Genographic project, about his new book Pandora's Seed (Haunting the Library)

Yes, Virginia, A Climate Cover-Up

Junk Science: Democrats in Virginia are trying to stop their attorney general from probing climate fraud carried out by university researchers at taxpayer expense. Are they afraid of finding the inconvenient truth?

It's not the crime, it's the cover-up, as the saying goes. In the case of former University of Virginia climate scientist Michael Mann and his supporters, it may be both. Not only did Mann participate in perhaps the greatest scam of modern times, but he may have also have fraudulently used taxpayer funds to do so. (IBD)

Enviros call on Obama to defend climate rules in State of the Union

By

Ahead of President Obama's State of the Union address on Tuesday, various interest groups are putting pressure on the president to save a few words for their policy priorities. And environmentalists got in on the action Thursday by calling on the president to underscore his intention to block any attempt to overturn Environmental Protection Agency regulations.

In a letter Thursday, more than 20 environmental groups called on Obama to use the State of the Union address to push back against attempts by Republicans and some Democrats to block or delay EPA's efforts to regulate greenhouse gas emissions.

"Your upcoming State of the Union address offers a perfect opportunity to renew that commitment by making clear that you will continue to stand with the public — not polluters — and do everything in your power to ensure that the EPA retains the authority and the resources to take the life-saving actions necessary to protect the air we breathe and the water we drink," the letter says. American Lung Association President Charles Connor sent a similar letter Thursday.

Read more... (E2 Wire)
Warmists Step Up Attacks on Democracy – Chomsky: Election of Republicans "Death Knell for Humans"
In an interview broadcast on The Nation's website Professor Chomsky has stated that democratic elections and the election of sceptical representative posed "a danger to the survival of the species".
The latest democratic elections were a disaster, according to Chomsky, because the stupid, irresponsible masses had elected Republicans who were sceptical of global warming. For this, the media had to share some of the blame, as they sometimes allowed dissenting voices to be heard, which the professor obviously thinks is a terrible crime. It only confuses people when they hear two sides to a story. (Haunting the Library)
"EPA Expands Climate Agenda to the Current Fleet of Power Plants and Refineries" — VanNess Feldman
by Marlo Lewis
20 January 2011 @ 5:16 pm
On December 23, 2010, one day before the Yuletide season when Members of Congress, the media, and Tea Party activists are least likely to watchdog the federal bureaucracy, the U.S. Environmental Protection Agency (EPA) announced rulemakings to establish New Source Performance Standards (NSPS) for greenhouse gas (GHG) emissions from power plants and refineries. Or maybe "whispered" would be more accurate.
If you didn't read the text of EPA's press release and just skimmed the headline, you would not know the agency had just launched the next phase of its greenhouse gas regulatory program. The release carried this bland and uninformative title: "EPA to Set Modest Pace for Greenhouse Gas Standards/Agency stresses flexibility and public input in developing cost-effective and protective GHG standards for largest emitters."
Then on Dec. 30, with… (Cooler Heads)
EPA Changing the Rules as They Go
Congress isn't the only entity that knows how to pick winners and losers for energy sources and technologies. The Environmental Protection Agency (EPA) is doing its best to follow suit by imposing new rules on the natural gas industry and providing exemptions to the biomass industry.
For natural gas, the EPA evasively posted a new rule on hydraulic fracturing, requiring a company to obtain permits if the company uses diesel when fracking. Hydraulic fracturing, a long-proven process by which pressurized water and other substances are injected into wells to extract natural gas, has been the subject of much debate between environmentalists and industry because of those "other substances."
An exemption in the 2005 Safe Drinking Water Act protects natural gas companies from disclosing proprietary information regarding the chemicals they use to when fracking. Environmentalists are pushing for full disclosure because of the concern that hydraulic fracturing is a threat to America's drinking water. But in this instance, with the EPA's new rule on diesel disclosure, perhaps more unsettling than the new rule is the way in which the EPA issued the rule. Mike Soraghan of Greenwire reports: (The Foundry)
Support the Stockholm Initiative
The Stockholm Initiative is a politically and economically independent non-profit organization with the ambition to examine the basis of current and planned climate policies and their political and economical consequences. (Warwick Hughes)
Alarmists Caught Off-Guard(ian)
It's a Guardian headline that might cause you to think its journalists were taking a good look at themselves,
Online news service promotes false climate change study
But Suzanne Goldenberg is pointing her fingers elsewhere. (Ben Pile, Climate Resistance)
Hmm... this again: Institute to investigate CO2 leak claims at Sask carbon-capture site
A Regina-based research institute is launching an investigation into alleged environmental contamination at a Weyburn-area farm from the world's largest carbon capture and storage (CCS) project operated by Cenovus Energy of Calgary.

IPAC-C02 Research Inc. is putting together a team of experts to investigate claims made by Cameron and Jane Kerr last week that carbon dioxide was leaking from the CCS project and contaminating their water and land near Goodwater.

Carmen Dybwad, IPAC's CEO, said the Kerrs' story, which was carried by the national media and "went viral'' on the Internet, raises a lot of questions about the safety of CCS technology. (Vancouver Sun)
Saskatchewan researchers deny claim of carbon dioxide leak
World-leading carbon capture and storage plant draws international scrutiny after complaint from farmers

Scientists at Canada's world-leading carbon capture project on Wednesday dismissed claims that they've sprung a leak.

The project, which is associated with a Cenovus enhanced oil recovery operation at a Weyburn, Sask. oilfield, attracted international scrutiny last week after an environmental group alleged that carbon dioxide from the operation was escaping into the atmosphere.

In a seven-page review that was assembled in response to claims by EcoJustice, the Petroleum Technology Research Centre rejected the allegations and the conclusions of the study that supported them.

If the Weyburn project was leaking, it would be bad news for a growing international effort to find ways to contain and remove CO2 that is generated during industrial processes -- most notably, coal-fired electricity generation. (Vancouver Sun)
They don't say... Man, volcanoes and the sun have influenced Europe's climate over recent centuries
An International research team has discovered that seasonal temperatures in Europe, above all in winter, have been affected over the past 500 years by natural factors such as volcanic eruptions and solar activity, and by human activities such as the emission of greenhouse gases. The study, with Spanish involvement, could help us to better understand the dynamics of climate change.

Up until now, it was thought that Europe's climate prior to 1900 was barely affected by external factors, but now a group of scientists has shown that natural phenomena such as volcanic eruptions or solar radiation, as well as human emissions of aerosols and greenhouse gases, have had an impact on the evolution of Europe's climate over the past five centuries. (FECYT - Spanish Foundation for Science and Technology)
UC Davis study shows plants moved downhill, not up, in warming world
Increased precipitation is the key, authors say

In a paper published today in the journal Science, a University of California, Davis, researcher and his co-authors challenge a widely held assumption that plants will move uphill in response to warmer temperatures.

Between 1930 and 2000, instead of colonizing higher elevations to maintain a constant temperature, many California plant species instead moved downhill an average of 260 feet, said Jonathan Greenberg, an assistant project scientist at the UC Davis Center for Spatial Technologies and Remote Sensing.

"While the climate warmed significantly in this period, there was also more precipitation. These wetter conditions are allowing plants to exist in warmer locations than they were previously capable of," Greenberg said.

Many forecasts say climate change will cause a number of plants and animals to migrate to new ranges or become extinct. That research has largely been based on the assumption that temperature is the dominant driver of species distributions. However, Greenberg said the new study reveals that other factors, such as precipitation, may be more important than temperature in defining the habitable range of these species. (University of California - Davis)
Sounds interesting... until you find it's just a PlayStation® exercise: War, plague no match for deforestation in driving CO2 buildup
Stanford, CA— Genghis Khan and his Mongol hordes had an impact on the global carbon cycle as big as today's annual demand for gasoline. The Black Death, on the other hand, came and went too quickly for it to cause much of a blip in the global carbon budget. Dwarfing both of these events, however, has been the historical trend towards increasing deforestation, which over centuries has released vast amounts of carbon dioxide into the atmosphere, as crop and pasture lands expanded to feed growing human populations. Even Genghis Kahn couldn't stop it for long.

"It's a common misconception that the human impact on climate began with the large-scale burning of coal and oil in the industrial era," says Julia Pongratz of the Carnegie Institution's Department of Global Ecology, lead author of a new study on the impact of historical events on global climate published in the January 20, 2011, online issue of The Holocene. "Actually, humans started to influence the environment thousands of years ago by changing the vegetation cover of the Earth's landscapes when we cleared forests for agriculture."

Clearing forests releases carbon dioxide into the atmosphere when the trees and other vegetation are burned or when they decay. The rise in atmospheric carbon dioxide resulting from deforestation is recognizable in ice cores from Greenland and Antarctica before the fossil-fuel era. (Carnegie Institution)
Dessler-Spencer Cloud Feedback Debate Update
The e-mail debate I have been having with Andy Dessler over his recent paper purporting to show positive cloud feedback in 10 years of satellite data appears to have reached an impasse.
Dick Lindzen has chimed in on my side in recent days, but Andy continues to claim that – at least during the 2000-2010 period in question — I have provided no evidence that clouds cause climate variations.
This is remarkably similar to how Kevin Trenberth rebutted my last congressional testimony…"clouds don't cause climate change", is approximately what I recall Kevin saying. (Roy W. Spencer)
CMP to regulators: No 'smart' alternative
In a switch to new technology, CMP tells regulators it can't allow opt-outs for those worried about meter health risks.

Central Maine Power Co. is rejecting calls to allow some customers to opt out of its "smart meter" installation program.

The suggested alternatives to wireless smart meters -- letting customers keep their mechanical meters or installing smart meters with dedicated phone lines -- would cost too much money, CMP says. They also would fail to meet state policy objectives and may threaten $96 million in federal funds for the two-year project, the company says. (Portland Press Herald)
Delaware delays socialization of electric market
The Delaware Public Service Commission delayed Delmarva Power's bid to decouple electricity sales from revenue pending greater "consumer education."
Since 2006, Delmarva has been trying to work out a deal with regulators whereby its revenues would no longer depend on how much electricity it sells. The utility in effect would get to sell less electricity for higher prices, while consumers are forced into energy efficiency and smart meter schemes.
A Delmarva spokesman told Smart Grid Today that,
"We certainly understand the commission's desire for additional customer education. The decoupling rate design is very complicated. We will hold workshops and put a plan together for how we're going to get our customers up to speed."
Decoupling should be rejected, however, because:
Pay more, get less. Consumers will wind up paying more for less electricity;
Rationing. Decoupling is the first stop on the pathway to electricity rationing; and
Anti-capitalist. Through government guaranteed revenues, decoupling undermines fundamental and traditional capitalist business practices and incentives.
You can also judge an idea by its advocates. Obama energy and environment czar Carol Browner, a former muckety-muck with Socialist International, promotes decoupling as means of forcing consumers to use less electricity. (Green Hell Blog)

National Commission Spill Report: Too Anti-Drilling Instead of Anti-Spilling

by Ben Lieberman
19 January 2011 @ 11:35 am

The BP Deepwater Horizon Spill Commission report is out and its recommendations would spell bad news both for energy industry jobs and the future price at the pump. The administration-selected panel, dominated by anti-drilling activists but devoid of anyone with actual experience producing energy, proposes to pile new layers of red tape onto a process that already leaves much domestic energy off-limits and creates years of delays for rest. It even includes measures that would virtually shut down new oil drilling in Alaska, though the spill occurred thousands of miles away and under very different conditions in the Gulf of Mexico.

But buried in the report is an important truth - the spill occurred because of a series of blunders by BP and…

Read the full story (Cooler Heads)

Burton, Bachmann want House on record for drilling

By

A dozen members led by Rep. Dan Burton (R-Ind.) and including Tea Party favorite Michele Bachmann (R-Minn.) introduced the resolution below on Wednesday.

From the Congressional Record:

By Mr. BURTON of Indiana (for himself, Mrs. BACHMANN, Mr. OLSON, Mr. CRAWFORD, Mr. HUELSKAMP, Mr. LONG, Mr. CRITZ, Mr. POMPEO, Mr. MCCLINTOCK, Mr. WITTMAN, Mrs. MILLER of Michigan, and Mr. PAUL):

H. Res. 44. A resolution expressing the sense of the House of Representatives that an effective moratorium by the Executive Branch on offshore oil and gas exploration and drilling should be terminated; to the Committee on Natural Resources.

The resolution comes as Republicans and some Democrats are bashing the Interior Department for failing to resume issuing deepwater drilling permits in the Gulf of Mexico, even though the formal moratorium was lifted in October.

Read more... (E2 Wire)

Manchin seeks backing for curbing EPA's mining permit powers

By

Sen. Joe Manchin (D-W.Va.) is urging his Senate colleagues to back his forthcoming legislation to curtail the Environmental Protection Agency's power to nix mountaintop-removal coal-mining projects.

Manchin's effort follows the EPA's decision to veto the Clean Water Act permit for Arch Coal's Spruce No. 1 mine in West Virginia after the large project won approval from the U.S. Army Corps of Engineers (USACE) in 2007.

"In the coming weeks, I intend to pursue legislation to clarify, in no uncertain terms, that the EPA does not have authority under the Clean Water Act to reverse prior approvals of the USACE where a permit has been put through a rigorous regulatory process, including time for thorough review by the EPA for possible negative environmental consequences, and awarded by the USACE prior to any official objections from the EPA," Manchin wrote in a letter to colleagues.

EPA's decision last week attracted cheers from green groups but drew howls of protest from pro-industry lawmakers and business groups, who said it could broadly curtail investment by eroding industry confidence in the regulatory process.

Read more... (E2 Wire)

Iraqi Oil Not Flooding Market Any Time Soon
For better or worse, Iraq's promise that stability and foreign investment would lead to a flood of oil within years is looking more like a hyped up salesman pitch. [Read More] (Andres Cala, ET)
IEA lauds unconventional gas reserves
PARIS, Jan. 19 -- Supplies of natural gas could last more than 250 years if Asian and European economies follow the U.S. unconventional reserves, the IEA said.

The abundance of shale gas and other forms of so-called unconventional gas discovered in the United States prompted a global rush to explore for the new resource.

The International Energy Agency said Australia is taking the lead in the push toward unconventional gas, though China, India and Indonesia are close behind. European companies are taking preliminary steps to unlock unconventional gas as are other regions. (UPI)
Peter Foster: Solar fades as shale gas flares
Shale gas supplies may last 250 years and make renewables uneconomic

China reportedly has some two-thirds of the US$39-billion global market for solar panels, but it doesn't use them very much. Why? Because they're uneconomic.
The Chinese subsidize their manufacturers to take advantage of the ultra-expensive alternative energy forced on western consumers via feed-in tariffs. Smart for them, dumb for us, but since everybody is subsidizing renewables, it's hard to condemn the Chinese. Indeed, the terms "solar panels" and "free trade" don't belong in the same conceptual time zone, even if they are reportedly an issue at this week's meetings in Washington between U.S. President Barack Obama and Chinese President Hu Jintao.
There are far bigger issues here than policy hypocrisy. What happens to renewable energy when alarmist climate science collapses? And even if the ideological rearguard action drags on for years, what about the fact that shale gas is about to make renewables look even more ridiculous in terms of both economics and emissions?
Read More (Financial Post)
Enron as a Political Company (Part III: Robert L. Bradley Jr. Interview)
by Roger Donway
January 20, 2011
[Part III of an interview of Robert L. Bradley Jr. by Stephen Hicks (website here). Part I (Libertarianism and Energy) and Part II (Expanding Energy Horizons) have been published.]
"Ken Lay lives in Jim Rogers! The master of the regulation game for natural gas transmission brought Lay's get-out-in-front political strategy from Enron to a company called Public Service Company of Indiana, which became Cinergy, which was bought by Duke Energy. Rogers positioned his coal-laden company as very concerned about climate change and wanting cap-and-trade regulation."
Kaizen: Enron operated in a highly mixed political and economic environment. In the decades that Enron was operating—the 1980s through the early 2000s—to what extent was the U.S. energy market a free market, and to what extent was it regulated economy?
Bradley: The energy industries—oil, natural gas, and electricity—have all been politicized. And Ken Lay, the big-picture economics Ph.D., had a skill set that was attracted to the mixed economy and thus to energy, particularly to natural gas.
Kaizen: When was Enron created?
Bradley: Lay joined Houston Natural Gas Corporation as CEO in May 1984. The next year, HNG became HNG/InterNorth after a merger with InterNorth, a major Midwest supplier. A year later, in 1986, the company was renamed Enron.
Kaizen: Did it begin as a regulated company?
Bradley: Not really, interestingly. What Lay did in his first six months was to take a company that was selling gas in the largely unregulated Texas market through a vast intrastate pipeline and transform it into a company of interstate gas transmission companies regulated by the Federal Energy Regulatory Commission (FERC) out of Washington, D.C. FERC was the old Federal Power Commission (FPC), where Lay worked while in Washington, D.C.
So in addition to its unregulated core, Enron obtained three major interstate pipelines that are public-utility-regulated. And Lay starts staffing up with some very innovative folks who understood the ins and outs of public utility regulation.
James E. "Jim" Rogers
One was James E. "Jim" Rogers, who had a background with FERC. He was a master at figuring out ways for the regulated pipeline to "beat" its rate case, or how to exceed your authorized regulated rate of return.
Kaizen: So Rogers is a 'gamer' of regulation.
Bradley. Yes, but in a good way since in this case regulatory entrepreneurship was to a large extent pro-consumer—doing what your customers want to transport or sell gas in new ways.
Rogers left Enron in 1988 for the electricity industry and is now CEO of Duke Energy, a major electric utility company. He became the leading political entrepreneur of the electricity business. Over the years, he sold his industry on cap-and-trade as a global warming policy strategy—a real blow for the free market and those of us who are against climate alarmism and related policy activism.
Kaizen: So Rogers has continued the political capitalism strategy of the late Ken Lay?
Bradley: Yes–Ken Lay lives in Jim Rogers! The master of the regulation game for natural gas transmission brought Lay's get-out-in-front political strategy from Enron to a company called Public Service Company of Indiana, which became Cinergy, which was bought by Duke Energy. Rogers positioned his coal-laden company as very concerned about climate change and wanting cap-and-trade regulation. [Read more →] (MasterResource)
Green Energy's Big Challenge: The Daunting Task of Scaling Up
To shift the global economy from fossil fuels to renewable energy will require the construction of wind, solar, nuclear, and other installations on a vast scale, significantly altering the face of the planet. Can these new forms of energy approach the scale needed to meet the world's energy demands? (David Biello, e360)
China Ups Ante On Rare-Earth Metals

High-stake issues such as defense problems regarding China's relationship with North Korea and trade concerns over the yuan's contested value dominated media commentary during Chinese President Hu Jintao's U.S. this week.

Yet the ante is just as high for another, less ballyhooed matter: China's plans to dramatically reduce exports of little-known rare-earth elements (REE).

Applications of these REEs, a class of 17 chemical elements that play a critical role in modern technology, range from cancer treatment to cruise missiles, iPods to hybrid cars, and solar panels to oil refineries.

Beijing's decision last month to cut its REE export quotas by 35% places continued production of all of these (luxuries and necessities alike) at risk. And the best solution will involve not only diplomatic measures, but also an overhaul of hostile regulatory environments that have played a role in driving U.S. manufacturing efforts overseas. (William O'Keefe, IBD)

Secrets of the MMR scare, part 3: The Lancet's two days to bury bad news

In the third part of a special BMJ series, Brian Deer reveals what happened when he reported misconduct in Andrew Wakefield's MMR research to the medical journal that published it. An accompanying editorial by researchers in Seattle says Deer's articles reveal the urgent need "to fix a system that failed to protect human subjects and the public from the consequences of fraudulent science." And Fiona Godlee, in her editor's choice, says that we urgently need proper mechanisms in the UK for ensuring research integrity.

More on MMR:

(BMJ)

Dominic Lawson: The population timebomb is a myth

The doom-sayers are becoming more fashionable just as experts are coming to the view it has all been one giant false alarm.

The human appetite for bad news knows no bounds. That is why gossip is usually malicious and why, on a grander scale, prophets of doom are always guaranteed a credulous audience. Conversely, good news – however well attested – is generally squeezed in the margins of newspapers.

For example, The Independent buried in a few paragraphs a story with the headline "Population growth not a threat, say engineers". But at least The Independent found some space to cover the publication of a report last week by the Institution of Mechanical Engineers entitled Population: One Planet, Too Many People? – I could find nothing about it in other newspapers.

The reason for that distinct lack of column inches is that the institution answered its own question in the negative. No, there are not (and will never be) too many people for the planet to feed. As the report's lead author, Dr Tim Fox, pointed out, its verdict is not based on speculative guesses about the development of new agricultural processes as yet unknown: "We can meet the challenge of feeding a planet of 9 billion people through the application of existing technologies". For example, Dr Fox pointed out, in Africa, no less than half the food produced is destroyed before it reaches its local marketplace: with refrigeration and good roads, the developing world could avoid this horrendous waste.

Interestingly, another detailed report on "sustainability" published last week by the French national agricultural and development research agencies came up with the same answer. The French scientists set themselves the goal of discovering whether a global population of 9 billion, the likely peak according to the UN, could readily have access to 3,000 calories a day, even as farms take measures to cut down on the use of fossil fuels and refrain from cutting down more forests: their answer was, you will be thrilled to know, "yes". (Independent)

Chemicals lobbying group presses White House on reg review

By

Industry trade groups are quickly using the new White House regulatory review initiative to attack Environmental Protection Agency rules they allege will create burdens.

On Tuesday the National Association of Manufacturers took aim at EPA climate rules and a controversial proposal to impose tougher restrictions on commercial and industrial boilers.

The American Chemistry Council — which represents chemical companies — is also citing the regulatory initiative to criticize EPA, including plans to impose "maximum achievable control technology" standards for hazardous pollutants from boilers.

The trade group, in a letter Tuesday to White House budget chief Jacob Lew, calls for improving the "quality and scope" of economic models that federal agencies are using.

Read more... (E2 Wire)
Watch out, New York: The Environmental Protection Agency is moving its protection racket into the classroom.

The grasping green giant intends to go into about 740 city schools to sniff out PCBs, the supposedly toxic chemical found in old caulking and light fixtures.

No doubt it'll find plenty — the stuff is ubiquitous — and then the fun will begin. Think of it as the cleanup job from hell. (NY Post)
EU having trouble footing greenie bill: EU Delays Tackling Air Pollution To 2012 Or Later
The European Union's executive has agreed to delay new laws forcing industry to take costly steps to tackle air pollutants that are blamed for respiratory problems and premature deaths in cities.

Most soot particles or airborne acid pollution comes from diesel cars, ships and power stations.

No action is seen until 2012 or 2013 when a whole string of related legislation can be overhauled simultaneously, a source at the European Commission, which initiates EU law, said on Wednesday.

The European Environmental Bureau (EEB), a federation of 140 European groups, criticised the decision. (Reuters)
Good: House Energy panel to take aim at Obama climate change regulations

By

Chairman Fred Upton will target EPA's regulatory "chokehold," according to a document laying out the committee's agenda.

Read more... (E2 Wire)

Stupid: Obama: U.S., China have 'responsibility' to fight global warming

By

President Obama used a joint appearance with Chinese President Hu Jintao Wednesday to call for cooperation among the two nations – the world's largest greenhouse gas polluters – in tackling climate change.

Obama, at a White House press conference, lauded plans for continued joint research into low-carbon energy technologies.

"We're moving ahead with our U.S.-China Clean Energy Research Center and joint ventures in wind power, smart grids and cleaner coal," Obama said in the East Room appearance with Hu.

"I believe that as the two largest energy consumers and emitters of greenhouses gases, the United States and China have a responsibility to combat climate change by building on the progress at Copenhagen and Cancun, and showing the way to a clean energy future. And President Hu indicated that he agrees with me on this issue," Obama said.

Read more... (E2 Wire)

Electric utilities looking for emissions deal

The ever-unscrupulous electric utility industry is once again working to bring about climate legislation. (Green Hell Blog)

European carbon market suspended

The Telegraph (among others) is reporting that the European carbon market has been suspended for a week following the theft of emissions permits from the Czech registry.
More than €2bn (£1.7bn) of trade is likely to be disrupted after the European Commission said it would prevent transactions until January 26.

The suspension follows allegations that 475,000 carbon credits worth €7m were stolen in a hacking attack on the Czech carbon register. It appears that the intangible allowances were bounced between eastern European countries before disappearing without a trace.
I'm not sure I understand why they feel it necessary to suspend the market this time. According to the same article,
[The market] has been plagued by fraud, with Europol estimating that carbon trading criminals trying to play the system may have accounted for up to 90pc of all market activity in some European countries during 2009. Fraudulent traders mainly from Britain, France, Spain, Denmark and Holland pocketed an estimated €5bn.
Industrial-scale fraud - environmentalism's legacy to the world. (Bishop Hill)
Greenies hate you having any standard of living: MPs urged to ration fuel or miss carbon emissions targets
Report calls for system of Tradable Energy Quotas for businesses and individuals

By Will Nichols 19 Jan 2011

Fuel rationing may need to be put in place by the end of the decade if the UK is to meet its commitment to slash carbon emissions without damaging business revenue by raising a carbon tax, MPs were told yesterday.

The idea of fuel rationing has been floated before by the Institute for Public Policy Research and the Environment Agency, but has been fiercely opposed by motoring groups.

However, a report published yesterday by researchers the Lean Economy Connection for the All Party Parliamentary Group on Peak Oil, warned that increasing resource shortages would necessitate the rollout of an individual carbon credit system known as Tradable Energy Quotas (TEQs). (businessGreen)
Democrats try to curb Cuccinelli's powers
By Rosalind S. Helderman
Washington Post Staff Writer
Wednesday, January 19, 2011
RICHMOND - Democrats in the General Assembly are trying to curb the power of the state's attorney general to subpoena public universities in an effort intended to limit inquiries like the one Attorney General Ken Cuccinelli II is conducting at the University of Virginia.
Under a 2002 statute designed to catch government employees defrauding the public of tax dollars, Cuccinelli (R) has demanded that the university turn over documents and e-mails related to the work of Michael Mann, a former university climate scientist whose research showed that the Earth has been warming.
Cuccinelli has said he wants the documents, including grant applications and e-mails exchanged between Mann and 39 other scientists and university staffers, to help determine whether Mann committed fraud by knowingly skewing data as he sought publicly funded grants for his research.
Cuccinelli's demand has pleased conservatives, who say that global warming is a hoax, but has outraged many academics, who say he is smearing an honest researcher because he does not approve of his findings. (WaPo)
California utility PG&E Corp. has just learned something about CFLs — they don't work as well as touted. According to a report in today's Wall Street Journal, PG&E's $92 million rebate program for CFL usage during 2006-2008 saved 73% less energy than originally projected by PG&E:
One hitch was the compact-fluorescent burnout rate. When PG&E began its 2006-2008 program, it figured the useful life of each bulb would be 9.4 years. Now, with experience, it has cut the estimate to 6.3 years, which limits the energy savings. Field tests show higher burnout rates in certain locations, such as bathrooms and in recessed lighting. Turning them on and off a lot also appears to impair longevity. [Emphasis added]
Combined with their inherent mercurial hypocrisy, this new information should add urgency to the House effort to repeal the ban on incandescents. (Green Hell Blog)
I call "Bullshit!" Climate Change Growing Risk For Insurers: Industry
Insurers are struggling to assess the risks from climate change, industry officials say, with the floods in Australia and Brazil highlighting the potential losses from greater extremes of weather. (Reuters)
Oh dear... Harrabin's Notes: Mission impossible?
In his regular column, BBC environment analyst Roger Harrabin examines the claims by the chief economist at a major energy think-tank that it is virtually impossible to keep CO2 within "safe" limits. (BBC)
Dr. Wolgang Thüne Slams Climate Policy: Efforts To Steer Climate Are "Utopian Pipe Dreams"
Der Spiegel cover of August 11, 1986

19. Januar 2011

The concept of "climate catastrophe" in Germany was born 25 years ago writes German meteorologist Dr. Wolfgang Thüne here at his blogsite and, as of today, except for the media bluster, there are still no signs of it. Thüne writes:
Do you remember January 22, 1986? On this day a press conference took place in Bonn at the Hotel am Tulpenfeld. The German Physikalische Gesellschaft e. V. (German Physical Society) invited journalists and presented them with the "Warning of a Pending Climate Catastrophe". Written on the invitation: 'The Energy Work Group of the German Physical Society urgently warns in the accompanying document of an imminent threatening climate catastrophe'.
Later that year in August, Der Spiegel came out with its infamous Climate Catastrophe issue whose front cover showed Germany's beloved Cologne Cathedral landmark half-submerged in sea water. The warning on the cover read: "Ozone Hole – Ice Cap Melt – Greenhouse Effect: Scientists warn of THE CLIMATE CATASTROPHE".
(No Tricks Zone)
Even The Guardian figured out it was crap: Online news service promotes false climate change study
EurekAlert! carried a study with unfounded global warming claims that the planet would warm by 2.4C by 2020 (Guardian)
Hurricane Damage Risk and Predictions
Karen Clark and Co. have released an updated report (here in PDF, the table shown above comes from the report) evaluating the performance of short-term predictions of US hurricane damage from catastrophe modeling firms (h/t ClimateWire). Clark, one of the founders of the cat modeling industry, finds that the near-term cat model predictions have come up short

We have now completed the first five-year near term hurricane model projected period, and actual insured loss experience has been well below the level of the model predictions. Four of the past five years have had minimal insured property loss from Atlantic tropical cyclones, well below both the long term average and the (much higher) near term projections. To date, the catastrophe models have not demonstrated any skill in projecting near term hurricane losses.

The first decade of the 21st century was equal to the long term average with respect to hurricane landfall frequency and loss experience. This average decade was preceded by several decades of below average activity. This means the even the long term standard hurricane model activity rates are higher than what has been experienced since the models were first introduced in the 1980's.
These conclusions reinforce the results of my analysis of short-term landfall and damage projections (PDF). The figure below comes from that paper and shows the historical record of US hurricane landfalls from 1851-2008.

There has been no upward trend in hurricane landfalls or damage over the period of available data.

Looking globally at all hurricanes and tropical cyclones, there are no upwards trends in frequency (top graph below, from R. Maue) or intensity (bottom graph below, from R. Maue) over the period of record.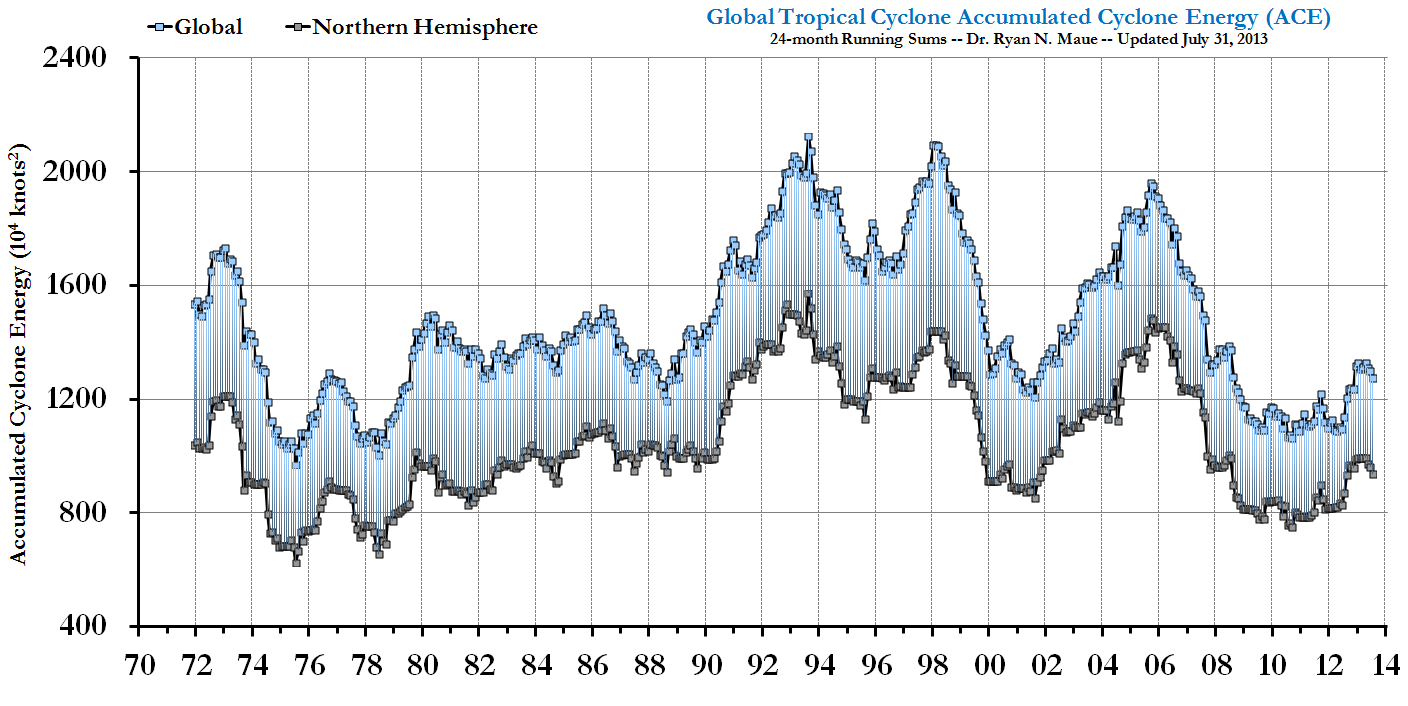 To some degree the issue of short-term hurricane risk has become tangled in the debate over human-caused climate change and its long-term effects on hurricane behavior. These issues should not be conflated for the simple reason that even taking predictions of a significant human influence on hurricane behavior as a given, it will be many, many decades before that signal can be seen in the damage record. It is simply logical that a signal that cannot be seen for decades is not immediately relevant to judgments of near-term risk. (Roger Pielke Jr.)

European History: Cooling Bad, Warming Good, Study Confirms, Despite Gratuitous Political Correctness

by Marlo Lewis
18 January 2011 @ 5:32 pm

During the past two millennia and more, Europe suffered during cooler, drier periods and flourished during warmer, wetter periods. That's what any attentive reader will infer from "2500 Years of European Climate Variability and Human Susceptibility," a study published in ScienceExpress by Swiss researcher Ulf Büntgen and 11 U.S. and European colleagues.

The study, based on the most extensive collection of proxy data from European tree ring samples ever assembled, confirms what Thomas Gale Moore of the Hoover Institution concluded in his 1998 book, Climate of Fear, namely, "happiness is a warm planet." However, the Büntgen team leave that at the level of implication.

Indeed, the study includes politically-correct statements that are either gratuitous or intended to placate the Gorethodox. The study's Abstract, for example, states that "Recent warming is unprecedented." There's no discussion of this point in…

Read the full story (Cooler Heads)

EDITORIAL: NASA extremist advocates U.S. decline

Radical green James Hansen pushes Chinese war on American economy

Imagine if a former military officer, a traditional-values conservative now an attache at the State Department, wrote for a largely foreign audience to urge an international boycott of U.S. goods. The aim was to ruin the American economy to protest the new policy of allowing open homosexuality in the armed forces. Media outlets and politicians would be screaming for his dismissal. Free speech is one thing, but nobody on the taxpayer dole in a position of responsibility would be allowed to call for the destruction of our economy. One way or another, the man would be forced out.

Now consider James E. Hansen, director of the taxpayer-funded NASA Goddard Institute for Space Studies. (The Washington Times)

Randall Hoven

Just a bit over a month ago, December 14, we ran a blog piece on a NASA web page that said the sun is primarily responsible for climate change, and that whatever warming is caused by man's contributions to greenhouse gases is swamped by the effects of the sun and other natural variables. (American Thinker)

Shriek! Dr. Pachauri, Chairman of the IPCC: Fifth Assessment Report well underway

Dr. Rajendra K. Pachauri, Chairman of the Intergovernmental Panel on Climate Change, visited Finland on 14 January. He stated that the long-range activities of the IPCC have markedly increased people's knowledge of climate change.

Fifth Assessment Report being compiled

At the seminar for experts organised by the Finnish Meteorological Institute, Dr. Pachauri discussed the drafting of the IPCC Fifth Assessment Report (AR5). The authors of the report have been selected from over 3,000 nominees. The intention is for the report to be ready in October 2014 so that it can be utilised at the COP 20. (Finnish Meteorological Institute)
NASA Sun Spot Number predictions revised again
UPDATE: see my animation of NASA solar forecasts since 2004 below.
WUWT Commenter J Gary Fox writes:
The solar cycle 24 predicted sunspot maximum has been reduced again – predicted peak down to 59 Max. (1/3/11) http://solarscience.msfc.nasa.gov/predict.shtml
click to enlarge

"It's tough to make predictions, especially about the future. Philosopher Y. Berra

This will be at the level of the Maunder Minimum of 1675 -1715.

Previous NASA predictions below: Continue reading

Interior official declines to offer specific timeline for Gulf drilling

By

The Interior Department's top drilling official declined to give details on when the department will begin issuing new deepwater drilling permits for the Gulf of Mexico.

"I don't want to hazard a guess as to exactly when the first deepwater permits will be issued," Bureau of Ocean Energy Management, Regulation and Enforcement Director Michael Bromwich said Wednesday. He added that he hopes new deepwater permits "will be approved before too long."

Bromwich said last week that he expects to begin issuing permits before the second half of the year. Asked by reporters for a more specific date, Bromwich declined.

Read more... (E2 Wire)

The Assault on Drilling Is Onshore, Too
Gas prices are nearly 40 cents per gallon higher than what they were last year and show no sign of falling any time soon. Although there are plenty of ideas that could help lower prices, the Obama Administration is doing much more harm than good.
We've written in great detail about the Obama Administration's attack on offshore drilling. They announced that the eastern Gulf of Mexico and the Atlantic and Pacific coasts will not be part of the government's 2012–2017 Outer Continental Shelf program, effectively banning drilling in those areas for the next seven years. Permits in the areas we can drill are down considerably, and the President's oil spill commission report recommends new fees and tighter regulations moving forward. As a result, our financially strapped government is unable to collect billions in potential oil revenue.
Continue reading... (The Foundry)
No shortage of energy resources, or of people willing to exploit them: Discoveries fuel China's resource security
BEIJING - Chinese geologists have detected "super-thick" oil and gas-bearing stratums in the northern part of the South China Sea and identified 38 offshore oil and gas-bearing basins, a senior official said on Saturday.

The outskirts of Songliao Basin in Northeast China, Yin'e Basin in North China and Qiangtang Basin on the Qinghai-Tibet Plateau have also been found to have rich oil and gas resources, Wang Min, vice-minister of land and resources, said at a national conference in Beijing.

In addition, 192.7 billion tons of coal resources have been found in Northwest China's Xinjiang Uygur autonomous region, and four 10,000-ton sandstone-type uranium mines have been located in Xinjiang and Inner Mongolia, he said.

Wang said these latest discoveries, particularly those at sea, have given direction for China's future resource exploration. (China Daily)
Bill Gates Jumps Into Oil Exploration; Brazil's Reserves to Double?
Bill Gates has read the tea leaves, and thinks that there is money in advanced oil exploration technologies. (Al Fin Energy - ht GWPF)
How it Works: Drive up Food Prices By Demanding Biofuel, Then Blame Global Warming.
<<another long post – but again, it's worth it: this is important. It reveals how global warming alarmists are responsible for the rising food prices they blame on global warming>>
Sometimes you don't know who's worse: the global warming alarmists, banging the pan with their latest prediction of impending doom, or the mainstream media who seem to not only let them, but positively help them. (Haunting the Library)
Sino-American renewable energy trade war
Benny Peiser has sent us - subscribers of his GWPF mailing list - some articles about a newly emerging trade war between China and America. This civil war inside the de facto Sino-American currency union is kind of incredible.

Let us start in the "good old days" before the trade war. As The New York Times recall, Evergreen Solar emerged in the last three years as one of the top 3 U.S. producers of solar panels. It was a source of pride for Deval Patrick and other socialist politicians of Massachusetts.
They have paid something between $43 and $58 billion [?! should read millions - Ed.] in subsidies - cash that was stolen from the sensible Massachusetts taxpayers and/or wittingly donated by the brainwashed ones. The idea has always been that it's great to waste money for this stuff because it will be making a better world in the distant future.

In reality, of course, such companies and projects belong among the most ephemeral and kitshy activities that people are doing these days. Within three years, the company decided to move its production to China whose socialist government can waste even more money - much more easily stolen from the Chinese workers - than the U.S. government. Moreover, the standard advantages of cheaper labor add to the reasons.
» Don't Stop Reading » (TRF)
See Solar Power Eclipse (WSJ); Solar Panel Maker Moves Work to China (NYT); Pentagon cannot buy Chinese solar panels anymore (Deccan Herald); US targets China's wind subsidy (Down To Earth); Special Report: Is a solar trade war about to flare? (Reuters)
It is no secret that I have been a critic of Range Fuels — not necessarily of their technology but of their approach. [Read More] (Robert Rapier, ET)
Oxymoronic Windpower (Part II: Windspeak)
by Jon Boone
January 19, 2011
Windspeak: Language used by those who profit financially, politically, or ideologically from wind technology that disguises, distorts, or reverses the meanings of words in order to promote the technology. Oxymorons, which combine incongruous or contradictory terms, abound in windspeak—viz, windpower, wind capacity, responsible windpower (double oxymoron), windfarms, windparks, wind jobs, wind reliability workshops, and wind as alternate energy. Generally any claim made for the technology in windspeak produces the virtually opposite effect in reality.
With the right story and no accountability, Madison Avenue can sell fantasy wholesale. Rock Hudson's ad executive did just this 50 years ago in the charming send-up to our commercial culture, Lover Come Back, when he successfully marketed a non-existent product, VIP.
Nothing illustrates this idea better than the au courant fantasia about wind technology, where public relations legerdemain has deployed the power of windspeak to give wind a complete makeover, transforming a klutzy pretender into a seemingly benevolent superhero unbound by the laws of physics and even its own history. This is due in no small part because of the way wind has been entwined in stories deeply embedded within our cultural consciousness.
Giving the Middle Ages a contemporary look, J. K. Rowling borrowed much from fictional works by J. R. R.Tolkien, a medieval history and literature scholar who thought Shakespeare too modern and vulgar. Her Harry Potter books invite comparison to the current wind propaganda narrative. Like these stories, wind is presented as a coming of age chronicle, complete with the use of magical powers and the idea of transforming ancient technologies into modern elixirs. Although wind in its latest incarnation has been at the public trough for nearly 40 years, windspeak portrays its hero as an infant wizard preparing to save the world; it simply needs more time at Hogwarts-like institutions such as Stanford and MIT.
What is even more striking is how wind has franchised itself, much like the Harry Potter phenomenon, through self promotion, using product placement and embedded, leveraged marketing techniques a la GE/NBC/CNBC. A quick Internet search revealed the following items, under "Wind Marketing:" mugs, t-shirts, boxer shorts, thongs, back packs, lunch boxes, posters, tote bags, hats, aprons, yoga mats, license plate frames, wall clocks, keepsake boxes, greeting cards, buttons, decals, gym bags, desktop wind turbine, Lego's wind turbines, a Lionel wind turbine cargo car and O gauge wind turbines. And, from our good friends at Greenpeace, there's the Wind Farm Game. In fact, for nearly every product used to leverage the Potter Syndrome, there is a counterpart with wind. [Read more →] (MasterResource)
Europe's Debt Crisis Slows Push For Green Power
The economic crisis has eroded the ambitions of the European Union's first energy summit next month to discuss a 1 trillion euro ($1.3 trillion) strategy for green power and high-tech power grids, a draft document shows.

Energy Commissioner Guenther Oettinger proposed the plan last November, aiming to bring Europe's climate ambition into the mainstream of infrastructure planning and to protect the bloc from over-reliance on costly fossil-fuel imports.

That strategy won broad support from outlying countries such as Portugal and Malta, and eastern states like Lithuania.

But energy ministers from the EU's biggest economies were reluctant to pick up the bill at a meeting in December, with Germany, France and the Netherlands saying new high voltage power links did not merit EU funding.

Those links would be needed to bring vast amounts of green electricity from wind turbines in the North Sea or solar parks in the Mediterranean to cities such as Paris or Prague.

A draft declaration for the EU's first ever summit of leaders to discuss energy issues showed further reluctance to fund a pan-European "supergrid" which would also be needed to dissipate spikes in wind and solar power. (Reuters)
Medicine: As the House moves to repeal the nationalization of health care, Britain plans to take a scalpel to its National Health Service, opening it up to competition and letting doctors and patients call the shots.

It was both a stunning admission and a damning indictment of socialized medicine when British Prime Minister David Cameron in effect admitted that the holy grail of nationalized health care, the British National Health Service (NHS), was broken and in need of fixing. (IBD)
Opinion: "Raw feelings over health care law have eased, poll suggests," shouts an Associated Press headline that ran last weekend, just days before Congress was set to vote. Really? Our poll suggests just the opposite.

A recent AP poll conducted by Germany-based GfK found that "strong opposition to the law stands at 30%, close to the lowest level" since September 2009.

"The nation is divided over the law, but the strength and intensity of the opposition appear diminished," AP reported.

We're not sure about their survey, but our own IBD/TIPP Poll found the opposite: a strong desire among most Americans to repeal or defund ObamaCare. (IBD)
How Chemophobia Threatens Public Health

By Jon Entine

ACSH compiled this resource book to teach legislators, industry, media, customers and parents about the true risk or lack thereof related to chemical exposure and employ in everyday items. The paper, authored by Jon Entine, a scholar using the American Enterprise Institute and respected science journalist, is really a response to the growing level of chemophobia — the irrational fear of chemicals — among the American public. (ACSH) | View or Download free PDF version
Analysis cautions against wider use of statins
There is not enough evidence to recommend the widespread use of statins like Pfizer's Lipitor or AstraZeneca's Crestor in people with no previous history of heart disease, scientists said on Wednesday.

In a systematic review published in The Cochrane Library journal, researchers said the cholesterol-lowering drugs -- already among the world's the biggest selling medicines -- should be prescribed "with caution" for those at low risk of cardiovascular disease (CVD).

In a review of 14 trials involving 34,272 patients, they also found that all but one trial were industry-sponsored, a finding they said meant the overall results could be "limited by unclear, selective and potentially biased reporting." (Reuters)
Still with the cholesterol obsession: Spread the word: medicinal margarine not worth the money
IF YOU struggle with high cholesterol, you are better off visiting your GP for a prescription than looking for a solution in the supermarket aisles, says a medical paper that casts doubt on the effectiveness of food products claiming to reduce cholesterol reabsorption. (SMH)
Senate Democrat calls for vanquishing 'Frankenfish'

By

An Alaska Democrat said Tuesday that one of his top legislative priorities in 2011 is vanquishing a little-known creature he calls "Frankenfish."

"Frankenfish," according to Sen. Mark Begich, are genetically altered salmon. And the senator says they threaten Alaska's salmon-fishing industry.

Begich — speaking at a marine science event in Anchorage on Tuesday — said he plans to introduce legislation in the coming weeks that would block the Food and Drug Administration (FDA) from allowing genetically altered fish to be sold for human consumption. He introduced similar legislation in the last Congress.

Read more... (E2 Wire)

Food Chain Not Stretched to Limit—yet

BY DENNIS T. AVERY

CHURCHVILLE, VA—The cable network MSNBC is warning that the world food chain "has been stretched to the limit" by rising world demand and a series of crop failures in several countries. The TV network's warning is premature. The U.S., in fact, could ease the current global food price spike with one administrative action—limiting the amount of U.S. corn that gets turned into corn ethanol.

Recently, about one-third of America's huge corn crop has been diverted from food and feed into an ultra-costly auto fuel that gives consumers poorer mileage even as it drives up their food costs. The corn ethanol diversion creates an artificial scarcity of farmland, as it attracts more land into corn instead of wheat or other crops—and the price effects are felt globally. In 2008, the ethanol mandate drove food prices up by more than 50 percent worldwide, and triggered food riots in Mexico and several other countries. Read the rest of this entry » (SPPI)

Manufacturing lobby to Obama: Halt climate rules in new regulatory review

By

The National Association of Manufacturers said Tuesday that greenhouse gas regulations should fall victim to the new White House regulatory review policy, a sign that business groups may use the initiative as a tool for battling climate rules.

Aric Newhouse, a top official with the trade group, singled out the Environmental Protection Agency's greenhouse rules and a separate plan for reducing other pollutants from industrial boilers.

"This is an opportunity for the President to demonstrate results by eliminating unnecessary regulations already in the pipeline or delaying poorly thought-out proposals that are costing jobs," said Newhouse, the group's senior vice president for government relations and policy.

"For example, the Environmental Protection Agency's (EPA) proposals — from regulating greenhouse gases to the Boiler MACT [Maximum Achievable Control Technology] rule — are a real threat to America's job creators," he added in a statement.

Read more... (E2 Wire)

Gibbs on regulations plan: Don't call it a rollback

By

White House Press Secretary Robert Gibbs sought to provide reassurance Tuesday that new plans to ensure regulations don't hinder the economy will not be used to gut environmental and public health protections.

"Look, go back 20, go back 30 years, go back to the late 1960s when rivers were on fire, when there were very few rules that didn't allow the emittance of the types of pollution that caused asthma or threatened the health of the American people," Gibbs said at a press briefing. "We're not going to go back to that. There's a reason why those are in place."

He added: "But let's go review and ensure that as we're protecting that health, that we're not sacrificing unnecessarily economic growth. But at the same time, let's not forget the important reason why a number of those . . . regulations are likely in place, and that is to protect the well-being of the American people."

Read more... (E2 Wire)
Might as well disband the EPA then... White House signals tougher scrutiny of climate rules

By

Under a new regulatory framework unveiled Tuesday, the Obama administration will subject upcoming climate change rules to additional analysis to ensure they are not overly burdensome to the business community, a senior administration official said.

President Obama signed an executive order Tuesday requiring a government-wide review of all existing rules and laying out new standards for pending regulations. Under the framework, all rules must be cost-effective, transparent, science-based and not unduly burdensome.

A senior administration official said Tuesday that the regulatory framework will apply to upcoming climate change rules, which industry and business groups have said will result in significant economic harm.

Read more... (E2 Wire)
Energy: Keeping a campaign vow to bankrupt the industry, the administration revokes the permit for an approved, working coal mine in West Virginia. Guess those electric cars will have to get their energy elsewhere.

We and others have warned that in the wake of November's "shellacking," the Obama administration would attempt to implement its agenda through regulations and rule making. As West Virginia's coal industry has found, it matters not even if you follow the rules. In pursuit of this agenda, the rules can be changed on the fly.

The Environmental Protection Agency has revoked the coal mining permit for Arch Coal's Spruce Mine No. 1 in West Virginia's Logan County. The permit was issued four years ago and since then Arch Coal, which provides 16% of America's coal supply, has followed every jot and tittle of the rules it was to operate under.

After Arch invested $250 million in the mountaintop mining operation, it will be shut down. When fully operational, it would have employed 215 miners directly, with another 300 jobs in support services. These are, pun intended, "shovel-ready" jobs. (IBD)

Cuccinelli-Mann probe takes a bizarre twist

Wow. In the middle of the battle, the warmists erroneously send up a flare from their position, drawing undue attention to the target. I rather expected a moribund outcome from this investigation, maybe a couple of embarrassing quotes, maybe a hotheaded Santeresque comment by Dr. Michael Mann about Dr. Pat Michaels, but that was about it.

Now, with them trying to retroactively change the law as a way to head off the investigation, it makes me wonder if maybe there's really something profound there in those communications after all. Bad move fellas, you just made the Q Score for this story triple.

From the Daily Progress:

By Bryan McKenzie

Two Democratic state senators are proposing to change state law to thwart Attorney General Ken Cuccinelli's efforts to investigate a former University of Virginia professor's research on global warming.

Continue reading (WUWT)

ATI Denounces Efforts to Block Taxpayer Access to Public Information

If you are unable to read this press release, please click here: Source: http://www.atinstitute.org/blog_post/show/63

The Environmental Law Center at American Tradition Institute today noted with regret a press conference scheduled for this morning by three Virginia lawmakers to announce their effort to protect the University of Virginia from compliance with an anti-fraud against the taxpayer statute. This law was passed unanimously in the state's two legislative chambers just three years ago with full knowledge that it covered the academic class, which is uniquely dependent upon taxpayer dollars.

This move is transparently designed to substitute for the University's faltering legal defense against Virginia Attorney General Ken Cuccinelli in his pre-investigation of possible fraud involving millions of dollars. It also heightens the importance of ATI's recent, pending request <http://www.atinstitute.org/blog_post/show/58> for the same records sought by Mr. Cuccinelli, which thanks to his inquiry, the University no longer denies possessing, but only refuses to produce. Read the rest of this entry » (SPPI)

MICHAELS: China-style dictatorship of climatologists

NASA's Hansen prefers rule by decree to fight 'global warming'

November's election made it quite clear that the people of the United States do not want to radically change our society in the name of global warming. Pretty much every close House race went to the Republicans, while the Democrats won all the Senate squeakers. The difference? The House on June 26, 2009, passed a bill limiting carbon-dioxide emissions and getting into just about every aspect of our lives. The Senate did nothing of the sort.

The nation's most prominent publicly funded climatologist is officially angry about this, blaming democracy and citing the Chinese government as the "best hope" to save the world from global warming. He also wants an economic boycott of the U.S. sufficient to bend us to China's will. (Patrick J. Michaels, The Washington Times)

US Agencies Still Fiddling Temperature Record, Reports SPPI

NASA and NOAA, which each receive close to half a billion dollars a year in taxpayer funding, have been systematically fiddling the worldwide temperature record for years, making "global warming" look worse than it is, according to a new paper by the Science and Public Policy Institute. The findings are reported by Joe D'Aleo, a leading meteorologist.

Robert Ferguson, President of SPPI, said: "Despite billions spent on official claims about the supposed threat of catastrophic man-made 'global warming', opinion polls show the public are no longer fooled. A main reason why the voters buy don't climate alarmism any more is that the tiny but well-connected, lavishly-funded Climategate clique keeps on being caught out bending the scientific evidence. (TransWorldNews)

Al Gore highlights link between floods, global warming in 'climate crisis'

By

The former vice president held up floods in Australia and Brazil as signs of climate change, urging immediate action.

Read more... (E2 Wire)
If warming caused these floods, why didn't warmists predict them?
A word to the global warming extremists who now claim that these floods in south-eastern Queensland are proof of man-made warming. (Andrew Bolt)
Oh this is just sad... How much can we really trust climate models to tell us about the future?
Better scientific research and powerful computers mean climate models are getting ever more reliable (Michael D. Lemonick for Yale Environment 360)
A tedious dollop of eco-propaganda
Unlike its earlier exhibits, the Science Museum's new climate-change exhibition neither inspires nor educates.
Ben Pile

A large wall of projected graphics greets you as you enter the London-based Science Museum's new exhibition, Atmosphere: Exploring Climate Science. Disembodied voices read the words that appear across the monolith: 'Science can show us that greenhouse gasses are increasing… Science can show us that the carbon cycle is being disrupted… Science can show us what's already changing…' But for all the talk of science, it was eco-propaganda on display.

Across print and online media, and throughout London's transport infrastructure and beyond, an advertising campaign invites visitors to the exhibition, promising 'a fresh and exciting way to make sense of the climate'. The truth is rather more disappointing: the exhibition has not really been designed to introduce minds to a new avenue of discovery; its purpose is to get them to be obedient to environmental diktats. (spiked)
Global warming is dead, let's move on
WE did it. For once, we acted collectively, as humans, huddled together on a fragile planet, rather than as selfish individuals. And we did it: we beat global warming.

So now let's move on. (Imre Salusinszky, The Australian)
Worse than we thought: Loss of reflectivity in the Arctic doubles estimate of climate models
CORVALLIS, Ore. – A new analysis of the Northern Hemisphere's "albedo feedback" over a 30-year period concludes that the region's loss of reflectivity due to snow and sea ice decline is more than double what state-of-the-art climate models estimate.

The findings are important, researchers say, because they suggest that Arctic warming amplified by the loss of reflectivity could be even more significant than previously thought. (Oregon State University) and from U Mich
From CO2 Science Volume 14 Number 3: 19 January 2011
Editorial:
Atmospheric CO2 Enrichment Effects on Agricultural Plant Roots are Providing the Foundation for a New-and-Improved "Green Revolution": What more aboveground CO2 causes to happen beneath the soil surface enhances what it causes to occur in the air up above.
Journal Reviews:
Extreme Precipitation Events in the Hawaiian Islands: How have they responded to the warming of the globe and the regional warming of Hawaii over the past six decades?
The Megadroughts of Monsoon Asia: When did they occur? ... and just how bad were they?
Fertilization in Coastal Marine Invertebrates in a CO2 -Enriched and Warmer World: Will ocean acidification and global warming raise havoc with the process?
Atmospheric CO2 Enrichment of a C4 Halophyte: How does it respond to a near-doubling of the air's CO2 content?
Acclimation Responses of Fruit Flies to Environmental Warming: How significant are they? ... and are they shared by any other insects?
Enchytraeid Worm Responses to CO2 , Warming and Drought: What are the individual responses? ... and which of them predominates?
Ocean Acidification Database:
The latest addition of peer-reviewed data archived to our database of marine organism responses to atmospheric CO2 enrichment is Pacific Oyster [Crassostrea gigas]. To access the entire database, click here.
Plant Growth Database:
Our latest results of plant growth responses to atmospheric CO2 enrichment obtained from experiments described in the peer-reviewed scientific literature are: Oats (Bhatt et al., 2010) and Paper Birch (Ambebe and Dang, 2009).
Medieval Warm Period Project:
Was there a Medieval Warm Period? YES, according to data published by 920 individual scientists from 541 separate research institutions in 43 different countries ... and counting! This issue's Medieval Warm Period Record comes from Fog Lake, Baffin Island, Canada. To access the entire Medieval Warm Period Project's database, click here. (co2science.org)
Venezuela's Oil Reserves Surpass Those of Saudi Arabia
Venezuela's president Hugo Chavez announced that his country's oil reserves total 217 barrels, topping Saudi Arabia's and making them the largest in the world. (MercoPress)
Oxymoronic Windpower (Part I: Howlers)
by Jon Boone
January 18, 2011
Definitions:
Howler: A ridiculous idea or proposition, one that elicits howling laughter; also, a type of magic spell from the Harry Potter series.
Bellyfeel: A blind, enthusiastic acceptance of an idea, taken from George Orwell's Nineteen Eighty-Four, where any good Oceanian internalizes Party doctrine such that it becomes gut instinct—a feeling in the belly.
Blackwhite: In Orwell's Nineteen Eighty-Four, a word that has two contradictory meanings, used to convey how people have been propagandized to believe that black is white while never realizing that the reverse might be true. It is the ultimate achievement of newspeak that requires a continuous alteration of the past made possible by a system of controlled thought.
Every major claim made by those who would profit, either financially or ideologically, from wind technology is replete with Owellian doublespeak. Despite the promise of many jobs in the USA, for example, wind provides almost no permanent employment, with most wind manufacturing migrating to China.
Despite the bellyfeel assertion that wind is an environmental savior, it is in fact an environmental wrecking ball. Contrary to the proposition wind can back down the coal industry, in most areas of the country it may actually increase coal consumption.
However, nothing about wind is more Orwellian than the very term windpower. Despite its pervasive use and casual acceptance, windpower as a contemporary expression of reality is quite at odds with itself, particularly in technologically advanced societies. It's a howler.
Widespread misunderstanding about the difference between energy and power has given cover to the charlatan-like wind lobby which pretends their wares provide something they do not. We are all familiar with blackwhite PR jargon that characterizes wind projects as mills, farms, and parks, despite the looming industrial presence of 450-foot tall turbines propelling rotors at tip speeds of nearly 200-mph for many miles along terrain or seabed.
But for sheer oxymoronic audacity, nothing beats the trickeration of the term windpower, since the technology is the very antithesis of modern power performance. In fact, wind provides no modern power. Rather, it throws out spasmodic, highly skittering energy that cannot by itself be converted to modern power. [Read more →] (MasterResource)
EPA's desperate new smog scare
A new study reports that people can suffer lung damage from ground-level ozone (smog) even at the strict new standards proposed by the U.S. Environmental Protection Agency. But this is yet another example of how science can be manufactured by EPA to fit its regulatory agenda. (Green Hell Blog)
Additional resources - Debunkosaurus.com
Autistic boy wins round in vaccine case
Less than a week after another scathing report dismissing the theory that vaccines and autism are linked made international headlines, an en banc state Superior Court panel remanded the products liability case of an 11-year-old autistic boy, directing a Philadelphia trial court to determine whether the design defect claim arose from unavoidable vaccine side effects.

The boy's parents and attorney argue that mercury contained in the vaccines -- manufactured by the pharmaceutical company defendants -- caused their son's autism.

If the trial court ultimately finds that the side effects were unavoidable, the claim will be pre-empted by a federal law governing the liability of pharmaceutical companies for drug vaccines.

If the side effects are found to have been avoidable, however, the claim could proceed.

Whether it would ultimately succeed is less clear. (Pittsburgh Post-Gazette)
Additional resources: Debunkosaurus.com
Jabs, autism, viruses and panic
The link between autism and vaccines is dead, and should be buried.

However, that destructive little idea received a couple of good, hard kicks last week - the violence of which may have given the illusion that some life was left in the debate.

Many have been blamed for keeping the myth going, and now an author and expert is also blaming the media, who he says perpetuated the myths through a mistaken sense that they were being balanced.

Andrew Wakefield was the man who originally published research linking the measles, mumps and rubella jab to autism. His findings struck a chord with parents desperate for answers and with a society sceptical of the intentions of both the government and the pharmaceutical companies.

That research was debunked long ago. It has since been debunked regularly. Then an investigation by the British Medical Journal and investigative journalist Brian Deer found not only was the study wrong, it was fraudulent.

Mr Wakefield - whose license to practice has since been revoked - had falsified the results.

The second part of the BMJ series was released on Friday, and was lost amid the reporting on the devastating floods.

It found Mr Wakefield was planning to get rich from his allegations. Days after he published his research - which began a wave of distrust of immunisation that is likely to have led to children's deaths - he was in meetings pitching his ``replacement'' vaccines.

He and his associates predicted they could make more than $40 million.

The BMJ will release the third part of the series shortly. (The Punch)
Salon talks to "Panic Virus" author Seth Mnookin about America's problem with autism conspiracies -- and our own (Salon)
We could wish... Report: Issa 'passionate' about climate probe
By
Will incoming House Oversight and Government Reform Committee Chairman Darrell Issa (R-Calif.) investigate climate change science or not?
The New Yorker magazine's big new profile of Issa published Monday includes this tidbit:
"Issa seems unconvinced about the science behind climate change, and the investigation that he seemed most passionate about when we spoke involved U.S. government funding for the University of East Anglia's Climate Research Unit. This is the organization behind the so-called Climategate controversy, in which a batch of e-mails were published, showing, Issa claimed, that there had been fraud involving 'the base numbers' underlying our understanding of climate change."

But Issa, speaking to The Hill and other outlets in mid-November, had downplayed the prospect of a probe without quite ruling it out, telling reporters, "I will have limited resources and limited time."
Issa spokesman Kurt Bardella on Monday pushed back against the depiction of Issa's climate plans in The New Yorker piece, claiming that Issa had been asked about the issue rather than raising it as a priority.

"We are not pursuing a Climategate probe," Bardella told The Hill on Monday morning.
Read more... (E2 Wire)
How Much of Your Money Wasted on 'Climate Change'? Try $10.6 Million a Day
Seems everyone is talking about the massive United States federal deficit and how it has now reached an unfathomable $14 trillion. Is there any way to comprehend such a bloated number? Try this: the speed of light is 186,000 miles per second. At that speed a photon of light starts at the surface of the Sun and reaches the Earth in 8 minutes. On Star Trek, the speed of light is warp one — at that speed the Enterprise would travel about 6 trillion miles in one year. If each dollar of the deficit is represented by one mile, it would take the Enterprise more than two years traveling the speed of light to go 14 trillion miles.

So what can we cut out of the federal budget to make any kind of dent in this enormous pile of borrowed money? We could start with the vast sums of cash being wasted on climate change research. (Art Horn, PJM)
Richard Lindzen: A Case Against Precipitous Climate Action
The notion of a static, unchanging climate is foreign to the history of the earth or any other planet with a fluid envelope. The fact that the developed world went into hysterics over changes in global mean temperature anomaly of a few tenths of a degree will astound future generations. Such hysteria simply represents the scientific illiteracy of much of the public, the susceptibility of the public to the substitution of repetition for truth, and the exploitation of these weaknesses by politicians, environmental promoters, and, after 20 years of media drum beating, many others as well. Climate is always changing. We have had ice ages and warmer periods when alligators were found in Spitzbergen. Ice ages have occurred in a hundred thousand year cycle for the last 700 thousand years, and there have been previous periods that appear to have been warmer than the present despite CO2 levels being lower than they are now. More recently, we have had the medieval warm period and the little ice age. During the latter, alpine glaciers advanced to the chagrin of overrun villages. Since the beginning of the 19th Century these glaciers have been retreating. Frankly, we don't fully understand either the advance or the retreat.
For small changes in climate associated with tenths of a degree, there is no need for any external cause. The earth is never exactly in equilibrium. The motions of the massive oceans where heat is moved between deep layers and the surface provides variability on time scales from years to centuries. Recent work (Tsonis et al, 2007), suggests that this variability is enough to account for all climate change since the 19th Century. (GWPF)
Stiglitz Calls For Trade Sanctions in Climate Change Clamp-Down.
Former World Bank boss Joseph Stiglitz has called for international trade sanctions against those nations not toeing the line on global warming, saying that sanctions would form part of any future agreement. (Haunting the Library)
Arnie reckons you should cut CO2 emissions: Schwarzenegger says being governor cost him $200 million
Arnold Schwarzenegger told a newspaper in his native Austria that his seven years as governor cost him more than $200 million in expenses and lost income from acting. "But I'm not sorry. It was more than worth it," he said.

...

"We hate your job," Schwarzenegger quoted family members as saying during his early years as governor when he would leave his Los Angeles home every Monday morning for the capital, Sacramento, and not return until the end of the week.

"It was heartbreaking every time," said Schwarzenegger, a Republican who served as governor from 2003 until early this month. "In my second term of office, I did better. I tried to fly home every evening." (LA Observed) [em added]
Global Warming: Selling Austerity to the Masses.
It's one of the wonders of the global warming alarmists and the Malthusians that they've somehow managed to sell the idea of austerity as a step forward for people. As George Monbiot enthusiastically characterized the global warming movement:
"It is a campaign not for abundance but for austerity. It is a campaign not for more freedom but for less. Strangest of all, it is a campaign not just against other people, but against ourselves"

George Monbiot. Heat. p. 215.
Isn't that simply incredible? They've managed to come up with an ideology, in modern times, that actually bases itself on lowering living standards under the pretense that if we don't do it, nature will. To campaign for less freedom for people because otherwise "Gaia" will curtail it at some future date. To ultimately, as Monbiot puts it, have people campaign against people themselves. (Haunting the Library)
Europe must ban flawed carbon credits
Millions of pollution permits in Europe's emissions trading scheme do very little for the environment. A vote on Friday could change that

Paying €14 for something that costs just 17 cents is clearly good business for the seller. But in the strange case of the European Union Emissions Trading Scheme, it's not a bad deal for the buyer.

Why? Because the buyers, European emitters of greenhouse gases, mostly power companies, find it easier to buy in carbon credits from China and India to meet their targets than to cut the emissions of their own operations.

So who loses out? The environment, of course. Instead of the money going to schemes that genuinely tackle emissions and slow global warming, it pays for a scheme in which there is a massive incentive for industrial plants to keep producing the gases they are then paid handsomely to destroy. (Guardian)
Lawrence Solomon: Cash-strapped UK to sell its forests to stop climate change

"a tree is just a very aged plant that, like any other plant, comes to the end of its life"

To raise revenue and stop global warming, the cash-starved UK government plans to privatize England's crown forests. Environmental groups, unable to explain why climate change shouldn't trump the preservation of forests, have to date been largely muted. (Financial Post)

Example of how the Australian media propagates misinformation

Last night after 10pm I saw some of the ABC 24hr TV News show and the segment was The Drum – a presenter with a few people (mostly with greenleft views) to discuss current affairs. The subject turned to the Greens Senator Brown's call for coal companies to pay bigtime for the Queensland flood cleanup, "because the coal they mine causes global warming and of course the floods". Somebody mentioned the statement by Senator Barnaby Joyce in above article "…it was absurd for Senator Brown to blame the coal industry for floods, which had been a reality in Queensland throughout its history. "In 1893, the flood gauge on the Brisbane River reached 8.35m, so was the coal industry responsible for that as well?" he (Joyce) asked.

John Barron of ABC NewsRadio replied that "There was a lot of coal burnt in 1893." And that misinformation went unchallenged. This CDIAC page shows carbon emissions in 1893 at 370 million metric tons of carbon as opposed to 8365 million metric tons of carbon emissions in 2007. The figure for 1893 is 4.4% of current levels so it was clearly misleading for John Barron to cut the debate as he did. (Warwick Hughes)

Queensland Flooding Exploited – But Part of Normal Pattern

Just two years ago the headlines were bewailing the severe drought in Queensland. Environmentalists exploited the situation with threatening headlines like, "Queensland's Drought-Parched to drink Purified Sewage." The stupidity of this is many people drink purified sewage water. (Tim Ball, CFP)

Herod to investigate deaths of first-born - by Richard...

A report on the flood disaster and climate change will be undertaken by an expert on the federal government's multi-party committee which is investigating ways to price carbon. Professor Will Steffen, a member of the climate change committee set up by the Gillard government in September last year, told AAP he was working on a report covering the floods.

This is the man who already believes that "climate change" made the floods worse. Just the man to do a nice, impartial report. (EU Referendum)

Apparently not a joke: Sunrise arrives two days early in Greenland

Global warming blamed for melting the horizon as sun comes up 48 hours too soon
By Jonathan Harwood

Scientists claim to have discovered more evidence of global warming after the sun rose two days early in Greenland, apparently because melting glaciers have lowered the horizon.
The polar night usually ends on January 13, but this year residents of Ilulissat, the third largest settlement in Greenland, were surprised to see dawn arrive just before 1pm on January 11 after six weeks of perpetual darkness. (First Post)

Scientists believe that carbon released from the ocean floor played a key role in past episodes of climate change. Around 55 million years ago, the break-up of the northeast Atlantic continents was associated with the injection of large amounts of molten magma into seafloor sediments. Formation of the North Atlantic basalts heated the carbon-rich sediments, triggering the release of large quantities of methane and carbon dioxide into the ocean and atmosphere. It has been suggested that this release of previously sequestered carbon was responsible for a 100,000 year period of rapid temperature rise known as the Paleocene-Eocene Thermal Maximum or PETM. Three letters published in Nature Geoscience suggest that carbon trapped beneath the seabed continues to influence carbon dynamics, at least in the deep ocean. (Doug L. Hoffman, The Resilient Earth)

Greens organizing to pressure Congress to pass oil spill bill

By

Senior House Republicans have criticized the commission's report, setting up a fight with Democrats.

Read more... (E2 Wire)

The Report by the Commission on the BP Accident
The federal government released last week its long-awaited report on last April's BP Deepwater Horizon accident. [Read More] (Michael Economides and Phil Rae, ET)
What's a Business to Do? (In search of heroic capitalism)
by MR Administrator
January 17, 2011
[Editor note: This article first appeared in the October 2010 issue of Discovery, the quarterly newsletter of Koch Companies, Inc. This company's values include an adherence to free-market capitalism, in opposition to political capitalism or rent-seeking, currently the fashion at a number of major U.S. corporations. (Also see "The Future of Economic Freedom"). ]
We live in an era when many people–including policymakers and media celebrities–view businesses and corporations with disdain or intense suspicion. Their way of thinking begs a simple question: What is the primary role of business? (MasterResource)
Anger at Fuel Price Hikes: German Minister Urges Supermarkets To Start Selling Gasoline
German motorists may soon be able to fill up their cars with cheap gas while doing the grocery shopping. Economy Minister Rainer Brüderle is encouraging the country's biggest discount supermarket chains to start selling gasoline in a bid to cut prices through increased competition.

In the face of constantly rising prices at German gas stations, Economy Minister Rainer Brüderle has called on the country's largest discount retailers such as Aldi and Lidl to consider opening gas stations at their supermarkets.

He said competition from retailers could help bring gasoline prices down. "Prices are always best determined by competition. If the supply increases, the price falls," Brüderle, a member of the pro-business Free Democratic Party, (FDP), told Bild newspaper in an interview published on Monday. (Der Spiegel)
Co-op calls for shale gas extraction ban
The Manchester-based Co-operative group today called for the banning of a shale gas extraction operation scheduled to begin off the coast of Blackpool, citing environmental and health concerns.

Exploitation of the natural gas in this country is expected to begin near the Lancashire resort later this month, but the Co-operative has raised concerns the process of extraction can contaminate local groundwater. (Manchester Evening News)
From the Tyndall Centre for Climate Claptrap: Shale gas moratorium in UK urged by Tyndall Centre

The UK government should put a moratorium on shale gas operations until the environmental implications are fully understood, a report says.

The Tyndall Centre for Climate Change Research report comes amid reports a firm has found reserves in Lancashire.

In the US, officials are investigating claims that shale gas drilling has polluted water supplies.

However, UK ministers have rejected a moratorium, saying that drilling for shale gas does not pose a threat. (Roger Harrabin, BBC)

Lancashire shale gas drilling being done 'by the book'

The chief executive of a firm which is drilling for shale gas in Lancashire has sought to reassure residents and environmentalists that it is safe.

Cuadrilla Resources has been drilling on land near Kirkham and is due to start extracting gas soon.

But the Tyndall Centre for Climate Change Research is urging the government to stop the drilling until all implications are understood. (BBC)

Shale ignorance! Lords blast gov for ignoring cool new fuels

Is it time to decouple "Climate Change" from the Department of Energy and Climate Change? If it was the plain old "Department of Energy" again, it might spend more time researching new fuel sources. Two peers last week took aim at the department because its latest energy blueprints are ignoring the potential impact of shale gas.

The government is "re-consulting" (in its own words) on national energy blueprints, also known as the Revised Draft National Policy Statements, up to 2050. But one of the Lords expressed surprise during the gathering that the latest didn't mention shale at all. (Andrew Orlowski, The Register)

Really stupid ambition: Analysis: Refiners Threaten Anti-Pollution Efforts In Shipping

Global efforts to drastically reduce toxic sulfur emissions in the shipping industry will likely be delayed for years due to the reluctance of refiners to invest billions of dollars to produce cleaner burning fuel.

The U.N. shipping agency, International Maritime Organization (IMO), has set a 2020 deadline for the maritime community to slash the amount of sulfur burned by the global fleet, blamed for thousands of deaths every year.

The IMO estimates the industry needs to invest nearly $150 billion in secondary refining capacity to ensure enough supplies are available.

IMO's cap can only be realistically met through the use of cleaner burning fuels, known as middle distillates, already in short supply due to high demand from automobiles, airplanes and power stations. As a result of the changes, demand for such fuels could rise by up to 50 percent, or an additional 600 million tones, from current levels by 2030, according to estimates by oil major ExxonMobil.

"This represents a major increase in distillate demand, a product that has experienced high growth even without the marine fuel growth," said Vincent Chong, global head of ExxonMobil's marine fuel division. (Reuters)

Are they serious? How to move to 100 percent renewables by 2030

By

What would it take to switch the country's entire energy infrastructure to renewables like wind and solar by 2030?

According to National Geographic, about 4 million massive wind turbines, 90,000 solar plants and a four-fold increase in production of a rare earth metal that is a major component of key renewable energy technologies.

The magazine outlined the findings of new research on the question of transitioning to an all-renewable energy economy by 2030 as part of its energy policy series.

Read more... (E2 Wire)

Are they ever happy? Conservation Group Sues To Stop California Solar Plant

A U.S. conversation group has sued the federal government over its approval of a major solar power plant in the California desert, the latest in a string of challenges to the nation's renewable energy goals from the environmental community.

According to court papers, the non-profit Western Watersheds Project alleged U.S. regulators approved Brightsource Energy's 370-megawatt Ivanpah solar energy plant without conducting adequate environmental reviews, and asked the court to order the defendants to withdraw their approvals.

The complaint names the U.S. Department of the Interior, the Bureau of Land Management and the Fish and Wildlife Service, as well as the agencies' heads and other staffers, as defendants. None was immediately available for comment.

"In an ill-conceived rush to accommodate massive renewable energy projects ... the federal defendants precipitously approved unnecessarily destructive energy development of the California Desert Conservation Area without first conducting adequate environmental reviews." (Reuters)

The No Subsidies Energy Policy
Global Environment Fund founder and chief executive Jeffrey Leonard (not 1987 National League Championship Series MVP Jeffrey Leonard) wrote in The Washington Post last week:
If Obama wants to set us on a path to a sustainable-energy future – and a green one, too – he should propose a very simple solution to the current mess: eliminate all energy subsidies. Yes, all of them – oil, coal, gas, nuclear, ethanol, and wind and solar.
This is a fabulous idea which we genuinely hope President Obama adopts. Subsidies distort market signals creating complacency and reducing the incentive to innovate. Despite decades of subsidies, alternative energies such as wind and solar power contribute only 1% of our nation's energy needs. Subsidies for clean coal, oil, nuclear, and natural gas are no different. Energy industries should be freed from all government subsidies. Continue reading... (The Foundry)

Benny Peiser: Climate Change & Civilisation Collapse

Like most things, collapse explanations are subject to fashion, and the one most in the limelight today is climatic change … Right now mega-drought is the 'hot' explanation for the Classic [Maya] collapse, and the usual bandwagon effect is in full career among many of my colleagues, although others remain properly suspicious of drought as the triggering mechanism. --David Webster, The Fall of the Ancient Maya, London 2002

Introduction

One of the most powerful drivers of environmental gloominess and cultural pessimism is the spectre of ecological apocalypse. The mutation of age-old, religious end-time prophecies into secular predictions of natural cataclysms and societal collapse – in short, the emergence of environmental apocalypticism – is perhaps the most significant ideological development in the western world since the demise of Marxism.

Marxist doctrine, let us never forget, crumbled because its predicted, and eagerly anticipated, disintegration of free market economies never transpired, but communist economies and totalitarian dictatorships have mostly come to sticky ends. Deeply infuriated by the failure of their predictions and the unremitting vibrancy of capitalism, many disillusioned believers turned to ecological pessimism and environmental determinism. Not for the first time in the long history of apocalyptic movements, new wine was poured into old bottles. (GWPF)

"Gore Effect" Strikes Yet Again – Global Warming Gods Strike Down Beetle Population

Continuing his unbroken record of having his pronouncements on global warming royally mocked by events, Al Gore's up-coming speech linking the explosion in the tree-munching pine beetle to global warming has been upset by reports of the pine beetle population "crashing". (Haunting the Library)

Misanthropy I: Inside the Mind of Paul Ehrlich

Paul Ehrlich has lots of advice on how to make the world a better place. But what might a world run by Ehrlich look like? (Haunting the Library)

Misanthropy II: 2011: Newspaper Calls For Sterilization of "Man-Swarm" to Tackle Global Warming

In an astonishing editorial the left-leaning West Virginia Gazette (part of the Charleston Gazette) has called for widespread sterilizations to cull "the global manswarm" driving global warming. (Haunting the Library)

Misanthropy III: Guardian Columnist Tells BBC She Hopes People Will Die To Help Stop Global Warming

In what is yet another example of how violent and misanthropic sentiment in the mainstream media is perfectly acceptable in the name of saving the earth, Dr Susan Blackmore has told the BBC that there are "too many people" and that she hopes most of them will die soon for the sake of the planet. (Haunting the Library)

IV... Greens lie, Africans die

By Paul Driessen and Robert Novak Friday, January 14, 2011

Fina's little body shook for hours with teeth-chattering chills. The next day her torment worsened, as nausea and vomiting continued even after there was nothing left in her stomach. Finally, her vomiting ebbed and chills turned to fever, drenching her body in sweat. Then more chills, fevers, nausea, convulsions, and constant, unbearable pain in every muscle, bone and joint.

She cried out, and tears mixed with sweat. But no one could help her. She had no money for doctors, medicines or a hospital room. She didn't even have a mother or father to comfort her. All the orphanage school staff could do was caress her, pray and hope she'd get better – and wait for her to die.

And in agony that never stopped from the time the malaria first struck her down, Fina Nantume did die. So did 49 of her classmates, out of 500 students in the APEA Primary School for orphans in Kampala, Uganda, in 2005. Most of the survivors were also afflicted with malaria at least once that year. Some became permanently brain damaged. Others died in subsequent years.

Fina didn't have to die. None of these spirited, beautiful young students had to die. None of them had to get malaria. The disease is preventable, treatable and curable.

Then why did they? Why does half the world's population remain at risk of getting malaria? Why are some 250 million people infected annually – with 90% of the agonizing chills, fevers, nausea, brain damage and death occurring in sub-Saharan Africa?

It's said malaria is a disease of poverty, and poor countries don't have enough funds, doctors or medicines to treat the disease – or prevent it in the first place. True enough. But malaria is also, and much more so, a disease of callous, intransigent environmental extremism and wanton disregard for human life. A disease whose prevention is hampered, and actively thwarted, by pervasive opposition to mosquito-killing insecticides, and mosquito-repelling DDT. (CFP)

Editorial: The Only Way To Go Green

Feed The World: Warnings of a global food shortage are cropping up in the news. This should not be happening in 2011. But while our technologies have advanced, our politics are still prehistoric.

Our world should be a land of plenty. But we're being told that global food prices are rising as supplies become increasingly tight. Analysts cite a combination of growing demand and poor weather.

Food riots in Tunisia are getting the most media attention now, but that's not the only country being affected. Argentina's soybean harvest has been diminished by hot, dry weather, while flooding in Australia has severely hurt the wheat crop Down Under.

In the U.S., inventories of corn have fallen because of weather problems, and soybean reserves, according to the Agriculture Department, are at a three-decade low. Heavy rain in Canada and Pakistan was not offset, but instead was exacerbated, by drought in Russia.

Man cannot control the weather. But famine today is as much man-made as it is a force of nature. (IBD)

By News on the Net Bishop Harry Jackson, Jr. and Niger Innis Friday, January 14, 2011

President Obama's healthcare program came under intense scrutiny in 2010. As we enter 2011, we need to open our eyes to what is really going on behind his green energy propaganda, as well. To some, it may not seem as desperate an issue as healthcare, but it will grow to become just as devastating to those citizens among us who are poor, because access to affordable energy affects everything we do. (CFP)

I'd support this: A Bright Idea: Bring Back Incandescents

Why is Paris known as the City of Lights ? Is it because the U.S. Congress banned Thomas Edison's incandescent light bulbs, so he had to take his invention offshore?

Well, not actually. Thomas Edison was an honoree at the 1889 Paris Universal Exposition and he did go up in the Eiffel Tower . The Italian government conferred a knighthood at that event on the man who gave the world a brighter idea.

No, Congress in the 1880s would not have been so foolish as to extinguish Edison 's light bulb. But the liberal Congress in 2007 was so foolish. They passed (and, regrettably, President George W. Bush signed) the BULB Act. That cutesy acronym stood for the Better Use of Light Bulbs Act. By that act, incandescent light bulbs were to have been phased out by 2014.

The BULB Act was co-sponsored by Calif. Rep. Jane Harmon (D) and Michigan Rep. Fred Upton (R). Back in those halcyon days of green legislation, of cost-free environmentalism, few people noticed that one of America 's greatest inventions was about to be banned by act of Congress. (Ken Blackwell, Townhall)

This'll upset the nannies: Using your phone on the road could make you a safer driver: study

New research suggests mobile phones may make some road-users pay more attention.

Using your phone behind the wheel may not be as dangerous as we've been lead to believe.

Despite existing research stating that driving while using your mobile phone could be as dangerous as driving under the influence of alcohol, new research has found the link between mobile phone use and car crashes may have been overestimated. (SMH)

Why? Are they foreign-paid saboteurs or something? Justice Dept Makes Defense Of CO2 Rules Top Priority

Defending new regulations on the emission of greenhouse gases will be a top priority for the Obama administration this year as challenges emerge, a senior U.S. Justice Department official said on Thursday.

The Environmental Protection Agency has ordered states to begin issuing greenhouse gas permits that would allow emissions by the biggest polluters such as oil refineries, coal-burning power plants and cement and glass makers, prompting lawsuits.

"EPA's regulatory actions are of critical importance to the nation and defending against these challenges will remain one of our highest priorities in 2011," Ignacia Moreno, assistant attorney general for the Justice Department's environment and natural resources division, said in a speech. (Reuters)

Did the Chinese politely refrain from laughing? Clinton says 'no time to delay' climate work with China

By

Secretary of State Hillary Clinton used a wide-ranging speech on U.S.-China relations Friday to call for expanded cooperation on curbing greenhouse gas emissions.

China and the U.S. are the world's largest emitters, and her comments come ahead of Chinese President Hu Jintao's state visit to the White House next week.

"Our cooperation at the U.N. climate conference in Mexico was critical to the conclusion of the Cancún agreement. Now, we must build on that progress by implementing the agreements on transparency, funding and clean energy technology," Clinton said in remarks at the State Department.

Read more... (E2 Wire)

Idiot of the week award goes to a Green, naturally: Coal miners to blame for Queensland floods, says Australian Greens leader Bob Brown

GREENS leader Bob Brown says the coal mining industry should foot the bill for the Queensland floods because it helped cause them.

The floods are Queensland's worst for nearly 40 years, with more than 26,000 homes affected and at least 16 people killed.

Senator Brown said the Federal Government should impose the original version of the Resources Super Profits Tax, and use the funds to pay for the clean-up.

"It's the single biggest cause - burning coal - for climate change and it must take its major share of responsibility for the weather events we are seeing unfolding now," he said in Hobart today.

"We know that the oceans around Australia are at record high temperatures, and that's causing the moisture in the air which is leading to these catastrophic floods. (AAP)
As time passes, the issues relating to the Queensland flooding begin to become clearer. But, as always, the blogs (and Booker) take the lead with the MSM trailing far behind. Posted on the Booker column is a comment from another blog, originally posted by an Australian who lives about 140 miles north east of the Brisbane River catchment, on the coast.

Of the floods that devastated Brisbane, he notes that the rain depression had formed weeks earlier and had caused disastrous floods in Rockhampton, 250 miles to the north, and caused wide spread flooding in the central Queensland coalfields.

This rain depression was slowly moving south without losing intensity and flooded the Burnett river catchment to the extent Bundaberg city suffered serious flooding. Still the rain depression moved south with very heavy rain, with the north easterly air flow carrying the rain right into the Brisbane river catchment. (EU Referendum)

Is the Brazilian flooding catastrophe evidence of another global warming era extreme ?

Guest post by Alexandre Aguiar, METSUL Communications Director, Brazil

(note there's much more here at METSUL's blog)

Corpses are still under tons of rocks and mud in the hills of Rio de Janeiro, but some experts are already rushing to the microphones here in Brazil and abroad to declare the worst natural disaster in the Brazilian history as a clear and unequivocal evidence of global warming (a.k.a. global climate disruption). (WUWT)

Queensland Floods. Climate Scientists 2010: Less Moisture Over Australia. Climate Scientists 2011: More Moisture Over Australia

In what is sure to be yet further embarrassment for advocates of the theory of man-made global warming it has emerged that climate scientists pinning the blame for the Queensland floods on global warming have been contradicting a report published by other climate scientists just weeks earlier. (Haunting the Library)

Did Australia's obsession with global warming contribute to the Brisbane floods?

Who, if anyone, is to blame for the terrible flooding in Brisbane? Commentators are pointing their collective finger at the usual suspects. For the extreme green magazine Grist, the floods expose mankind's arrogance in believing that he can build settlements anywhere he likes, even on floodplains. Nature is "taking a perverse pleasure in pointing out just where the shiny, might city is weakest", gloats Grist. Others are blaming Aussie property developers, for thoughtlessly throwing up flood-prone buildings, and yet others think Queensland politicians should have done more to improve flood defences. (Brendan O'Neill, TDT)

Do We Really Know Earth's Temperature?

Guest article by Pat Frank

We've all read the diagnosis, for example here, that the global climate has suffered "unprecedented warming," since about 1900. The accepted increase across the 20th century is 0.7 (+/-)0.2 C. As an experimental chemist, I always wondered at that "(+/-)0.2 C." In my experience, it seemed an awfully narrow uncertainty, given the exigencies of instruments and outdoor measurements. (Warwick Hughes)

Why The NOAA and NASA Proclamations Should Be Ignored

Written by Joseph D'Aleo

The pressure has been mounting. The public doubt about global warming has been increasing in recent years given Climategate, and how promises of warm snowless winters failed. After cold and snowy winters in 2007/08 and 2008/09, the winter of 2009/10 was the coldest ever in parts of the southeast, and in parts of Siberia and the coldest since 1977/78 or 1962/63 in many parts of the United States, Europe and Asia. This past December was the second coldest in the entire Central England Temperature record extending back to 1659. It was the coldest ever December in diverse locations like Ireland, Sweden, and Florida. Reluctantly, alarmists changed their tune and the promise of warm and snowless winters as recent as 4 years ago morphed into global warming means cold and snowy winters. (SPPI)

"Stick With The Facts – Look At The Data"

14. Januar 2011

That's Joe Bastardi's advice. But some out there are sure the warming is going to continue no matter what. "Just look at the models!", they keep saying. Problem is, models are not data from observation, instead they are scenarios of data that might be measured in the future.

The start of this decade certainly isn't paying attention to the models, as Joe Bastardi explains in his latest video here.

(No Tricks Zone)

What do you say when the Big PR bell is rung? You know the litany: "2010 was the warmest since measuring began, and the previous decade was also the warmest decade on record." (eg The AGE)
Sure, and the world has been warming for 300 years, long before the industrial revolution. The trend hasn't changed as our emissions rose. No one knows exactly why it started rising back then, but it wasn't CO2.
Sure and 150 years of "records" is not long. It was warmer 1000 years ago, 2000 years ago, 5000 years ago and 130,000 years ago. In fact its been warmer for most of the last 10,000 years than it is today, and it's been warmer for most of the last 500 million years. Only people who think CO2 matters keep repeating that it's warmed from 1850 to now without pointing out the bigger perspective.
Sure, and the records have been set with thermometers like this one (next to concrete and exhaust vents — see below). There probably weren't too many car parks or air conditioners in 1880 either. Not to mention the non-random adjustments, and that mystery about how 75% of thermometers are ignored.
Nothing about the "hottest year ever" is meaningful or significant on a big scale. Nor is anything even certain about it on the 150 year scale. After all, most of the original raw data records are missing aren't they? (Jo Nova)
The PAST is Not What it Used to Be (GW Tiger Tale)
Guest Post by Ira Glickstein.
Time machines are a staple of sci-fi. Someone travels back to the past and changes some momentous historical event, expecting his or her heroic action will improve the present and future, usually with disastrous results! Well, NASA GISS has a different type of time machine that does not actually go back to the past, but simply changes the historical temperature data to make the present Global Warming situation appear worse than it really is, and, by implication, lend credence to their CAGW (Catastrophic Anthropogenic Warming) theories. (WUWT)
The problem with short-termism: Thaw Of Earth's Icy Sunshade May Stoke Warming
Shrinking ice and snow cover in the Northern Hemisphere is reflecting ever less sunshine back into space in a previously underestimated mechanism that could add to global warming, a study showed.

Satellite data indicated that Arctic sea ice, glaciers, winter snow and Greenland's ice were bouncing less energy back to space from 1979 to 2008. The dwindling white sunshade exposes ground or water, both of which are darker and absorb more heat.

The study estimated that ice and snow in the Northern Hemisphere were now reflecting on average 3.3 watts per square meter of solar energy back to the upper atmosphere, a reduction of 0.45 watt per square meter since the late 1970s.

"The cooling effect is reduced and this is increasing the amount of solar energy that the planet absorbs," Mark Flanner, an assistant professor at the University of Michigan and lead author of the study, told Reuters.
Superbly done ... one to savour. (EU Referendum)

The Trenberth article contains so many glaring errors and biased assumptions, it's hard to know where to start.

First of all, the difference between theory and hypothesis:

The problem is not with dueling hypotheses, it is with dueling theories regarding the processes resulting in observed global warming. One theory states: Observed global warming is the result of human greenhouse gas emissions. Another theory states: Observed global warming is not caused by human greenhouse gas emissions, but is a result of natural geophysical processes.

The statement, "Global warming is the result of human greenhouse gas emissions" is not an hypothesis, it is a proposition, or at best, a simple theory. A theory is an explanation of process based on a body of observation.

Unequivocal Equivocation – an open letter to Dr. Trenberth

This essay from Willis appeared on WUWT overnight Saturday while I slept. After reading it this morning, I decided to make it a sticky at the top of WUWT (I also added the open letter reference) because it says everything that needs to be said about the current state of affairs in climate science and the skeptic position. I ask readers not only to read it, but to disseminate it widely at other websites and forums. Hopefully, the right people will read this. Thanks for your consideration, and thank you, Willis. UPDATE: I've made this essay available as a PDF here: Willis_Trenberth_WUWT_Essay suitable for printing and emailing.- Anthony (WUWT)

New Esper Study Confirms Warm Periods Lead To Prosperity, Cold Periods To Death And Misery – Climate Extremes Were Greater In the Past

14. Januar 2011

This newest tree ring study completely refutes Mann's bogus hockey stick. That question is now forever resolved. There were warm and cold periods – with plenty of extremes. But that's nothing new for many of us.

Der Spiegel reports on a new study put out by Science where scientists gathered data from a large set of tree rings from the Alps and used them to reconstruct 2500 years of climate in fine detail. The scientists were able to reconstruct past climate with unprecedented precision and found some significant results.

The press here is acting like these results are new. But to skeptics, it only confirms what they've been saying all along. (No Tricks Zone)

Improved measurements of sun to advance understanding of climate change

WASHINGTON—Scientists have taken a major step toward accurately determining the amount of energy that the sun provides to Earth, and how variations in that energy may contribute to climate change.

In a new study of laboratory and satellite data, researchers report a lower value of that energy, known as total solar irradiance, than previously measured and demonstrate that the satellite instrument that made the measurement—which has a new optical design and was calibrated in a new way—has significantly improved the accuracy and consistency of such measurements.

The new findings give confidence, the researchers say, that other, newer satellites expected to launch starting early this year will measure total solar irradiance with adequate repeatability – and with little enough uncertainty – to help resolve the long-standing question of how significant a contributor solar fluctuations are to the rising average global temperature of the planet.

"Improved accuracies and stabilities in the long-term total solar irradiance record mean improved estimates of the sun's influence on Earth's climate," said Greg Kopp of the Laboratory for Atmospheric and Space Physics (LASP) of the University of Colorado Boulder.
Energy Density: Robert Bryce's Powerful Energy Message
by MR Administrator
January 14, 2011
Editor note: Del Torkelson of The American Oil & Gas Reporter covered Robert Bryce's address talk to the Permian Basin Petroleum Association at its annual meeting in Midland last October. Torkelson's summary is reprinted with permission.]
"One of the reasons I wrote Power Hungry: The Myths of "Green" Energy and the Real Fuels of the Future (Public Affairs: 2010) is that our discussions are fundamentally wrong-headed," author and journalist Robert Bryce told the Permian Basin Petroleum Association.
"Politicians generally do not understand the issues of energy and power, and in particular, the issues of scale."
Bryce expounded on a number of key themes, including density, the distinction between energy and power, and the future of natural gas and nuclear generation. He also pointed to signals that suggested ordinary citizens were losing patience with green energy sources.
Green Backlash
Bryce's comments touched on topics covered in both Power Hungry and an earlier book, Gusher of Lies. The writer riffed on a number of subjects pertinent to oil and gas producers:
On his insistence that the density of traditional fuels made them more environmentally friendly than so-called green energy sources, Bryce calculated, "A well producing 60 Mcf a day–by definition a stripper well–has a power density of about 28 watts a square meter, 23 times the power density of a wind turbine. If you start with a source that has low power density, you have to counteract the lower power density with other inputs such as steel, transmission lines, concrete, land and manpower."
Regarding the suggestion that natural gas is a bridge fuel, Bryce countered that it was more. "A bridge to what?" he asked. "It is clean, it is domestic, it is relatively cheap. This is the fuel we have been looking for."
[Read more →] (MasterResource)

Anti-Drilling Policies Costing Federal Government Billions in Lost Revenue

Billions of dollars in potential oil revenue that could help close the federal deficit is being lost as a result of President Obama's anti-drilling agenda.

Production in the Gulf of Mexico — which normally accounts for about 30 percent of all U.S. production — is expected to drop this year by 220,000 barrels per day, according to projections from the U.S. Energy Information Administration.

With oil currently at $90 a barrel and the royalty rate at 18.75 percent, that equals $3.7 million in lost revenue each day.

If the agency projections hold over the course of the year, the federal government would lose more than $1.35 billion from Gulf royalty payments this year.

Continue reading... (The Foundry)

2010 Crude Oil: 50 Billion Barrels Discovered, 30 Billion Barrels Used

With the price of oil hovering above $70 a barrel for over a year -- and around $90 a barrel for several weeks -- oil exploration companies can get to work discovering rich new oil fields. In 2010, more new oil was discovered than was consumed -- and we can expect that trend to continue as long as oil stays high -- above fundamentals. (GWPF)

Australia grants exploration permits to BP, Woodside

Australia granted offshore petroleum exploration permits to BP on Monday in a vote of confidence after last year's catastrophic Deep Water Horizon oil spill, but with strict safety and environmental safeguards attached to the deal. (Reuters)

Envirocranks fret: BP targets one of the world's last unspoilt wildernesses after deal

Environmentalists are angry at the energy giant's plans to drill for oil in a remote region of the Arctic

The Arctic is to become the "new environmental battleground", campaigners warned yesterday after BP announced plans to drill in one of the last great unspoilt wildernesses on earth. (The Independent)

Putin offers sweeteners: Putin offers tax breaks for BP deal

Russia's Prime Minister, Vladimir Putin, has promised to give BP "the most favourable tax treatment" in the Arctic as its £10bn deal with the Kremlin was greeted with cautious optimism by investors yesterday. (TDT)

and Obama attempts assassination: Will rolling back tax breaks for US oil and gas companies necessarily affect output?

Energy Intelligence said in a report on Wednesday U.S. domestic oil output could fall as much as 10 percent over the next ten years if Obama administration's proposals to roll back tax breaks for oil and gas companies get through.

President Obama had proposed tax increases to the tune of $31 billion on oil companies in his first budget, and he raised tax proposals to $37 billion in last year's budget. (IBT, August 18, 2010)

Salazar vows to 'fully consider' Capitol Hill input on gas 'fracking' rule

By

Interior Secretary Ken Salazar is seeking to reassure a senior Republican that he'll weigh congressional input if Interior crafts rules to toughen oversight of natural-gas drilling on public lands.

Salazar has provoked criticism from some Republicans – including House Natural Resources Committee Chairman Doc Hastings (R-Wash.) – by mulling plans to force disclosure of chemicals companies use when employing a drilling method called "hydraulic fracturing."

"Should the Department move forward with disclosure requirements, which some in industry have supported, we will do so in a fashion that fully considers public and Congressional concerns," Salazar wrote in a letter to Hastings this week.

Read more... (E2 Wire)

U.S. Ingenuity Recasts Energy Landscape

Foreign Policy magazine reports on the "The Coming Natural Gas Cartel." Leading the efforts? Russia, with strong backing from Iran, Venezuela and others. That was March 28, 2006. However, that headline — and those efforts — are now a chapter in history.

An onshore oil and natural gas revolution of epic and unmatched proportions is under way in America. The dawn of affordable supplies of domestic, clean-burning natural gas resources, as well as homegrown oil, is upon us. This has reduced natural gas costs to all Americans.

As such, America is becoming far more energy-secure and far more competitive in the global economy. In fact, we are experiencing the most significant change in domestic oil and natural gas production since the 1970s. (Mark G. Papa, IBD)

EPA Accused of 'Assault on Mining Industry' After Revoking Permit for Mountaintop Mine

Morgantown, W. Va. (AP) - The Environmental Protection Agency said Thursday it's revoking a crucial water permit for West Virginia's largest mountaintop removal mine because it would irreparably damage the environment and threaten the health of nearby communities.

Assistant Administrator for Water Peter S. Silva said the agency was employing a rarely used veto power because Arch Coal's Spruce No. 1 mine in Logan County would use "destructive and unsustainable" mining practices.

The move formalizes an action the agency first threatened nine months ago.

Arch issued a statement saying it was "shocked and dismayed" by EPA's assault on a permit that was legitimately issued by the U.S. Army Corps of Engineers, and vowed to continue fighting for the mine. (Associated Press)

Britain's Wind Farms are 'No Spin Zones' When Cold Hits
Some media groups like to refer to themselves as 'no spin zones'. But among energy insiders the phrase has been applied to wind farms, given that turbines mostly operate at well below 30 percent of installed capacity. [Read More] (Peter C Glover, ET)
Britain is becoming less windy, raising doubts over Government's wind farm strategy
According to Britain's politicians, covering the landscape with wind farms is still the future. Last month Chris Huhne, the energy secretary, promised a "seismic shift" to wind and other non-carbon forms of generating electricity.

By Andrew Gilligan 9:00PM GMT 15 Jan 2011

In November, Scotland's first minister, Alex Salmond, spoke of wind's "massive economic rewards" in a "renewables revolution". In May, the wind industry trade body, RenewableUK, called the North Sea "the Saudi Arabia of wind".

Yet it can be revealed that as the rhetoric has climbed ever further up the Beaufort scale, the wind itself has moved in precisely the opposite direction. New figures published by The Sunday Telegraph show that 2010 was, by one authoritative measure, the least windy year since 1824.

According to other figures from official sources, exclusively compiled for this newspaper, Britain's wind farms turned less in 2010 than in any previous year since detailed records were kept.

The failure of the country's massive wind industry to generate almost any electricity whatever at the time when it was most needed – during last month's extreme cold snap – has been widely reported. But that, we can reveal, was just the tip of the turbine-blade in a decades-long trend of declining wind. It is a trend causing an increasing crisis for the industry among those, principally investors, who are more aware of events than British politicians. (TDT)
Electricity pricing policies may make or break plug-in hybrid buys
WEST LAFAYETTE, Ind. - California policies aimed at reducing electricity use and curbing greenhouse gas emissions have the unintended consequence of making new plug-in hybrid vehicles uneconomical, according to a Purdue University economist.

Wally Tyner, the James and Lois Ackerman Professor of Agricultural Economics, said California's tiered electricity pricing system means Californians will pay some of the highest electricity rates in the country to recharge plug-in hybrid vehicles. States with flat electricity rates or those that vary price based on the time of use are more economical, according to Tyner's study.

In tiered systems, consumers pay a higher rate for electricity they use beyond a certain amount. California has three rate tiers. It also has a time-of-use system, which reduces the rate during periods of low demand. In addition, Californians pay some of the highest electricity rates - an average of 14.42 cents per kilowatt hour, which is about 35 percent higher than the national average.

"The objective of a tiered pricing system is to discourage consumption. It's meant to get you to think about turning off your lights and conserving electricity. In California, the unintended consequence is that plug-in hybrid cars won't be economical under this system," said Tyner, whose findings were published in the early online version of the journal Energy Policy. "Almost everyone in California reaches the third pricing tier each month. If they add a plug-in hybrid, they are charged the highest rate." (Purdue)
London to Edinburgh by electric car: it was quicker by stagecoach
The BBC's stunt of taking an electric Mini to Edinburgh reveals just how impractical rechargeable cars are, writes Christopher Booker. (TDT)
Half of All States Now Suing to Stop Obamacare
If it is allowed to be implemented, Obamacare will eventually do deep and irreparable harm to our nation's budget deficit. But while Obamacare is more of a long-term threat to fiscal health at the federal level, it is a clear and present danger to the states. Of the 34 million Americans who gain health insurance through Obamacare, over half (18 million) will receive it through Medicaid.
While Obamacare will pay for all of the benefit expansion for the first three years of the law, and 90% of it after that, Obamacare never pays for any of the state administrative costs for adding those 18 million Americans to their welfare rolls. That amounts to billions in unfunded federal mandates for states to absorb. That is why 33 Republican governors signed a letter to the White House and Congress making an emphatic appeal that Obamacare's Medicaid provisions be repealed. Continue reading... (The Foundry)
Anti-Repeal Movement Ignores Fiscal Realities
Lost amid the partisan posturing over the proposed repeal of Obamacare is a stark, unavoidable fiscal reality. Put simply: Our leaders have no choice but to scrap this socialized medicine monstrosity and start from scratch with a free-market approach.

Not only are Obamacare's unprecedented infringements on our civil liberties clearly unconstitutional, but American taxpayers cannot afford the new law's expanded entitlements – particularly not in light of our current debt crisis and the impending Baby Boomer crush. (Howard Rich, Townhall)
For entirely too long I have seen far too much misinformation from the media and the U.S. Environmental Protection Agency about bed bugs and what should be done about them. This series is to help dispel all the wrong headedness, junk science and flawed green philosophy that we are fed daily. If there ever was an issue that clearly outlines how the EPA is a political animal versus the scientific agency they claim to be; this is it! (Rich Kozlovich)
Oh... Six months of breastfeeding alone could harm babies, scientists now say
Fresh review of evidence contradicts WHO guidance leaving campaigners outraged and mothers baffled

To the outrage of breastfeeding campaigners and probably the utter confusion of most women with small babies, scientists today advocate rewriting the rulebook to drop the current guidance that says mothers should breastfeed exclusively for the first six months of their child's life.

It was 2001 when the World Health Organisation announced that exclusive breastfeeding for six months was best for babies. In 2003 the then Labour minister Hazel Blears adopted the recommendation for the UK.

But today, in the British Medical Journal, doctors from several leading child health institutes say the evidence for the WHO guidance was never there – and that failing to start weaning babies on to solids before six months could be harmful. (Guardian)
Hmm... suggests, could, might: Evidence suggests role for chemicals in diabetes
Evidence strongly suggests that some chemicals, especially chemicals in cigarette smoke, might cause some cases of diabetes and obesity, U.S. government researchers said on Thursday.

A committee appointed by the National Toxicology Program went through studies looking at links between diabetes and obesity and chemicals such as arsenic, chemicals found in plastic, pesticides and cigarette smoke. (Reuters)
Scientists make chickens that don't spread bird flu
British scientists have developed genetically modified (GM) chickens that cannot transmit bird flu infections -- a step that in future could reduce the risk of avian flu spreading and causing deadly epidemics in humans.

Scientists from Cambridge and Edinburgh universities said that while the transgenic chickens still got sick and died when they were exposed to H5N1 bird flu, they didn't transmit the virus to other chickens they came into contact with.

"Preventing virus transmission in chickens should reduce the economic impact of the disease and reduce the risk posed to people," said Laurence Tiley, of Cambridge's department of veterinary medicine, one of the lead researchers on the study.

H5N1 bird flu has been circulating in Asia and the Middle East, with occasional outbreaks in Europe, since 2003 and has killed or forced the destruction of hundreds of millions of birds, according to the world animal health organization OIE. (Reuters)
Kevin Trenberth's weird opinions about the climate
Anthony Watts' blog reprints the full text of Kevin Trenberth's preprint (PDF, JPG) that will be published by the American Meteorological Society (AMS). The first thing I have to say is simply:

Wow.

The scientific portion of the letter is superficial and plagued by elementary logical fallacies, as we will analyze in some detail. But when it comes to the political substance of the preprint, it is powerful, indeed. Trenberth spends much of the time by explaining conspiracy theories about the deniers' influence on the media; he uses the term "denier" six times in the preprint.

I can't believe he really believes those conspiracy theories given the fact that the percentage of skeptics among the journalists is significantly lower than the percentage of skeptics in the AMS where he wants his very preprint to be published.
» Don't Stop Reading » (TRF)
After coming to the realization that the doom & gloom approach to fighting global warming has become counterproductive, many global warming promoters are now taking a more upbeat "we can fix it" approach. This has riled some of the old guard climate alarmists and led to a backlash. An indication of this can be found in a recent Nature Geoscience editorial that represents a new kind of skepticism—not skepticism of global warming but skepticism that it can be stopped or even blunted. Dismissing the notion that a range of available methods—such as efficiency gains, replacing fossil fuels by nuclear power or renewable energy, land-use changes, etc—can make fighting climate change more tractable, the editorial basically says that the world is going to hell and there is no way around it. If that is true, perhaps we should simply ignore the climate cranks and go on a petrochemical burning binge until the stuff runs out. (Doug L. Hoffman, The Resilient Earth)
Bizarre: Climate A Factor In Rome's Rise And Fall: Study
Climate change seems a factor in the rise and fall of the Roman empire, according to a study of ancient tree growth that urges greater awareness of the risks of global warming in the 21st century.

Good growth by oak and pine trees in central Europe in the past 2,500 years signaled warm and wet summers and coincided with periods of wealth among farming societies, for instance around the height of the Roman empire or in medieval times.

Periods of climate instability overlapped with political turmoil, such as during the decline of the Roman empire, and might even have made Europeans vulnerable to the Black Death or help explain migration to America during the chill 17th century.

Climate shifts that affected farm output were factors in "amplifying political, social and economic crises," Ulf Buentgen, of the Swiss Federal Research Institute for Forest, Snow and Landscape Research, told Reuters. He was lead author of the report in Friday's edition of the journal Science.

The review, by experts in Germany, Austria, the United States and Switzerland, extended study of tree rings 1,000 years beyond previous analyses. Thick rings indicate good growth conditions while narrow ones mean poor.

The study said the evidence, helping back up written records that are sparse in Europe more than 500 years ago, "may challenge recent political and fiscal reluctance" to slow projected climate change in the 21st century. (Reuters)
Another model fantasy: Earth's hot past could be prologue to future climate
BOULDER –-The magnitude of climate change during Earth's deep past suggests that future temperatures may eventually rise far more than projected if society continues its pace of emitting greenhouse gases, a new analysis concludes. The study, by National Center for Atmospheric Research (NCAR) scientist Jeffrey Kiehl, will appear as a "Perspectives" piece in this week's issue of the journal Science.

Building on recent research, the study examines the relationship between global temperatures and high levels of carbon dioxide in the atmosphere tens of millions of years ago. It warns that, if carbon dioxide emissions continue at their current rate through the end of this century, atmospheric concentrations of the greenhouse gas will reach levels that existed about 30 million to 100 million years ago, when global temperatures averaged about 29 degrees Fahrenheit (16 degrees Celsius) above pre-industrial levels.

Kiehl said that global temperatures may gradually rise over centuries or millennia in response to the carbon dioxide. The elevated levels of carbon dioxide may remain in the atmosphere for tens of thousands of years, according to recent computer model studies of geochemical processes that the study cites. (NCAR/UCAR)
NASA Satellites Capture a Stronger La Nina
New NASA satellite data indicate the current La Niña event in the eastern Pacific has remained strong during November and December 2010.

A new Ocean Surface Topography Mission (OSTM)/Jason-2 satellite image of the Pacific Ocean that averaged 10 days of data was just released from NASA. The image, centered on Dec. 26, 2010, was created at NASA's Jet Propulsion Laboratory (JPL), Pasadena, Calif.

"The solid record of La Niña strength only goes back about 50 years and this latest event appears to be one of the strongest ones over this time period," said Climatologist Bill Patzert of JPL. "It is already impacting weather and climate all around the planet."

"Although exacerbated by precipitation from a tropical cyclone, rainfalls of historic proportion in eastern Queensland, Australia have led to levels of flooding usually only seen once in a century," said David Adamec, Oceanographer at NASA's Goddard Space Flight Center, Greenbelt, Md. "The copious rainfall is a direct result of La Niña's effect on the Pacific trade winds and has made tropical Australia particularly rainy this year." (GSFC)
Half of the energy is flung out to space… (along with the model projections)

This is one of those scratch-your-head moments when a skeptic just has to ask "Could the modelers really have overlooked that?" Given the $79 billion odd dollars in research and the billions of dollars bet on the models, it seems hard to believe. Then again, the same team didn't ask any hard questions when one study overturned hundreds of other studies that showed it was warmer 1000 years ago, they are the people who think it's ok to hide declines, hide data and dodge FOI's. This is, after all, the Team who call fertilizer – "pollution". Maybe a couple of extra Watts per square meter could have slipped by?

When a greenhouse gas absorbs infra red, its molecules emit in a random direction — so half of its emissions are emitted up, towards space. This is kind of the key to the matter. (Jo Nova)

More Evidence On The Complex Role Of Aerosols In The Climate System

The role of aerosols within the climate system is a complex subject and is becoming better recognized that it is even more so than previously thought.

Two recent news items illustrate this increasing complexity.

...

A bottom line message from these news reports is that, as we learn more about the climate system, including the human role within it, the more complicated it shows itself to be. This also means simplistic attempts to predict climate decades from now and claim the ability to provide skillful impact information to policyholders are misguided and misleading. (Roger Pielke Sr.)

Americans not so easily scammed: Major bank calls US 'significant outlier' on greenhouse-gas action

By

There's "positive momentum" for climate change-related investments in 2011, the bank HBSC said, with one exception: the United States.

Read more... (E2 Wire)

Environmental group plans to sue Interior Dept. over polar bear habitat

By

The planned lawsuit is the latest wrinkle in a battle over oil-and-gas companies' quest to drill off Alaska's coast. (E2 Wire)

Global Warming Hoax Weekly Round-Up, Jan.13 2011

A hippie made Israel's forests burn, GE is taken to the cleaners for cleaning and escaping CO2 puts the cool fizz in Saskatchewan.

It's the round-up, because you're worth it. (Daily Bayonet)

by Marlo Lewis
12 January 2011 @ 8:00 am

The BP oil spill may well be the worst environmental disaster in history. Yet it was not the planetary catastrophe some predicted it would be.

In May 2010, experts warned that the Deep Water Horizon rig blowout would cause "irreversible damage to the marine eco-systems of the Gulf of Mexico, north Atlantic Ocean, and beyond."

But a surprising thing happened on the way to the apocalypse. Bacteria gobbled up the oil so fast that by August, the underwater oil plume became "undetectable."

A study published last week in ScienceExpress reports that bacteria also made short work of the massive volumes of methane (natural gas) released when the BP well exploded. This is good news not only for Gulf Coast eco-systems. It also further undercuts the credibility of a…

Read the full story (Cooler Heads)

Interior official: Deepwater permits will resume before midyear

By

A top Interior Department official said Thursday that he expects to begin issuing deepwater oil-and-gas drilling permits — which were halted after the BP oil spill began — before the second half of the year, but didn't provide a specific timeline. (E2 Wire)

Sinopec buys its way into the Americas
China Petrochemical Corp., best known as Sinopec, has bought itself a yellow brick road in the American continent through a series of deals that will likely not only shuffle China's energy sector, but also alter a broader global scramble for oil assets. [Read More] (Andres Cala, ET)
EPA vetoes major mountaintop removal mining project
By
The Environmental Protection Agency vetoed on Thursday one of the Appalachian regions' largest mountaintop removal mining projects, arguing that the project pollutes nearby streams and rivers. (E2 Wire)
Sen. Rockefeller pledges to fight mountaintop removal veto
By
Sen. Jay Rockefeller (D-W.Va.) vented his frustration to President Obama himself in a letter Thursday. (E2 Wire)
West Virginia governor to continue lawsuit over vetoed mountaintop-removal mine
By
Just hours after the Environmental Protection Agency vetoed a major mountaintop removal project, West Virginia's acting governor underscored his support for a lawsuit to overturn the agency's decision. (E2 Wire)
Peter Foster: The coming green car pileup
The only thing driving demand is the government boot on the accelerator
The auto industry is showing welcome signs of life, but its future definitely does not lie with "green" vehicles, despite the hype coming from the Detroit auto show. All this week — ahead of the show's opening to the public tomorrow — the media have been reporting breathlessly on the ever-proliferating range of hybrids and plug-in vehicles on display. However, these vehicles would not exist but for Washington's leaden foot on the policy accelerator.
The Chevy Volt might be Motor Trend's car of the year, but even if this expensive plug-in sells, it won't be adding anything to GM's bottom line. Meanwhile, every Volt sale comes with a hefty subsidy from taxpayers (both north and south of the border), beyond the multi-billion costs to them of the company's bailout.
Read More (Financial Post)
Analysis: Roaring Fossil Fuels Outpace Green Energy
Fossil fuel investments will continue to outstrip low-carbon alternatives this year, darkening a sector struggling to shake off the financial crisis and sagging political momentum on climate change.

Soaring fossil fuel prices, where the European oil benchmark is pushing $100 a barrel, favor oil and coal producers, while falling gas prices have undermined wind power generation especially in the United States.

And the financial crisis has hit capital-intensive renewable energy projects, trimming demand for wind turbines, while the near-term solar future is clouded by cuts in European subsidies.

In all, that contributed to a dire 2010 in green equity markets, where the climate change theme under-performed global stocks by 10-20 percentage points, and new momentum is expected to be slow in 2011. (Reuters)
Spain's Great Photovoltaic Bust – 30,000 Jobs Lost Since 2008
The German online TAZ here reports on Spain's solar energy industry debacle in an article with the headline:
Botched Spanish Solar Roofs
Yet another example of the havoc governments can cause by excessively interfering in the free market (with the best intentions of course).
The boom was great – while it lasted. Solar panels flew onto the roofs of buildings faster than you could make them, and companies couldn't keep up with the demand. (No Tricks Zone)
Has Massachusetts Experience Put ObamaCare On A Path To Repeal?
The new GOP majority plans to introduce a bill to repeal ObamaCare soon. What the Republicans are trying to prevent is what is already happening in Massachusetts, where a similar health care bill was enacted in April 2006. It is already imploding.

Unless ObamaCare is repealed, we're on a path to Massachusetts' future. (Sally C. Pipes, IBD)
Hmm... The medical establishment shielded Andrew Wakefield from fraud claims
Brian Deer spent years investigating Andrew Wakefield's MMR and autism research, which he now alleges was fraudulent. Here he argues that doctors closed ranks behind one of their own (Guardian)
Study Shows That Smartmeters Don't Pose Health Risk
In 2009 Assemblymember Jared Huffman and Assemblymember Bill Monning requested an independent scientific study by the California Council on Science and Technology on the health effects of Smartmeters.

Tuesday the CCST released the report "Health Impacts of Radio Frequency from Smart Meters." The report concludes that the Federal Communications Commission (FCC) standards are fully protective of human health, and that even under "worst case" operational scenarios, smart meters produce radio frequency (RF) exposures much lower than the FCC standard. (KION)
Drug-resistant malaria could spread fast, expert warns
Drug-resistant malaria could spread from southeast Asia to Africa within months, putting millions of children's lives at risk, a leading expert warned on Wednesday. (Reuters)
ES&T on the politically correct nonsense trail again: 'Thirdhand smoke' may be bigger health hazard than previously believed
Scientists are reporting that so-called "thirdhand smoke" — the invisible remains of cigarette smoke that deposits on carpeting, clothing, furniture and other surfaces — may be even more of a health hazard than previously believed. The study, published in ACS' journal, Environmental Science & Technology, extends the known health risks of tobacco among people who do not smoke but encounter the smoke exhaled by smokers or released by smoldering cigarette butts. (ACS)
This, on the other hand, is quite good: Virus killer gets supercharged
Rice University discovery greatly improves common disinfectant

A simple technique to make a common virus-killing material significantly more effective is a breakthrough from the Rice University labs of Andrew Barron and Qilin Li.

Rather than trying to turn the process into profit, the researchers have put it into the public domain. They hope wide adoption will save time, money and perhaps even lives.

The Rice professors and their team reported in Environmental Science and Technology, an American Chemical Society journal, that adding silicone to titanium dioxide, a common disinfectant, dramatically increases its ability to degrade aerosol- and water-borne viruses.

"We're taking a nanoparticle that everyone's been using for years and, with a very simple treatment, we've improved its performance by more than three times without any real cost," said Barron, Rice's Charles W. Duncan Jr.-Welch Professor of Chemistry and a professor of materials science. Barron described himself as a "serial entrepreneur," but saw the discovery's potential benefits to society as being far more important than any thoughts of commercialization.

Barron said titanium dioxide is used to kill viruses and bacteria and to decompose organics via photocatalysis (exposure to light, usually ultraviolet). The naturally occurring material is also used as a pigment in paints, in sunscreen and even as food coloring.

"If you're using titanium dioxide, just take it, treat it for a few minutes with silicone grease or silica or silicic acid, and you will increase its efficiency as a catalyst," he said.

Barron's lab uses "a pinch" of silicon dioxide to treat a commercial form of titanium dioxide called P25. "Basically, we're taking white paint pigment and functionalizing it with sand," he said. (Rice University)
Why? Military vs. Climate Security: The 2011 Budgets Compared
By Miriam Pemberton

The gap between federal spending on military as opposed to climate security has narrowed but compared to China our progress is meager.

The U.S. military now recognizes climate change as a security "threat multiplier." Since 2008 the Institute for Policy Studies has been measuring the extent to which federal spending is being reallocated to reflect that perception. Between FY 2008 and FY 2011 the federal climate change budget more than doubled, from $7.4 billion to $18.1 billion. As a result, the gap between federal spending on military as opposed to climate security was cut more than in half. In 2008 the U.S. budgeted $94 on tools of traditional military force for every dollar spent on climate. That ratio will narrow to $41 to $1 in the 2011 fiscal year. (IPS) [em added]
U.S. Court Denies Texas Attempt To Delay CO2 Rules
A federal court denied on Wednesday a third attempt by Texas to delay U.S. environmental regulators from imposing regulations on greenhouse gases in the state.

Texas, which has refused to adopt rules on emissions blamed for warming the planet, sued the Environmental Protection Agency to prevent it from issuing greenhouse gas permits.

The EPA has required states since January 2 to begin issuing greenhouse gas permits for the biggest polluters, such as oil refineries, coal-burning power plants and cement and glass makers.

Texas, home to hundreds of plants that would be subject to the regulations, said the rules would hurt its economy.

The EPA said it would issue permits for Texas, but ahead of a ruling on the case Texas asked for a delay of the agency's actions.

The U.S. Court of Appeals for the District of Columbia denied the delay on Wednesday. It said the state had "not satisfied the stringent standards required for a stay pending court review." (Reuters)
Oh... Scientists See Climate Change Link To Australian Floods
Climate change has likely intensified the monsoon rains that have triggered record floods in Australia's Queensland state, scientists said on Wednesday, with several months of heavy rain and storms still to come.

But while scientists say a warmer world is predicted to lead to more intense droughts and floods, it wasn't yet possible to say if climate change would trigger stronger La Nina and El Nino weather patterns that can cause weather chaos across the globe.

"I think people will end up concluding that at least some of the intensity of the monsoon in Queensland can be attributed to climate change," said Matthew England of the Climate Change Research Center at the University of New South Wales in Sydney.

"The waters off Australia are the warmest ever measured and those waters provide moisture to the atmosphere for the Queensland and northern Australia monsoon," he told Reuters.
Global Warming Means More Big New York City Snowstorms? Not So Fast.
by Chip Knappenberger
January 13, 2011
New Yorkers are digging out from another major snowfall. The 10 inches or so they got on Wednesday came less than 3 weeks after some 20 inches fell the day after Christmas.
And, odd as it may seem, some folks are linking big snows and big cold in the Big Apple to anthropogenic global warming. (MasterResource)
Hansen: US Democracy Not Competent To Deal With Global Warming, Calls on Communist China to "Save Humanity"
The NASA scientist at the heart of the global warming fiasco seems set to stir more controversy after declaring in an op ed piece for The South China Morning Post and a personally published follow-up that American democracy is not competent to deal with global warming, and communist China now represents the world's "best hope". (HtL)
CIA's unit on climate change faces uncertain future
The future of the CIA's unit on climate change and U.S. national security is "in jeopardy" because of pressure for intelligence budget cuts and resistance from conservative lawmakers, a new report says. (WaPo)
Editorial: Climate Change: Junk In, Junk Out
Environment: We can hardly dig out of one snowstorm before another hits, yet the believers keep telling us global warming is here. A new climate model, however, is showing that the projections of doom have been wrong.

No matter what happens, the political forces that tell us human activities are heating the planet will blame it on man-made global warming.

This winter's heavy snows are no exception. In its Dec. 26, issue, the New York Times gave Judah Cohen, the director of seasonal forecasting at Atmospheric and Environmental Research, several column inches to tell us to "Bundle Up, It's Global Warming."

"The not-so-obvious short answer is that the overall warming of the atmosphere is actually creating cold-weather extremes," Cohen wrote. "Last winter, too, was exceptionally snowy and cold across the Eastern United States and Eurasia, as were seven of the previous nine winters."

Cohen, who dismisses natural cycles such as "El Nino/Southern Oscillation, solar variability and global ocean currents" as possible causes of weather variations, finishes his one-eyed screed with this howler:

"The reality is, we're freezing not in spite of climate change but because of it." (IBD)
Still trying desperately: 2010 ties for warmest year, emissions to blame
Last year tied for the warmest since data started in 1880, capping a decade of record high temperatures that shows mankind's greenhouse gas emissions are heating the planet, two U.S. agencies said.

Global surface temperatures in 2010 were 1.12 degrees Fahrenheit (0.62 Celsius) above the 20th century average, tying the record set in 2005, the National Climatic Data Center at the National Oceanic and Atmospheric Administration said on Wednesday. (Reuters)
Claim 2010 tied with warmest year ever lacks historical perspective
By Art Horn, Icecap Meteorologist

You would think that NOAA, the National Oceanographic and Atmospheric Administration would be an objective and sober reviewer of temperature data. Apparently they are not. NOAA has proclaimed that 2010 was tied with 2005 as the "warmest year on record." At first this sounds impressive. But as with all political proclamations there is always more to the story. The statement "warmest on record" means the period of time since 1880 that temperature has been measured with thermometers. To say the 2010 was tied with the warmest year on record is essentially meaningless when viewed in a true historical context.

If NOAA was truly objective in their analysis of this 130 year period of temperature they would acknowledge that 130 years of record in the long history of climate is insignificant to the extreme. The reason they do not give this record its true historical context is because their statement is really political. Their true message is that global warming is causing the warm weather and that we need to abandon fossil fuels and somehow change to "renewable" energy sources. (Icecap)
Christopher Booker, the journalist, has a sceptical, evidence-based approach whereas Barry Hunt, the scientist, assumes the CSIRO's Global Warming model is correct and any departures from its predicted trend are merely temporary aberrations. (John Reid, Quadrant)
Scientists Challenged to Become Better Global Warming Propagandists
By Norman Rogers

Can scientists become "Deadly Ninjas of Science Communication"? That was proposed by Chris Mooney, author of The Republican War Against Science," and a member of the board of directors of the American Geophysical Union. Mooney advocated this idea in a presentation at the Union's December 13-17 fall meeting in San Francisco.

Mooney is concerned that global warming skeptics are getting the upper hand in the ongoing debate. Mooney has an unquestioning belief that disaster will overtake the world if we don't mend our CO2-emitting ways. Many other speakers at the meeting, like Mooney, suggested that if scientists improved their communications skills, the skeptics could be defeated.

At the same fall meeting four years ago, Al Gore spoke to ten thousand assembled scientists. The scientists treated him like a rock star. Why would the scientists love Al Gore? His movie, An Inconvenient Truth, was full of scientific errors. But this is about not biting the hand that feeds you. When Al Gore spreads global warming hysteria, financial and political support for climate science increases. Scientists become guests on TV shows instead of lab drones.

But a dark cloud is gathering over climate science. Public fear of global warming is declining. Most of the activist scientists gathered in San Francisco were blind to the possibility that there is any defect in their scary product. It must be that forces of darkness (perhaps Republicans or coal companies) are financing skeptics. Apparently the skeptics, cleverly disguised as grassroots activists, have an uncanny knack for propaganda.

A few years ago, Exxon, a world-class provider of CO2 emissions, would have been top dog among the forces of darkness. But now Exxon is the sole "titanium" sponsor of the meeting, ranked above the platinum, gold, silver, and bronze sponsors. Apparently Exxon gave the Union so much money that they had to create a new category, and the logic of the nobility of the metals in the periodic table be damned. Exxon purchased an indulgence from the church of global warming, probably at a price that is Exxon chump change. (American Thinker)
Tags created to help penguins could be killing them
Radio tags designed to monitor endangered penguins could be killing them, say scientists. (TDT)
Editorial: BP Oil Spill Panel's Dry Hole
Energy Policy: A commission appointed to investigate BP's well disaster in the Gulf of Mexico and recommend ways to drill safely has labored mightily and produced the functional equivalent of a tar ball.

The National Commission on the BP Deepwater Horizon Oil Spill and Offshore Drilling cites the "incredible incompetence" of British Petroleum and its upper management in at least nine specific decisions. Then it unjustifiably extrapolates BP's errors to the entire oil industry, whose safety record is ignored.

It mattered not that between 1969 and 2009 oil companies drilled more than 50,000 offshore wells without a serious mishap. Brazil, Britain, Norway and others drill safely offshore. No major spills were recorded when hurricanes Katrina and Rita roared through some 3,050 offshore oil and gas platforms operating in the Gulf.

Besides blaming an entire industry with an impeccable safety record for BP's failure, the commission also ignores the failure of federal oversight or advance preparation for such a spill and recommends the creation of another entirely new federal agency to oversee all offshore oil and gas drilling.

The commission did not recommend a needed resumption of offshore drilling under safer rules. It just recommended more rules, costly studies and the hiring of outside "experts" to promulgate new regulations to stifle an already dying industry. (IBD)
UK To Review North Sea Drilling Rules After U.S. Spill
Britain said on Wednesday it would review its regulations covering offshore oil and gas drilling in the North Sea following the publication of a U.S. investigation into BP's Gulf of Mexico oil spill.

The review will start within a month and will report later this year, Energy Minister Charles Hendry said in a statement.

"We intend to review the UK's oil and gas offshore regulatory regime against the findings of the U.S. investigations," he said.

"This review ... will be based on the full life cycle of an offshore development, thus ensuring all activities are covered," he added. (Reuters)
Obama Policy Hands China Global Energy Supremacy
Although there are more Republicans deemed "energy industry friendly" sitting for the 112th Congress, the Obama administration's threat of punitive tax policy changes for America's energy producers looms large. [Read More] (Michael J. Economides, ET)
Coal takes the strain...again.
Paul Hudson | 16:44 UK time, Monday, 10 January 2011

On BBC Look North on Friday I reported that during the recent intense cold weather, it's been our traditional coal and gas fired power stations that have been working flat out to keep our homes and businesses warm.

And for the third winter running, the intense cold has gone hand in hand with periods of little or no wind. This should come as no surprise since prolonged cold is invariably associated with areas of high pressure.

Peak demand also comes during summer heat waves - as we all turn on our air conditioning units - again usually associated with areas of high pressure, with little or no wind. (BBC)
Italy Court Approves Nuclear Energy Referendum
Italy's constitutional court ruled on Wednesday a national referendum could be held against the construction of nuclear power plants, dealing a potential blow to government plans to relaunch the sector.

Italy is the only Group of Eight industrialized nation that does not produce nuclear power, but Prime Minister Silvio Berlusconi aims wants nuclear plants to generate a quarter of the country's electricity in the future. (Reuters)
Chamber backs repeal vote on healthcare reform
Corporate America's biggest lobbying group on Tuesday praised a more business-friendly tone from the White House, but backed Republican efforts to dismantle the Obama administration's healthcare overhaul. (Reuters)
States Cry to Washington: Remove Obamacare's Medicaid Handcuffs
The big news out of a majority of state capitols is that Obamacare's Medicaid mandates will exacerbate state budget problems and drive many states to the brink of insolvency.

Thirty-three Republican governors and governors-elect have signed a letter to the White House and Congress making an emphatic appeal that Obamacare's Medicaid provisions be repealed.

Medicaid pays health care and long-term care expenses for certain categories of individuals. Medicaid has many problems, but the central one is that it costs taxpayers nearly $400 billion annually without providing recipients a high quality of care.

National spending on Medicaid has more than quintupled over the past two decades, and about 16 percent of the population is currently enrolled. A recent study from the University of Virginia found that Medicaid patients have worse surgical outcomes than individuals without insurance. Despite these problems, Obamacare relies heavily on the Medicaid program to reduce the number of individuals without health insurance. Continue reading... (The Foundry)

Now Erring Crockovich guides the EPA: EPA unveils chromium-6 testing guidelines

By

The head of the Environmental Protection Agency released guidance Tuesday outlining steps communities can take to test for unsafe levels of chromium-6, a likely carcinogen, in public drinking water.

The guidance comes after a report released last month said a number of U.S. cities, including Washington, D.C., have elevated levels of chromium-6 in their drinking water. High levels of chromium-6 have been linked to cancer — the chemical gained notoriety in the 2000 film "Erin Brockovich."

"As we continue to learn more about the potential risks of exposure to chromium-6, we will work closely with states and local officials to ensure the safety of America's drinking water supply," EPA Administrator Lisa Jackson said in a statement Tuesday. "This action is another step forward in understanding the problem and working towards a solution that is based on the best available science and the law."

Read more... (E2 Wire)
Junk Science and the Anti-Vaccine Fraud
The campaign against the most valuable medical technologies ever invented is based on junk science (John E. Calfee, The American)
Chemical tied to hormonal syndrome
Women with polycystic ovary syndrome have increased blood levels of the widely used industrial chemical bisphenol A, a small study finds -- raising the question of whether the compound plays some role in the disorder. (Reuters Health)
Forget Snow Days: Staten Island Kids Get PCB Days!
For the second day in a row, some Staten Island public school students have ditched school—with the EPA's permission. Ten classrooms in two schools were closed yesterday because higher-than-acceptable levels of PCBs were detected. Notably, when a PS 36 teacher complained about fluid leaking from a lighting fixture, "more 200 times the accepted amount of 50 parts per million" of PCBs were found in two classrooms. While students in those two classrooms were pulled, other parents removed their students from the school— the attendance rate was 26% at PS 36. (Gothamist)
Loonies not winning the war on plastic then: World Plastic Pipes Market to Exceed 6.5 Billion Meters by 2015, According to New Report by Global Industry Analysts, Inc.
GIA announces the release of a comprehensive global report on the Plastic Pipes market. World plastic pipes market is projected to exceed 6.5 billion meters by 2015, driven by heavy infrastructure investments and construction boom in the developing countries as well as new application areas for plastic pipes including electrical and telecommunications conduits and wastewater and drainage pipe systems. (Vocus/PRWEB)
Green backlash against House GOP begins — lamely
January 11, 2011
Green groups commenced their assault on the House GOP today, accusing last week's legislative efforts to rein in the EPA's climate regulations as "a threat to public health." (Green Hell Blog)
U.S. Chamber chief pushes Congress to block EPA climate regulations
By
The head of the nation's most powerful business lobbying group made clear Tuesday that blocking the Environmental Protection Agency's greenhouse gas regulations is a key part of his agenda.

U.S. Chamber of Commerce President Tom Donohue attacked EPA in his annual "State of American Business" speech Tuesday morning. He called the emissions rules, which have begun the phasing-in stage, part of a multi-front "regulatory tsunami" by the Obama administration.

"We will ... continue our legal and legislative efforts to stop the EPA from misapplying environmental laws in order to unilaterally regulate greenhouse gases," Donohue said in his prepared remarks.

"The Chamber will support appropriate bipartisan legislation to delay or stop the EPA and return the important climate change issue to the purview of the Congress," he added. (E2 Wire)
U.S. Supreme Court Will Not Hear Bogus Global Warming Case
The U.S. Supreme Court today denied the petition for mandamus filed by plaintiffs in one of the major — and preposterous — suits claiming damages against industry for causing global warming, Comer v. Murphy Oil. (Today's order list is here.) This should be the end of the case because the plaintiffs did not file a petition for certiorari, but given how convoluted the lawsuit's path through the courts has been, perhaps there's a strange maneuver that could revive it. (Shopfloor)
More on the tragic Toowoomba flash flood for those following it: Now 30 believed dead
The disaster is extraordinary:
THE nation confronts its worst flood disaster in living memory, with 30 people believed dead and 90 missing in southeast Queensland.

The wall of water bearing down on Brisbane threatens to engulf thousands of homes and put more people at risk.
What I cannot understand is this: how was the possibility of such a danger not foreseen, when climate experts and the Government claim they can predict the climate 100 years from now? How did this week's rain come as such a surprise, when we now spend billions more on computer models predicting the future? (Andrew Bolt)
Didn't take the ratbags long: Global warming will cause further extreme weather patterns, climate change chief says
ONE of Julia Gillard's top climate change advisers has warned that global warming may cause more extreme rain events.

Climate change committee member Professor Will Steffen, the executive director of the ANU Climate Change Institute, said there was no direct link between global warming and the tragic flash flooding in Toowoomba which has killed at least nine people in southeast Queensland.

But he told The Australian Online that climate change would lead to heavier, more frequent rain.

"As the climate warms, there is more water vapour in the atmosphere," he told The Australian Online. (Joe Kelly, The Australian)
Written by Christopher Monckton of Brenchley
Four cold winters in a row ought to have raised questions in legislators' minds about the competence of the United Nations' Intergovernmental Panel on Climate Change, the IPCC, which they have generously but unwisely funded and trusted. The IPCC's dire predictions of dangerous warming are not happening in observed reality. (SPPI)
So that's how it works... Global Warming Panic explained
December 2010 - A December to Remember
Written by Joe D'Aleo and Art Horn
December was indeed a December to Remember (or for many, to forget!) with widespread cold and snows. The Central England Temperature record is one of the longest continuous temperature records in the world extending back to the Little Ice age in 1659. December 2010 was the Second Coldest December Temperature in the entire record (352 years) with an average of -0.7C just short of the record of -0.8C recorded in December 1890. (SPPI)
Lawrence Solomon: When WWF is put in charge of the weather
What happens when the inmates run the insane asylum? This experiment is being run in the UK, where the ultra-green former head of the World Wildlife Fund UK and other global warming activists were put in charge of running the country's Meteorological Office, the country's weather department. The Met Office is now embroiled in national scandals — and it has become the likely subject of a Parliamentary Inquiry — because the true believers at the helm appear to have been playing around with the weather.
One scandal involves the UK Met's reliance on models that predict global warming. Using this flawed research, the Met has been getting its forecasts spectacularly wrong, leading to turmoil when the government was subsequently ill-prepared to clear roads of snow. "Investment in more equipment may not be economic, given rarity of British snow," stated one article in the Guardian, explaining a government-commissioned report that highlighted the silliness of preparing for weather conditions that won't occur under global warming. "Are you happy to invest more in kit that may sit at the back of the depot and won't be used?" the report's author stated rhetorically.
The UK has now had three fierce winters in a row. In 2008, the UK experienced its coldest winter in 10 years after the Met predicted "a milder than average" winter. In 2009, the UK experienced the coldest winter in 30 years after the Met predicted that "the trend to milder and wetter winters is expected to continue." In 2010, the UK experienced the coldest winter on record, paralyzing the country's transportation system and leading the chairman of parliament's Transport Select committee to indicate that hearings would be occurring.
The parliamentary hearings will likely also deal with politicization of the weather, designed to avoid embarrassing the UK's pro-global warming government, prior to the UN's global warming conference in Cancun in December. By October, the Met Office realized that the country could be in for "an exceptionally cold winter" and advised the UK cabinet – a big promoter of Cancun — of this turn of events. Yet the Met decided not to let the public in on its revised forecast. To the contrary, throughout October and November, the Met continued to claim that 2010 would likely be the hottest year on record.
LawrenceSolomon@nextcity.com
Lawrence Solomon is executive director of Energy Probe and the author of The Deniers.
Sceptics ask: Is the UK government's climate propaganda machine finally falling apart?
Just when you think things are as inanely silly as they can be, they raise the stakes. It's a game of double or nothing in the race to the bottom. The close common interests of three big government agencies is fragmenting and instead of skeptics launching the FOI's, this time, the BBC is.
Just in case there is anyone who doesn't know, the UK Met predicted a winter a couple of degrees above the usual. Then supertankers of snow turned up and dumped on the nation, surprising people, and making life difficult for everyone who hadn't made arrangements for the return of the British Blizzard and the coldest December on record. The UK Met, having got it completely wrong, decided the best course of action was to announce post hoc that actually they did get it right, really, they predicted cold weather, but they didn't tell the public, they just told the politicians. The politicians apparently asked them not to let on to the public, or so the story goes, and the plot thickens.
One way or another someone is using tactics with all the forward thinking you'd expect from a five year old. If the Met office is not incompetent then the implication is one of implacable dishonesty from either the BOM or the UK government (or possibly — both).
The BBC reported it, without asking too many hard questions, which makes them look a bit silly too. Now, instead of the Big Scare Campaign Team working together, three big formerly aligned groups are fighting for their own cred. The BBC versus the Met, versus The Government. More » (Jo Nova)
Saving Polar Bears by Killing Them?
BY: DENNIS T. AVERY
CHURCHVILLE, VA—A recent article in the British journal Nature warns that polar bears are increasingly mating with grizzly bears—because man-made climate change is rapidly melting the Arctic sea ice on which the polar bears love to hunt seals.
Breathlessly, we're told that a hybrid grizzly/polar bear was discovered in 2006. More recently another bear shot by a hunter also had mixed DNA. The offending hybrid bears should be "culled"—a kinder word than "killed"—according to lead author Brendan Kelly of the U.S. National Oceanic and Atmospheric Administration.
Hold on a minute. Let's bless this story with some bits of reality. :
First, there's no evidence the Arctic ice cap is really shrinking. The Arctic has a warming/cooling cycle of about 70 years, and the old archives of the New York Times are filled with stories from the 1920s and 1930s about the Arctic ice disappearing. Those 1920's stories turned out to be wrong, and the ice-expert Russians tell us they'll be wrong this time too. Read the rest of this entry » (SPPI)
Climate Models Differ on CO2 Warming Effect by over 32°F
A paper published today in the journal Climate of the Past illustrates the magnitude of confusion in climate science regarding the 'settled' 'basic physics' of the CO2 'greenhouse effect.' The climate model results of this paper are compared to 2 other recent peer-reviewed papers and show that the 3 climate models differ by over 32 degrees F (18.3°C) in explaining the 'greenhouse warming' effect of CO2 during the period of time when the entire Earth was covered by ice (the "snowball Earth"). This huge difference dwarfs the IPCC-claimed computer-modeled 0.6°C of anthropogenic global warming during the industrial age and the IPCC-claimed 3°C global warming prediction for doubled CO2 concentrations derived from the same family of computer models. As this study gingerly points out, these are "large differences" between climate models, resulting from differing "assumptions" of the "model physics," in other words, due to whatever fudge factors one chooses to plug in for the 'greenhouse effect' of CO2. All claims of catastrophic anthropogenic global warming rest upon the shaky scientific foundations and gross assumptions of these same climate models. (Hockey Schtick)
The paper that I discussed here last week on the detection of a signal of human-caused climate change in the hurricane loss record has now been published in Environmental Research Letters. Here are a direct links to the PDF and the Supplementary Information (PDF).

Here is the citation: Ryan P Crompton et al 2011 Environ. Res. Lett. 6 014003 doi: 10.1088/1748-9326/6/1/014003 (Roger Pielke Jr.)

The Terms "Global Warming" And "Climate Change" – What Do They Mean?

There continues to be considerable misunderstanding of the terms "global warming" and "climate change". I have posted in previous years about these terms; e.g. see these posts in 2005;

Is Global Warming the Same as Climate Change?

What is Climate? Why Does it Matter How We Define Climate?

Is Global Warming Spatially Complex?

but there continue to be misunderstandings. (Roger Pielke Sr.)

Ocean Acidification: Chicken Little of the Sea Strikes Again
Image by Tom Clifton via Flickr
Guest Post by David Middleton
Introduction
As global warming morphs into climate change and global climate disruption and anthropogenic CO2 emissions give way to stochastic variability, clouds, the Sun, cosmic rays and our oceans as the primary drivers of climate change, environmental extremists are raising a new CO2-driven ecological disaster scenario to hysterical levels: Ocean acidification. Claims have been made that oceanic pH levels have declined from ~8.2 to ~8.1 since the mid-1700′s. This pH decline (acidification) has been attributed to anthropogenic CO2 emissions – This should come as no surprise because the pH estimates are largely derived from atmospheric CO2 concentrations (Orr et al., 2005). It has also been postulated that anthropogenic CO2 emissions will force an additional 0.7 unit decline in oceanic pH by the year 2100 (Caldeira et al., 2003).
Alarmist organizations like the National Resources Defense Council are hard at work extrapolating these oceanic pH model predictions into ecological nightmares…
From CO2 Science Volume 14 Number 2: 12 January 2011
Editorial:
The Glaciers of Kilimanjaro: What dictates their comings and goings?
Journal Reviews:
A Brief History of Northwest Australian Tropical Cyclones: What is the story told by thirteen descriptive variables over the past four decades?
A 1600-Year Temperature History of Tropical South America: What does it reveal about the Medieval Warm Period and Little Ice Age below the equator?
Earth's Freshwater Resources of the Past Two Millennia: How have they varied? ... and what does the result portend for the future of mankind?
Turning Up the Temperature on the Red King Crab: How much heat can it handle?
Terrestrial Plant Responses to Global Warming: In terms of the totality of earth's terrestrial vegetation, does warming enhance or reduce biomass production and sequestration?
Photosynthetic Responses of Seedlings of Two Eucalyptus Species to Increases in the Atmosphere's Temperature and CO2 Concentration: Just how bad was it for the young trees, when the "twin evils" of the radical-environmentalist movement were both imposed in unison upon the seedlings?
Ocean Acidification Database:
The latest addition of peer-reviewed data archived to our database of marine organism responses to atmospheric CO2 enrichment is Hard Clam [Mercenaria mercenaria]. To access the entire database, click here.
Plant Growth Database:
Our latest results of plant growth responses to atmospheric CO2 enrichment obtained from experiments described in the peer-reviewed scientific literature are: Grazed New Zealand Grassland (Newton et al., 2010) and Rice (Tokida et al., 2010).
Medieval Warm Period Project:
Was there a Medieval Warm Period? YES, according to data published by 919 individual scientists from 542 separate research institutions in 43 different countries ... and counting! This issue's Medieval Warm Period Record comes from Kiktiha Swamp, Shahdol District, Central India. To access the entire Medieval Warm Period Project's database, click here. (co2science.org)

Spill commission calls for increasing offshore drilling review period

By

In a move certain to ruffle the oil industry's feathers, the national oil-spill commission recommended Tuesday that Congress pass legislation extending by 30 days the amount of time the Interior Department has to review offshore drilling exploration applications.

The oil industry and oil-state lawmakers — including Sens. Mary Landrieu (D-La.) and Lisa Murkowski (R-Alaska) — have aggressively pushed back against efforts to extend the time frame, arguing that the extension will further delay offshore drilling in the United States.

But the Interior Department has recommended a longer extension to ensure that applications meet new offshore drilling safety standards. The commission's recommendation, to extend the review period from 30 to 60 days, represents a compromise on the issue.

A provision to extend the review period to 90 days was removed from a narrow government funding bill approved by the Senate last month. (E2 Wire)

Spill commission asks Obama to consider executive action on drilling

By

President Obama has asked his staff to look into executive actions that could make offshore oil drilling safer.

Read more... (E2 Wire)

Initial Response to the Oil Spill Commission Report
President Obama's seven-person Oil Spill Commission released its long-awaited final report this morning and includes details on the "before, during and after" of the Macondo well explosion that occurred on April 20 last year. The commission's site also has a "Recommendation for Decision Makers" section that has drawn much of the media attention. This post will largely draw from that section as well.

The bipartisan report predictably calls for tougher regulations and more government control with regard to offshore drilling and continually refers to systemic flaws of the oil and gas industry as a whole. But the reality is that oil and gas exploration and development operate safely for the most part; the offshore explosion was a rare and isolated incident. That's not to say flaws do not exist in the current system or that improvements cannot be made. But tougher regulations for the sake of tougher regulations can make it unnecessarily difficult to access oil and gas off the 15 percent of America's coasts where we're allowed to drill. Continue reading... (The Foundry)

Senior House Republicans lukewarm to spill commission report

By

Two senior Republicans declined to embrace the final report from the presidential commission that probed the BP oil spill, underscoring political hurdles the panel faces as it prods Congress to toughen drilling rules and boost funding for regulators.

House Natural Resources Committee Chairman Doc Hastings (R-Wash.) greeted the new report by stating that while some ideas may be embraced, proposals that could delay energy production will be "viewed skeptically."

"Congress needs to ensure that offshore energy production meets the highest safety standards, but as gasoline prices continue to rise we cannot allow ourselves to become increasingly dependent on hostile foreign nations for our energy needs," he said.

Read more... (E2 Wire)

Maybe, maybe not: Land fizzing like soda pop: farmer says CO2 injected underground is leaking

A Saskatchewan farm couple whose land lies over the world's largest carbon capture and storage project says greenhouse gases seeping from the soil are killing animals and sending groundwater foaming to the surface like shaken soda pop.

The gases were supposed to have been injected permanently underground.

Cameron and Jane Kerr own nine quarter-sections of land above the Weyburn oilfield in eastern Saskatchewan. They released a consultant's report Tuesday that links high concentrations of carbon dioxide in their soil to 6,000 tonnes of the gas injected underground every day by energy giant Cenovus (TSX:CVE) in an attempt to enhance oil recovery and fight climate change.

"We knew, obviously, there was something wrong," said Jane Kerr. (Bob Weber and Jennifer Graham, The Canadian Press)
Joe Romm Finally Gets His Math Right
It has taken two years, but Joe Romm finally appreciates the true mathematical scale of the energy technology challenge implied by a goal of stabilizing carbon dioxide concentrations at a low level.

Joe writes that we need to achieve 12-14 "wedges" of carbon-free energy. What does a "wedge" imply to Joe?

. . . to do this [one wedge] by 2050 would require adding globally, an average of 17 [nuclear] plants each year, while building an average of 9 plants a year to replace those that will be retired, for a total of one nuclear plant every two weeks for four decades — plus 10 Yucca Mountains to store the waste.
If one wedge implies a need for 26 nuclear plants per year, then 14 wedges implies 26 * 14 = 364 plants per year, or the equivalent effort of one nuclear power plant per day from now until 2050. Obviously, assumptions mean that it could be a little more or a little less. And the use of nuclear plants here is simply to illustrate the scale of the challenge, not to propose or suggest that this is even remotely possible or desirable.

Joe's conclusion is just about the exact same conclusion that you'll find on p. 116 of The Climate Fix. Nice work Joe! (Roger Pielke Jr.)

Chamber's top energy official: Time for 'unemotional' talk about energy costs

The U.S. Chamber of Commerce's top energy official is calling on policymakers to have a "very adult and unemotional" conversation about the nation's energy priorities in light of the country's economic troubles. (E2 Wire)

Energy Should Be Job One for the New Congress
Most people argue that getting the economy back on track should be the new Congress's first order of business. Yet no one seems to agree on how to do so. I suggest that the 112th Congress look at energy policy as job one to secure the economy for now and the future. [Read More] (H. Sterling Burnett, ET)
Evidence Mounts: Lagging Truck Fuel Economy an Opportunity Cost of EPA Emission Rules
by Marlo Lewis
11 January 2011 @ 5:51 pm
The end of the month (Jan. 31) is the deadline for submitting comments on EPA and the National Highway Traffic Safety Administration's (NHTSA's) joint proposed rule to establish first-ever greenhouse gas/fuel economy standards for diesel trucks and other heavy-duty (HD) vehicles. When finalized, the rule will substantially increase both agencies' power over the freight goods industry.
The agencies' chief rationale for the proposal is that the fuel economy of HD vehicles, especially "combination tractors," the semi-trucks used in long-haul freight, has not improved in recent years or even declined. This is paradoxical, because nobody has a greater incentive to demand cost-effective improvements in fuel economy than people who haul freight for a living.
EPA and NHSTA offer five "potential hypotheses" to explain the…
Read the full story (Cooler Heads)
by Kent Hawkins
January 11, 2011
Setting aside the matter that wind turbines are not an effective means to supply utility-scale electricity, the claims of job creation and 21st century industrial development are equally illusory. A New York Times (NYT) article last month spoke volumes on this.
I have frequently claimed that the recently created wind turbine manufacturing industries in Europe (Denmark, Germany and Spain) are in jeopardy from competition by the emerging giants, China, India and the U.S. The Times article reports that China now controls almost half of the global market, having absorbed billions of dollars in government assistance and consumer subsidies.
The wind businesses in these European countries have existed for little more than a decade, and having saturated their domestic markets, have enjoyed a brief, and unsustainable, dominance of global markets. I may have been mistaken in including the U.S. in the emerging giants list, but one cannot realistically exclude it, at least at first glance.
I now suggest it should be added to the same list as the European countries. [Read more →] (MasterResource)
Beyond Petroleum Future - Still A Pipedream
by Marlo Lewis
11 January 2011 @ 11:50 am
In his 2006 State of the Union Address, President George W. Bush joined the chorus of environmental scolds in disparaging America's spaciously mobile civilization as being "addicted to oil" and called for various R&D programs to move us beyond petroleum. A key objective was to commercialize so-called cellulosic ethanol made from prairie grasses, wood waste, and other fibrous plant materials. Bush proclaimed:
We will also fund additional research in cutting-edge methods of producing ethanol, not just from corn but from wood chips and stalks or switch grass. Our goal is to make this new kind of ethanol practical and competitive within six years.
Responding to this presidential initiative, Congress, in 2007, enacted a Soviet-style production quota for renewable fuels, commonly known as the ethanol mandate. It…
Read the full story (Cooler Heads)
Many thanks to all who have enquired after the welfare of JunkScience.com editor and Queensland resident Barry Hearn. With the exception of one major flash flooding event on January 10 (see, and here) most of what you see in media reports is dramatized and overhyped. That flash flood is tragedy enough.

It is true that floodplain zones are flooding, as they always do when we have a good "Wet" (monsoon season) but just as this is tragic for those who believed the nonsense about global warming causing Australia to dry (along the lines of end of snow for the northern hemisphere) and who built low-set homes in harm's way it also brings renewal after periods of drought. Over the next year or two these flood waters will slowly move through Australia's inland waterways, recharging lakes, billabongs and soil moisture and Australia will bloom, native animals will breed at prodigious rates and Australia will likely displace Brazil as top of the beef exporters until the next cyclical drought turns much of Australia to dusty plains once again.

Australia is experiencing a very wet "Wet", our inadequate water impoundments and flood control holdings are full and soft infrastructure is breaking down. To a significant extent we are unprepared for current conditions because greenies and their co-traveling misanthropic miscreants have constantly sabotaged efforts to build adequate infrastructure and promoted dangerous myths, flying the false colors of "saving the planet". Hopefully we will not sacrifice too many more members of our society relearning the lesson that development and wealth generation are the only true defense against a too-frequently hostile environment. Queensland has already sacrificed a dozen lives, possibly as many as six dozen because we were not adequately prepared for a predictable and largely expected very wet season with a cool Pacific and superimposed La Niña ENSO phase. Anyone paying attention to Australia's old and eroded landscape knows that current conditions are predictable and unexceptional. Now we just need to educate politicians and undo the lethal mischief wrought by the great global warming bandwagon and antidevelopment greens.

Thanks again for all your good wishes and sympathy for the tragic loss of life that always seems to accompany these natural events in the rather extravagant land called Australia, described so eloquently by Dorothea Mackellar in My Country -

...

I love a sunburnt country,
A land of sweeping plains,
Of ragged mountain ranges,
Of droughts and flooding rains.
I love her far horizons,
I love her jewel-sea,
Her beauty and her terror -
The wide brown land for me!

...

Core of my heart, my country!
Her pitiless blue sky,
When sick at heart, around us,
We see the cattle die -
But then the grey clouds gather,
And we can bless again
The drumming of an army,
The steady, soaking rain.

Core of my heart, my country!
Land of the Rainbow Gold,
For flood and fire and famine,
She pays us back threefold -
Over the thirsty paddocks,
Watch, after many days,
The filmy veil of greenness
That thickens as we gaze.

...
Toowoomba flash flood shambles
What is wrong with our "warning systems" in this country when low lying roads in the major regional city of Toowoomba were not closed before this flooding struck.
Rainfall is no secret – it falls on a network of recording stations connected by telemetry to the BoM – the BoM report a network of updated rain data on their website;
Rain also falls mostly at night so considering SE Qld has been flood affected for weeks – you might expect that early every morning some "emergency services HQ" might review the nights rain and discuss flood models with the appropriate experts. Then as rain falls through the day – flash flooding potential should leap out at anybody reviewing the models.
It is not rocket science – a quota of rain falls in a catchment – a hydrological model will tell you how and when that water gets to a certain river. With the constant experience of the last few weeks you might expect predictions of river flows to be honed to a new accuracy.
I am amazed these scenes of cars and people being washed down Toowoomba streets are coming from a modern nation. I think the "authorities" have lost the plot bigtime. (Warwick Hughes)
Oh dear... Earth must prepare for close encounter with aliens, say scientists
UN should co-ordinate plans for dealing with extraterrestrials – and we can't guarantee that aliens will be friendly

Evolution on alien worlds is likely to be Darwinian, which may mean extraterrestrials share our tendencies for violence and exploitation. Photograph: Rex
World governments should prepare a co-ordinated action plan in case Earth is contacted by aliens, according to scientists.

Scientists argue that a branch of the UN must be given responsibility for "supra-Earth affairs" and formulate a plan for how to deal with extraterrestrials, should they appear. (Guardian)
Ohio becomes 25th state to contest healthcare plan
Ohio is joining a multistate lawsuit over the federal healthcare reform plan passed less than a year ago because the law "tramples on the rights of Ohio's citizens," the state's new attorney general said on Monday. (Reuters)
New medical research body urged to speed up drug trial approvals
Health Research Agency will be one-stop-shop for researchers who have long complained about bureaucracy (Guardian)
Swine flu survivors developed super flu antibodies
A study of antibodies from people infected with H1N1 swine flu adds proof that scientists are closing in on a "universal" flu shot that could neutralize many types of flu strains, including H1N1 swine flu and H5N1 bird flu, U.S. researchers said on Monday.

They said people who were infected in the H1N1 pandemic developed an unusual immune response, making antibodies that could protect them from all the seasonal H1N1 flu strains from the last decade, the deadly "Spanish flu" strain from 1918 and even a strain of the H5N1 avian flu. (Reuters)
Statins may raise stroke risk in some: study
People who have had a type of stroke caused by bleeding in the brain should avoid taking cholesterol-lowering drugs known as statins, U.S. researchers said on Monday.

Although statins are commonly used to prevent heart attacks and strokes, they said the drugs could increase the risks of a second stroke in these patients, outweighing any other heart benefits from the drugs. (Reuters)
"Clean Energy Standard:" Bad Solution to a Non-Problem (Lindsey Graham rides again)
by E. Calvin Beisner
January 10, 2011
Senator Lindsey Graham (R-SC) has found another disguise for lining the pockets of "alternative energy" producers with consumers' dollars directed there not by rational economic choices but by government mandate. (MasterResource)
The Case For Doing Nothing About Global Warming
Time after time, the public has been harangued by climate change "experts" predicting all form of devastation due to anthropogenic global warming. The Greenland and Antarctic glaciers will melt, as will the sea ice covering the Arctic Ocean. Temperatures will rise by 2-6°C, perhaps more in higher latitudes. Weather patterns will shift, there will be droughts and torrential monsoon rains, cyclones will increase in intensity—where will it all end? Here's a thought, we might find the world a nicer place after a bit of global warming. In fact, given the general cooling trend seen over the Holocene (the period since the last glacial period ended around 14,000 years ago) and the Cenozoic (the time since the dinosaurs died, around 65 million years ago) human CO2 may be, in some small way, the only thing delaying another devastating ice age. (Doug L. Hoffman, The Resilient Earth)
Exam board accused of 'brainwashing' pupils with inaccurate climate graph
Britain's largest exam board has been accused of "brainwashing" pupils by forcing them to use an inaccurate temperature graph that exaggerates the scale of global warming. (TDT)
Climate Change Skeptics are Stooges for Big Oil
As a meteorologist and climate change (what happened to global warming?) investigator I constantly hear the charge that we who do not kneel at the altar of Al Gore are simply hired hacks for "Big Oil." [Read More] (Art Horn, ET)
You are not going to believe this, no sooner have our green friends rebranded the crisis formerly known as global warming from `climate change' to `climate disruption' than they change their minds again. The Australian has the story:
THE term "climate change" could be replaced by "climate challenges" if a federal commissioned marketing study is taken onboard.

The study of attitudes to climate change among farmers, commissioned by the Agriculture Department, found only 27 per cent of those surveyed believed human activity was causing climate change, compared with 58 per cent of urban dwellers.
(Bishop Hill)
Carbon Clampdown: "Once the dial reaches zero, you have used up all your personal carbon allowance"
"Imagine a country where carbon becomes a new currency. We carry bank cards that store both pounds and carbon points" – Environment Secretary, David Miliband.
Global warming activist group Forum for the Future has issued a new video calling for a clampdown on individual's carbon emissions.
The video, entitled 'Carbon Clampdown,' presents the case for instituting a new hardline regime on personal carbon allowances, but does so in as friendly a way as is possible with such a repressive idea. (Haunting The Library)
Ministry of Truth: Independent Newspaper Channels Orwell.
The Independent, the British newspaper that published the now infamous article in 2000 proclaiming that Snowfalls Are Now Just A Thing of the Past has entered a surreal and Orwellian world with the publication of an article that seeks to reinterpret what the article was actually claiming. (Haunting The Library)
Research Issues On "The Missing Heat"
The science issues associated with the "missing heat" in Judy Curry's post
are very straightforward. They can be summarized succinctly:
What is the annual global average heat content in Joules of the upper 700m of the ocean for 2010? What was this average in 2004? What are the observational uncertainties for this measurements?
What is the global average radiative flux averaged over these time period in Watts per meter squared? What is the uncertainty of this estimate?
The paper
R. S. Knox, David H. Douglass 2010: Recent energy balance of Earth International Journal of Geosciences, 2010, vol. 1, no. 3 (November) -- In press doi:10.4236/ijg2010.00000
with the abstract
A recently published estimate of Earth's global warming trend is 0.63 ± 0.28 W/m2, as calculated from ocean heat content anomaly data spanning 1993-2008. This value is not representative of the recent (2003-2008) warming/cooling rate because of a "flattening" that occurred around 2001-2002. Using only 2003-2008 data from Argo floats, we find by four different algorithms that the recent trend ranges from -0.010 to -0.160 W/m2 with a typical error bar of ±0.2 W/m2. These results fail to support the existence of a frequently-cited large positive computed radiative imbalance.
is a solid scientific study on these questions. The paper could, of course, be in error [although it is robust in my view], or the Argo data could have errors that Josh Willis (or others in that community) has not communicated to us. The blogosphere and peer reviewed papers are the venue to debate these questions.
For Kevin Trenberth to call this study "rubbish" says a lot about that particular subset of the climate science community. Unfortunately, these individuals have been elevated to control much of the climate assessment process and the funding of climate science research. (Roger Pielke Sr.)
My Comment On Robert S. Knox And David H. Douglass – Kevin Trenberth On The Climate Etc Post On "Missing Heat"
In Judy Curry's post
there is an informative set of e-mails that illustrates the current poor state of scientific discourse. The relevant e-mail exchange starts with
"R. Gates | January 8, 2011 at 5:40 pm | Reply

This missing heat issue is obviously one of the most important issues right now to get solved or to study in more depth. For if it turns out that the missing heat is not there, then neither is any substantial AGW, but if, as Trenberth and others suspect, it is in the deeper ocean, as some recent research indicates, then that additional heat is yet more conclusive proof that AGW is occurring. I sent a query to Dr. Trenberth about his take on the Knox & Douglass paper, and he graciously took the time to give me this response:

"I have now read the paper and I dismiss it entirely. The authors do not describe what data they use. Argo data have undergone several major revisions. It also is varying in time in amount and coverage, and some floats were "bad" and some had calibration problems (the surface pressure was recorded as negative, indicating depth problems).
They also do not use the Lyman et al results, or our commentary on it:

Trenberth, K. E., 2010: The ocean is warming, isn't it? Nature, 465, 304. [PDF]

They end up with a statement about their opinion. Well I will say emphatically that their opinion is wrong and we have evidence that it is so. This sort of paper should not have been published, and really it hasn't been because this "journal" has no credibility. It is clear what the biases are of these authors.

Looking at the figure in the paper also reveals a clear problem: The values at the end are higher than any others yet they have a downward trend. Clearly any "trend" they get depends critically on how they get it and it highly dependent on the time period. By taking a 12 month running mean they discount the last 6 months."
David Douglas responded to this e-mail in the following. (Roger Pielke Sr.)
From CO2 Science Volume 14 Number 1: 5 January 2011
Editorial:
Thinking Outside the Climate Envelope: There's more than one way to skin the global-warming catastrophe.
Journal Reviews:
Winter Snow Depths in Northern China: How have they varied over the past three decades? ... and what have been the consequences for the country's vegetation?
Autumn and Winter Storms of the Eastern Canadian Arctic: Have they been doing what the local Inuit claim they have been doing?
Dengue Epidemics in Taiwan: What causes them?
Relict Reefs of the Past: Substrates for Reefs of the Future?: Unlike some life forms, which are claimed to have "nowhere to run, no place to hide" in response to possible future global warming, reefs do!
Atmospheric CO2 Enrichment and Tropical Seagrass Growth: How does the former affect the latter? ... and what are the larger ecological implications?
The Soil Carbon Stock of Northern China's Grasslands: How has it changed over the past two decades?
Ocean Acidification Database:
The latest addition of peer-reviewed data archived to our database of marine organism responses to atmospheric CO2 enrichment is Channelled Wrack [Pelvetia canaliculata]. To access the entire database, click here.
Plant Growth Database:
Our latest results of plant growth responses to atmospheric CO2 enrichment obtained from experiments described in the peer-reviewed scientific literature are: Cassava (Gleadow et al., 2009) and Small Cordgrass (Mateos-Naranjo et al., 2010).
Medieval Warm Period Project:
Was there a Medieval Warm Period? YES, according to data published by 918 individual scientists from 542 separate research institutions in 43 different countries ... and counting! This issue's Medieval Warm Period Record comes from Hetao Region of Northern China. To access the entire Medieval Warm Period Project's database, click here. (co2science.org)
Auto show: Welcome to Bizarro World (The Michigan View 1.10.11)
In 2010 the American truck was resurgent.

Sales of American trucks leapt 18 percent as the segment regained over 50 percent of market share. As financial fears and $4 gas prices receded in the rear-view mirror, American buying habits returned to normal: Americans prefer SUVs that ride high over smaller sedans. Cars shed 6 percent of market share and hybrid-electrics' share plummeted 17 percent.

So when the North American Auto Show opens in Detroit Monday, automakers will emphasize . . . small cars and green hybrid-electrics?

Welcome to Bizarro World, the annual Detroit auto show press week where what's inside the walls of Cobo has little to do with the real world outside. With some 5,000 practicing members of the Green Church – liberal journalists and their Washington Democratic allies – roaming the show floor, the automakers will entertain them with politically-correct talk about building small cars to meet federal 35 mpg standards to combat global warming.

Outside, temperatures are expected to drop to below-normal temperatures of 11 degrees with snow in the forecast in the midst of a brutal Detroit winter that has city shelters taking in 25 percent more homeless than usual. And one year ago, the Climategate scandal pulled the mask off the global warming science fraud.

The show's Alice in Wonderland quality is an annual ritual. At this decade's start for example, for example – while SUV sales roared – General Motors rolled out a 108 mpg concept called the Precept and Ford promised an 80 mpg family car by 2003 (financed by the taxpayer-funded $1 billion USCAR program). Neither car ever came to market, but boy did they wow the press pews. (Henry Payne)
Senators Doubt WTO Would Uphold U.S Ethanol Tariff
Senators John McCain and John Barrasso said on Monday the extension of U.S. ethanol subsidies and a tariff on imports is likely illegal under international trade rules, lending some support to Brazil's opposition to U.S. ethanol policy.

"I believe the WTO would rule against the United States because it's clearly a subsidy that is neither warranted nor in keeping with WTO regulations," Senator McCain of Arizona told reporters after a meeting with Brazilian President Dilma Rousseff in Brasilia. (Reuters)
China Boasts Breakthrough In Nuclear Technology
Chinese scientists have made a breakthrough in spent fuel reprocessing technology that could potentially solve China's uranium supply problem, state television reported on Monday.

The technology, developed and tested at the No.404 Factory of China National Nuclear Corp in the Gobi desert in remote Gansu province, enables the re-use of irradiated fuel and is able to boost the usage rate of uranium materials at nuclear plants by 60 folds.

"With the new technology, China's existing detected uranium resources can be used for 3,000 years," Chinese Central Television reported.

China, as well as France, the United Kingdom and Russia, actively supports reprocessing as a means for the management of highly radioactive spent fuel and as a source of fissile material for future nuclear fuel supply. (Reuters)
The Road To Repeal: The campaign to rid the country of ObamaCare got off to a running start Friday when a procedural hurdle was easily cleared in the House. So far, so good for the new majority.

By a 236-181 margin, the House on Friday approved rules for the debate leading up to Wednesday's up-or-down vote on repeal legislation. Democrats, fearing they may lose their grip on Americans' health care, launched into hysterics right away. (IBD)
By Steve Milloy
January 7, 2011, GreenHellBlog.com
As if there's not enough to be worried about already, the Ohio EPA just reported that residents in seven Ohio counties face a great[er] than acceptable risk of cancer from air pollution.
Based on air monitoring data, the Ohio EPA reported that cancer risks ranged from 1.01 additional cancers per 10,000 people in Scioto County to 2.1 additional cancers per 10,000 people in Columbiana County.
But these claims are specious and the scare is irresponsible. (Green Hell Blog)
Does Peter Pronovost really have a magic bullet to reduce hospital-acquired infections?
Probably not, but who knows? After all, his ridiculously obvious and rudimentary checklist protocol has never actually been audited and verified by an independent third party. In other words, the hospitals are simply reporting their own infection rates. Kind of like a kid writing out his own report card. Yet, the protocol and its promoter have achieved cult status.

This is the topic of my latest HND piece.

You'd think that with all the publicity he's received, Pronovost would be more than happy to have his methods tested in a scientific manner, but from all reports, he has rejected such requests. Meanwhile, he has become nothing less than a media star. Certainly, the hospital industry loves him because by adopting his protocol, they can show incredible reductions in rates of infection. And, in some cases, they can even get better reimbursement from the Feds.

Frankly, it's appalling how little critical feedback there has been, not to mention the embarrassingly fawning media coverage. Beyond the myriad confounding factors, there is one other little problem: Just because a protocol has been "adopted" does not prove that it is actually being used. Compliance with his protocol has apparently never been audited, either.

To me, it's all voodoo until proven otherwise. Read the complete article. (Shaw's Eco-Logic)
Much ado about nothing: Dioxin scare: German feed fat 'contains 77 times limit'
Newly released test results have revealed much more of a toxic chemical in tainted animal feed than previously thought. (BBC)
EPA "pollution diet" starves agriculture: farm group
The head of the largest U.S. farm group called on Congress to stop ruinous EPA "over-regulation" of agriculture and announced on Sunday a lawsuit against EPA rules to reduce Chesapeake Bay pollution.

Bob Stallman, president of the 6 million-member American Farm Bureau Federation, announced the lawsuit during a speech that opened the group's annual meeting. He said the Environmental Protection Agency's "over-regulation endangers our industry."

Farmers have been leery of EPA for years. Opposition has grown in the past couple of years out of concern that regulation of greenhouse gases will drive up farming expenses and that EPA may tell farmers to limit dust from fields.

"Our message to the new Congress is clear: It is time to stop the EPA," said Stallman. "But we don't intend to leave this to Congress alone. We are prepared to carry this battle to the courts." (Reuters)
One Law for Tree, Another for Ewe
This is Polly Higgins, she's a barrister, and an eco-warrior. She wants there to be an international law to punish 'ecocide'. (Ben Pile, Climate Resistance)
The biggest unfounded health scares of 2010 (The Daily Caller)
By Dr. Elizabeth Whelan. As we begin a new year, the American Council on Science and Health (ACSH) would first like to try and slay the demons and hobgoblins of the past year. We do this each New Year's Eve by making a list of the top unfounded health scares of the outgoing year. These bouts of hysteria are prompted by many different things. But what they have in common is that there's no scientific evidence to back up the alarms being sounded. (aCSH)
"Well duh" of the moment: Sprung: nutrient waters full of sugar
NUTRIENT-ENHANCED water drinks are ''expensive lolly waters'' with exaggerated health claims, says a damning review by the consumer group Choice.

Choice says some of the drinks, with names such as Nutrient Water, Smart Water and Vitamin Water, contain enough sugar in a 500 millilitre bottle to provide the average Australian woman with a third of her recommended daily intake.

It says many of the nutrient-enhanced drinks spruik ''over-the-top health claims'' - touting ''nature approved ingredients'' and ''natural flavours'' that mean little. (SMH)
USCAP to go into self-induced coma
The US Climate Action Partnership (USCAP), the business-environmentalist lobby group that almost made cap-and-trade happen in the 111th Congress, is going dark at least temporarily.
Jonathan Lash of the USCAP member World Resources Institute told Carbon Control News that members,
"have agreed to keep USCAP in existence for the time being and reassess what is going to be possible."
Apparently with cap-and-trade off the table and internal disagreement about whether to support or fight the EPA's climate rules, USCAP members have reached an impasse as to what to do next.
So it's lights out for USCAP for now. (Green Hell Blog)
Conservative Legal Team from Obamacare Case Now Fighting the EPA
On Dec. 30, a federal appeals court froze new EPA regulations on greenhouse gases. The team representing the State of Texas in this appeal is also the team managing the largest Obamacare lawsuit in America, led by a lawyer from the Reagan administration. This appeal is the latest reminder that America good judges to uphold the rule of law and stop President Obama's ongoing power grab.

The Environmental Protection Agency (EPA) issued its first round of anti-business, job-killing carbon regulations last year. Those rules were to go into effect this year, and EPA Administrator Lisa Jackson—President Obama's handpicked EPA head—has said additional rounds of massive regulations will be forthcoming. These regulations give increasing power to EPA over every CO2 source in America. This includes every car, truck, furnace, chimney and lawnmower, as well as every factory, tractor and assembly line. It's a massive power grab that will drive up the costs of everything you buy. (Ken Klukowski, Townhall)
Climate Scientists Deepening Skepticism of Democracy
Does a liberal democracy have sufficient resolve to stomach the economic and political sacrifices required to stabilize global warming? (William Pentland, Forbes)
Climate science needs light: Goldstein
If global warming is going to change the way we live, secrecy is not an option

How much confidence should we have, really, in the credibility of the scientific research that underpins global warming?

For years we've all been endlessly assured by the great, green powers-that-be that the science behind man-made global warming is rock solid, gold standard and, of course, "peer-reviewed."

Well, a new book by British environmental journalist Fred Pearce, one of the world's leading commentators on climate change, suggests cause for serious concern. (Lorrie Goldstein, Toronto Sun)
Germany's New Big-Brother Energy Law-
"A new law has been passed by the German government, quietly and almost unnoticed. Soon in the future, the government will tell it's citizens how much energy they can consume," reports Pierre Gosselin. He adds, "It's all in the name of 'saving the planet from climate catastrophe.' They are moving quickly now, and Germany is now lost. Although climate skepticism is rising, it's too late."

Under this law, which Gosselin calls the Energy Tyranny Act, power and energy companies will be required to collect consumption data on each and every citizen and provide the means to meet energy efficiency targets. He labels this as Germany's first step in declaring eco-martial law. (Jack Dini, CFP)
Right venue at last: Rival plays on climate change go head to head on London stage
Leading theatres to show contrasting views of global warming in major new productions (Robin McKie, The Observer)
The Met Office fries while the rest of the world freezes
As the Met Office desperately tries to salvage its reputation, another of this 'warm' winter's ice disasters is unfolding in the Sea of Okhotsk, writes Christopher Booker. (TDT)
Christopher Monckton says he's found two dozen falsehoods, exaggerations or misleading or questionable claims in a single column by The Australian's resident warming alarmist, Mike Steketee.
Take this one, for instance:
That puts a bit of a dent in the argument that the world has been cooling since 1998.
As Monckton notes:
Actually, it is cooler. There was a remarkable spike in global temperatures in 1998, caused not by manmade "global warming" but by a Great El Niño event – an alteration in the pattern of ocean currents that begins in the equatorial eastern Pacific and spreads around the globe, lasting a few months. In the first nine months of 2010 there was another substantial El Niño, but even at its peak it did not match the Great El Niño of 1998.
Read on for more, and wonder why there's this need to exaggerate, if the evidence for dangerous man-made warming is really so overwhelming. (Andrew Bolt)
Cold times means more death, war, rebellion, drought and flood in China
It seems a warmer climate might be bad, but a colder one is deadly.
Once upon a time, people thought that overpopulation triggered crashes, but in this study by Lee and Zhang the hard numbers suggest instead that it was climate, and of course, it's not the warmer kind of climate that causes the problems but the colder kind. (Jo Nova)
Lawrence Solomon: Global warming camp struck out in 2010
Three strikes and you're out. The sound of silence lately coming from the global warming camp reflects 2010 being a strike-out year for it. (Financial Post)
Stop Climate Change Waste - Man must Adapt or Die
The Carbon Sense Coalition today accused Western Governments of massive waste of community savings on frivolous climate "research" and alternative energy toys while neglecting the infrastructure needed to maintain sustainable societies in the face of an unknown climate future.
The Chairman of Carbon Sense, Mr Viv Forbes, said that none of the massive government climate spending has produced anything of long term use to the people paying their bills. (more…) (Carbon Sense Coalition)
How Can They Spend So Much on "Climate Research"?
Just a few US government bodies plan to spend US$2,481,000,000 on "Climate Research" in 2011. Not on roads, not on bridges, not on snow ploughs – on Climate PR supporting the world effort to tax and ration our use of energy.
See: http://climatequotes.com/2011/01/08/how-can-climate-scientists-spend-so-much-money/
At least A$800,000,000 is being spent annually in Australia on "Climate Research". Not on flood-proof roads, airports and bridges, not on water storage, not on emergency helicopters – just wasted on chasing the climate will-o-the-wisp.
See: http://carbon-sense.com/2010/02/16/green-jobs-galore/
And the UK government plans to spend one thousand million pounds on carbon capture and burial. Not on reliable low cost energy; not on snow-proof airports - just wasted trying to bury natural aerial plant food.
See: http://climateresearchnews.com/2010/10/uk-spending-cuts-undermined-by-1-billion-plan-to-capture-and-bury-the-beneficial-harmless-gas-co2/ (Carbon Sense Coalition)
Recycled virtual world speculation: Glacier shrinkage will hit European Alps hardest, study claims
Global warming research warns of rising sea levels and threat to water supplies. (Guardian)
Good grief! Climate change to continue to year 3000 in best case scenarios
New paper in Nature Geoscience examines inertia of carbon dioxide emissions

New research indicates the impact of rising CO2 levels in the Earth's atmosphere will cause unstoppable effects to the climate for at least the next 1000 years, causing researchers to estimate a collapse of the West Antarctic ice sheet by the year 3000, and an eventual rise in the global sea level of at least four metres.

The study, to be published in the Jan. 9 Advanced Online Publication of the journal Nature Geoscience, is the first full climate model simulation to make predictions out to 1000 years from now. It is based on best-case, 'zero-emissions' scenarios constructed by a team of researchers from the Canadian Centre for Climate Modelling and Analysis (an Environment Canada research lab at the University of Victoria) and the University of Calgary. (University of Calgary)
Weather in the year 3000: once again
Two years ago, we discussed a report in MSNBC about a paper that was predicting the climate for the year 3000.




Boston's industrial suburbs, January 2100: that's a foreseeable future in comparison with the paper we discuss now

Now it's 2011 and Nature Geoscience is just going to offer us another paper about the weather in the year 3000: who cares that no one can really make predictions for February 2011? ;-)

University of Calgary: press release
» Don't Stop Reading » (TRF)
Scientists find 'drastic' weather-related Atlantic shifts
Scientists have found evidence of a "drastic" shift since the 1970s in north Atlantic Ocean currents that usually influence weather in the northern hemisphere, Swiss researchers said on Tuesday.

The team of biochemists and oceanographers from Switzerland, Canada and the United States detected changes in deep sea Atlantic corals that indicated the declining influence of the cold northern Labrador Current. (AFP)
Methane in the Atmosphere - no cause for alarm - just natural gas passing through
The role of methane in the atmosphere has been emphasized by the IPCC to the point that many governments regard methane as almost as important as carbon dioxide amongst the greenhouse gases. The result is that emissions from natural gas pipelines, coal seams and agricultural livestock have been included in schemes to limit the growth of greenhouse gas concentrations. Analysis of changes to atmospheric methane within the last one hundred years suggests that the annual increases from 1930 to 1990 were due to losses from the production, transmission and distribution of natural gas that have now been reduced. Measurements over the last fifteen years show only natural variability. The data provide no justification for any attempts to reduce methane from industrial or agricultural activity.
For a full report by Tom Quirk, Twentieth Century Sources of Methane in the Atmosphere, see: http://carbon-sense.com/wp-content/uploads/2011/01/quirk-methane-in-atmosphere.pdf [PDF, 223 KB] (Carbon Sense Coalition)
New rate of stratospheric photolysis questions ozone hole
These images show its size each September over the past years, as derived from GOME, GOME-2 and SCIAMACHY satellite data. - click to enlarge
By Joseph D'Aleo, CCM, AMS Fellow
Dr. Will Happer of Princeton wrote "The Montreal Protocol to ban freons was the warm-up exercise for the IPCC. Many current IPCC players gained fame then by stampeding the US Congress into supporting the Montreal Protocol. They learned to use dramatized, phony scientific claims like "ozone holes over Kennebunkport" (President Bush Sr's seaside residence in New England). The ozone crusade also had business opportunities for firms like Dupont to market proprietary "ozone-friendly" refrigerants at much better prices than the conventional (and more easily used) freons that had long-since lost patent protection and were not a cheap commodity with little profit potential" (link).
Even James Lovelock agrees. James Lovelock formulated the Gaia hypothesis, which postulates that the biosphere is a self-regulating entity with the capacity to keep our planet healthy by controlling the chemical and physical environment. He later became concerned that global warming would upset the balance and leave only the arctic as habitable. He began to move off this position in 2007 suggesting that the Earth itself is in "no danger" because it would stabilize in a new state.
James Lovelock's reaction to first reading about the CRU emails in late 2009 was one of a true scientist: Continue reading
Here's some really annoying nonsense: Great Barrier Reef among the Australian flood victims
'Really massive event ... has the potential to shift the food web,' expert says

Armed with water samples and historical flood data, Australian researchers are warning that the massive flooding in Queensland State is also impacting a neighbor: the Great Barrier Reef.

Already a huge pile of sediment has been dumped by the Burdekin River into waters at the southern end of the massive reef.
Customers face huge bill for wind farms that don't work in the cold
The failure of Britain's wind farms to produce electricity in the extreme cold will cost billions of pounds, create an economic crisis and lead to blackouts, leading industrialists have warned.

To cover up the ineffectiveness of wind farms the Government will be forced to build emergency back-up power plants, the cost of which will be paid by industry and consumers.
Jeremy Nicholson, director of the Energy Intensive Users Group, which represents major companies employing hundreds of thousands of workers in the steel, glass, pottery, paper and chemical industries, said the failure of wind power had profound implications. (Daily Mail)
D'oh! Clean Energy Stocks Under-Perform in 2010
The WilderHill New Energy Global Innovation Index (ticker NEX), which currently tracks the performance of 100 clean energy stocks worldwide, fell 14.6 percent in 2010. This drop was in stark contrast to a 12.8 percent gain for the broad-market US S&P 500 index and a 16.9 percent rise for the Nasdaq Composite. (SustainableBusiness)
How brazen can you get? Autism study doctor Andrew Wakefield says he is the victim of smears by drug companies
THE doctor behind a study linking of childhood autism to a vaccine that has been branded a fraud by the British Medical Journal said he was the victim of a smear campaign by drug manufacturers. (AAP)
There is, unfortunately, no vaccine against stupidity
The British Medical Journal has devoted an editorial to stating that an article published in popular medical journal The Lancet in 1998 linking childhood vaccination with autism "was in fact an elaborate fraud." (The Punch)
A Banner Day For Junk Science . . .
Corruption: A study debunking vaccines by a scientist in the pay of trial lawyers was found to be "an elaborate fraud." Meanwhile, the "Great Garbage Patch" turned out to be a sea myth. Science has some explaining to do.

Scientific inquiry, once perceived a noble redoubt of objective truth-seeking and enlightenment, is doing a bang-up job of dragging itself down to P.T. Barnum-style snake oil-elixir hype, given the amount of fraud being exposed almost daily.

Of course, mistakes happen in any field of inquiry, but these are politically motivated ruses intended to advance an agenda. (IBD)
EPA mandates new chemical testing
The Environmental Protection Agency is forcing manufacturers of 19 chemicals produced in large volumes to conduct tests on their safety and environmental effects and provide the data to the agency.

The final rule announced Tuesday shows EPA trying to flex what regulatory muscle it has at a time when legislation to toughen the Toxic Substances Control Act (TSCA) has stalled in Congress.

"This chemical data reporting will provide EPA with critical information to better evaluate any potential risks from these chemicals that are being produced in large quantities in this country," said Steve Owens, head of EPA's Office of Chemical Safety and Pollution Prevention, in a statement.

"Having this information is essential to improve chemical safety and protect the health of the American people and the environment," he added. (E2 Wire)
How studded winter tires may damage public health, as well as pavement
Scientists are reporting new evidence on how studded tires — wintertime fixtures in some areas but banned in others for causing damage to pavement — may also damage the health of motorists and people living near highways. Studded tires have small metal protrusions from the rubber tread that improve traction on icy or snow-covered roads. Their study appears in ACS' Chemical Research in Toxicology, a monthly journal. (American Chemical Society)
How humankind was liberated from localism
The eco-worriers promoting a Mao-style return to local energy and food production overlook how destructive 'local living' has traditionally been. (Colin McInnes, spiked)
We should be skeptical of the new sophists
In classical Athens, public life became dominated by clever and smart-sounding sophists. These mellifluous "really wise guys" made money and gained influence by their rhetorical boasts to "prove" the most amazing "thinkery" that belied common sense.

We are living in a new age of sophism — but without a modern equivalent of Socrates to remind the public just how silly our highly credentialed and privileged new rhetoricians can often sound.

Take California, which is struggling with a near-record wet and snowy winter. Flooding spreads in the lowlands; snow piles up in the Sierras.

In February 2009, Nobel Laureate and Energy Secretary Steven Chu pontificated without evidence that California farms would dry up and blow away, inasmuch as 90 percent of the annual Sierra snowpack would disappear.

Yet long-term studies of the central Sierra snowpack show average snow levels unchanged during the past 90 years. Many California farms are drying up — but from government's, not nature's, irrigation cutoffs. (Victor Davis Hanson, AJC)
Rightly: Republicans kill global warming committee
Mother Jones: Republicans have disbanded the one committee devoted solely to climate change and energy issues. (GEN)
And a modest start: Nearly 50 House Republicans offer bill to block EPA climate rules
Dozens of Republicans used the opening day of the new Congress on Wednesday to introduce legislation that would bar the Environmental Protection Agency from regulating greenhouse-gas emissions. (E2 Wire)
Boxer promises to use 'every single tool' to thwart GOP's climate rollback
Sen. Barbara Boxer (D-Calif.) said Thursday that she will "use every single tool available" to thwart efforts by House Republicans to block the Environmental Protection Agency's climate regulations.

"Those who want to undermine these laws will bring harm to the American people," Boxer, who chairs the Senate Environment and Public Works committee, told reporters Thursday. (E2 Wire)
Yes, Virginia, you do have to produce those 'Global Warming' documents
By: Christopher C. Horner, David W. Schnare And Robert Marshall

Today, Virginia taxpayers, a state lawmaker and a public interest law firm are asking the University of Virginia to produce important "global warming" records under that state's Freedom of Information Act. These are records the school no longer denies possessing but nonetheless refuses to release, even to Attorney General Ken Cuccinelli. They address one of the most high-profile claims used to advance massive economic-intervention policies in the name of "global warming."

In response to a previous FOIA request, U.Va. denied these records existed. However, during Cuccinelli's pre-investigation under the Virginia Fraud Against Taxpayers Act ("FATA"), a 2007 law passed unanimously by Virginia's legislature, which clearly covers the work of taxpayer-funded academics, U.Va. stunningly dropped this stance. For this reversal, the taxpayers of Virginia owe Cuccinelli a debt of gratitude.

Still, the school has spent upward of half a million dollars to date fighting Cuccinelli's pursuit, now before the Virginia Supreme Court. However, Virginia's transparency statute FOIA gives the school one week to produce the documents, and offers no exemption for claims U.Va. is using to block Cuccinelli's inquiry.

These e-mails and other documents relate to claims made by Michael Mann to obtain, and claim payment under, certain taxpayer-funded grants. Mann worked at the university's department of environmental sciences when he produced what was hailed at the time as the "smoking gun" affirming the theory of catastrophic man-made global warming. (Washington Examiner)
Better & better: Martinez picks former astronaut, global warming denier to head energy, natural resources department
Gov. Susana Martinez announced today that former astronaut and global warming denier Harrison Schmitt is her choice to run the Energy, Minerals and Natural Resources Department. A geologist and former senator, Schmitt would be in charge of the Mining and Minerals Division, State Parks Division, Oil Conservation Division and Energy Conservation Management Division if confirmed by the state Senate. (New Mexico Independent)
but the global scam blunders on... Global Carbon Market Value Edged Up In 2010
The value of the global market in carbon emissions permits edged up 1 percent in 2010 to 92 billion euros ($120.9 billion), said Point Carbon, a Thomson Reuters company, on Thursday.

The value rose due to higher carbon prices, notwithstanding a 12 percent drop in the total traded volume at 7 billion metric tons of carbon emissions allowances and offsets.

The European Union's emission trading scheme remained the hub of the global market, with 5.2 billion metric tons of European Union Allowances (EUAs) traded for an average price of 13.99 euros per metric ton.

The greatest decline was in the United States, where trade in a regional scheme in north-eastern states fell 76 percent, as expectations waned for a federal emissions trading system.

"U.S. cap and trade was put on ice," said Endre Tvinnereim, senior analyst at Point Carbon. "This removed a lot of interest in the RGGI market," he added, referring to the north-eastern U.S. Regional Greenhouse Gas Initiative (RGGI). (Reuters)
Rationing by any other name: Carbon swap bank to beat climate change
Could swapping carbon emissions rather than trading them reduce climate change?

Australian researchers have suggested that nations should abandon the concept of carbon emissions trading in favor of a carbon swap bank that might lead to genuine reductions in the amount of carbon dioxide greenhouse gas entering the atmosphere and so provide a mechanism for reducing climate change. Details of the carbon swap bank are outlined in the journal Interdisciplinary Environmental Review. (Inderscience Publishers)
Wrong answer: Carbon taxes are the answer to the stalled climate negotiations
London, UK (January 6, 2011) - For global warming policy, the 2009 United Nations Climate Change Conference (Copenhagen Summit) was a major disappointment. Designed to negotiate a successor to the Kyoto Protocol, which expires in 2012, the Summit concluded without a binding agreement because of deep divisions on the distribution of emissions reductions and costs. In addition, the United States failed to take action on a carbon cap-and-trade bill in 2010. Confronting this policy vacuum, leading climate economist William Nordhaus argues in the Bulletin of Atomic Scientists, published today, that carbon taxes are the best approach to achieve significant emissions reductions. (SAGE Publications UK)
Idiot: The climate movement is in desperate need of renewal
If a jury that received extensive education on climate change could not vindicate the Ratcliffe activists, then who will? (Guardian)
IPCC Green Doctor Prescribes End to Democracy to Solve Global Warming
This is a longer post than normal – but trust me, there's a damn good reason for that. If you don't read a single one of my other posts, read this one.

This post is not about some fringe character. It's a review of a serious book written by a professor who lectures in mainstream education and is involved in compiling the IPCC reports. The book is published by a respectable publisher for a recognized academic institute

And that's what so scary about it. (Haunting The Library)
Republican AGW crusader Kerry Emanuel
The Los Angeles Times have promoted Kerry Emanuel of MIT,
Scientist proves conservatism and belief in climate change aren't incompatible
See also a short echo in the Washington Post.

Kerry Emanuel, who has once argued that the hurricanes get stronger and more frequent because of man-made climate disruption, is presented as a new role model: Republicans are recommended to follow in his footsteps. Of course, the media won't show us left-wing scholars who are climate skeptics - e.g. Denis Rancourt or left-wing journalists such as Alexander Cockburn.

These facts indicate that for many journalists, the attitudes to climate disruption have become more important than the attitudes to ordinary political questions that used to divide the people into leftists and rightwingers.

» Don't Stop Reading » (TRF)

Lakes A Big Source Of Climate-Warming Gas: Study

Lakes and rivers emit far more of a powerful greenhouse gas than previously thought, counteracting the overall role of nature in soaking up climate-warming gases, a study showed on Thursday.

A review of 474 freshwater systems indicated they emitted methane equivalent to 25 percent of all carbon dioxide -- the main greenhouse gas blamed for stoking climate change -- absorbed by the world's land areas every year.

Trees and other plants absorb carbon dioxide as they grow.

"Methane emissions from freshwater sources were greater than expected," David Bastviken, lead author of the study at Linkoping University in Sweden, told Reuters.

"Some of the carbon that is being captured and stored by the Earth will be counteracted by methane from these freshwater sources," according to the study by experts in Sweden, the United States and Brazil in the journal Science.

Emissions of methane, released by decaying vegetation and other organic matter in rivers, reservoirs, lakes and streams, have not previously been properly built into models used to understand global warming, Bastviken said.

The findings indicate that other parts of the landscape, led by forests, should be prized more as the most robust natural stores of greenhouse gases, he said.

"This means that forests and other local environments, being carbon sinks, are even more important" in helping offset global warming, he said. Land-based stores "may be more rare than expected." (Reuters)
Bacteria gobbled methane from BP spill: scientists
Bacteria ate nearly all the potentially climate-warming methane that spewed from BP's broken wellhead in the Gulf of Mexico last year, scientists reported on Thursday.

Nearly 200,000 tons of methane -- more than any other single hydrocarbon emitted in the accident -- were released from the wellhead, and nearly all of it went into the deep water of the Gulf, researcher David Valentine of the University of California-Santa Barbara said in a telephone interview.

Bacteria managed to take in the methane before it could rise from the sea bottom and be released into the atmosphere, but the process contributed to a loss of about 1 million tons of dissolved oxygen in areas southwest of the well.

That sounds like a lot of oxygen loss, but it was widely spread out, so that the bacterial munching did not contribute to a life-sapping low-oxygen condition known as hypoxia, said Valentine, whose study was published in the journal Science. (Reuters)
MPs give backing to deep water drilling off UK
MPs have ruled out a moratorium on deep water drilling in the North Sea, despite concerns it could lead to a disaster worse than BP's oil spill in the Gulf of Mexico last year. (TDT)
Senators Snowe, Inhofe Request EPA Evaluation of E15 Waiver on Fuel Supply
Source: Senator Inhofe
WASHINGTON, D.C. - U.S. Senators Olympia J. Snowe (R-Maine) and James Inhofe (R-Oklahoma), Ranking Member of the Senate Environment and Public Works Committee, have requested the Environmental Protection Agency (EPA) to examine whether its recently-announced policy to allow 15 percent volume ethanol (E15) in the nation's transportation fuel supply will adversely affect the supply of pure gasoline required for operating thousands of engines including those in snowmobiles, chainsaws, lawnmowers, boats, small airplanes and other non-road machinery. In a letter sent yesterday to EPA Administrator Lisa Jackson, both senators inquired as to whether the EPA considered the availability of pure gasoline in granting the waiver for the use of E15, as well as what policy recommendations the Administration would suggest to ensure sufficient supply of pure gasoline. Read the rest of this entry » (SPPI)
The combination of an energy event yesterday in Washington, DC that I was unable to attend and a comment I received on Monday''s posting got me thinking about energy policy in the context of the new year and the start of the new Congressional session today. [Read More] (Geoffrey Styles, ET)
Yeah, that "clean energy" thing... Rare Earth Metals Leave Toxic Trail to Toyota, Vestas
Jan. 6 -- Rare earth metals are key to global efforts to switch to cleaner energy -- from batteries in hybrid cars to magnets in wind turbines. Mining and processing the metals causes environmental damage that China, the biggest producer, is no longer willing to bear. (Bloomberg)
A bit of a New Year's wish list: Seven ways to improve health care and the environment in 2011
My latest HND piece starts the year off with some suggestions. These are:
Encourage telecommuting on a much grander scale
Apply rigorous tort reform to medical malpractice
Temper medicine's current obsession with blood numbers
Promote accountability at the EPA
Reform the medical education cartel
Bring real editorial boards back to scientific journals
Promote a healthy skepticism within the general public
All seven of these precepts are obvious, but are still overlooked, mostly because there is no direct way to make money with any of them. Of course, all of them will SAVE money, but who in leadership really cares about that? If they did, they would do more than just talk about it, right?
Read the complete article, where I fill in the details. (Shaw's Eco-Logic)
How disappointing for the people-haters: Oceanic "Garbage Patch" Not Nearly As Big As Portrayed In Media
CORVALLIS, Ore. – There is a lot of plastic trash floating in the Pacific Ocean, but claims that the "Great Garbage Patch" between California and Japan is twice the size of Texas are grossly exaggerated, according to an analysis by an Oregon State University scientist.

Further claims that the oceans are filled with more plastic than plankton, and that the patch has been growing tenfold each decade since the 1950s are equally misleading, pointed out Angelicque "Angel" White, an assistant professor of oceanography at Oregon State.

"There is no doubt that the amount of plastic in the world's oceans is troubling, but this kind of exaggeration undermines the credibility of scientists," White said. "We have data that allow us to make reasonable estimates; we don't need the hyperbole. Given the observed concentration of plastic in the North Pacific, it is simply inaccurate to state that plastic outweighs plankton, or that we have observed an exponential increase in plastic."

White has pored over published literature and participated in one of the few expeditions solely aimed at understanding the abundance of plastic debris and the associated impact of plastic on microbial communities. That expedition was part of research funded by the National Science Foundation through C-MORE, the Center for Microbial Oceanography: Research and Education.

The studies have shown is that if you look at the actual area of the plastic itself, rather than the entire North Pacific subtropical gyre, the hypothetically "cohesive" plastic patch is actually less than 1 percent of the geographic size of Texas.

"The amount of plastic out there isn't trivial," White said. "But using the highest concentrations ever reported by scientists produces a patch that is a small fraction of the state of Texas, not twice the size."

Another way to look at it, White said, is to compare the amount of plastic found to the amount of water in which it was found. "If we were to filter the surface area of the ocean equivalent to a football field in waters having the highest concentration (of plastic) ever recorded," she said, "the amount of plastic recovered would not even extend to the 1-inch line."

Recent research by scientists at the Woods Hole Oceanographic Institution found that the amount of plastic, at least in the Atlantic Ocean, hasn't increased since the mid-1980s – despite greater production and consumption of materials made from plastic, she pointed out. (Oregon State)
Scientific advance or lucky coincidence? Scientists Create 52 Artificial Rain Storms in Abu Dhabi Desert
Hail, lightning and gales came through the state's eastern region this summer thanks to scientist-puppetmasters.

As part of a secret program to control the weather in the Middle East, scientists working for the United Arab Emirates government artificially created rain where rain is generally nowhere to be found. The $11 million project, which began in July, put steel lampshade-looking ionizers in the desert to produce charged particles. The negatively charged ions rose with the hot air, attracting dust. Moisture then condensed around the dust and eventually produced a rain cloud. A bunch of rain clouds.

On the 52 days it rained in the region throughout July and August, forecasters did not predict rain once.

While fascinating, this is not the first time scientists have attempted to mess with Mother Nature. China has been tinkering with cloud seeding for years, not always successfully.

But the idea that countries in the Middle East could actually create rain in this water-poor region could go a long way to solving the area's problems with drought and is considered to be cheaper than desalination. But how controllable the weather can be is still in doubt, and the consequences of meddling with nature at this level are yet to be seen. (Time)
Geoff points us to a Guardian article, which he points out goes some way to demonstrating the tendency of climate-alarmists to undermine their own credibility, and to alienate themselves against the wider public. Rather like the 10:10 campaign did with the 'splattergate'snuff video…
Why we need a law on ecocide Until we have a law to prosecute those who destroy the planet, corporations will never be called to account for their crimes

Sophie Scholl, a Munich University student, was executed for revealing the truth about the activities of the Nazi authorities; today 20 brave Ratcliffe whistleblowers have been sentenced at Nottingham crown court for plotting to draw attention to the truth of the activities of another German entity. This time, replace the tyranny of the Nazis with the tyranny of the energy giant E.ON.
It should not be necessary to point it out: the Nazis systematically murdered millions of people; E.ON provides its customers — homes, schools, hospitals, churches, synagogues, mosques, factories, offices — with electricity. If any of its customers don't want to use electricity, they are free to turn off their appliances, and go hug a tree. (Climate Resistance)
Analysis: Obama Under Pressure To Delay EPA Carbon Rules
The Obama administration is facing intense pressure from all sides to delay its efforts to limit greenhouse gases, but don't expect it to call off its chief enforcer on climate -- the EPA -- without a fight. (Reuters)
Regulating Greenhouse Gases: Is EPA Following the Law or Doing an End-Run around Democracy?
by Marlo Lewis
03 January 2011 @ 3:00 pm
The first of EPA's greenhouse gas regulations kicked in yesterday (Sunday, Jan. 2). More are on the way. Is the agency following the law or doing an end-run around democracy?
My New Year's Day column in PajamasMedia.Com addresses this vital issue. The column restates what seems to me the common sense of the matter. When Congress enacted the Clean Air Act in 1970, it did not design or intend the Act to be a framework for global climate change policy, let alone for de-carbonizing the U.S. economy. Congress, moreover, has never, in the intervening years, given its approval for the Act to be used as such a framework, or for such purposes.
Restating the obvious is important at this time because the greenhouse lobby is trying to persuade the incoming 112th…
Read the full story (Cooler Heads)
Terence Corcoran: Kent perfect choice for environment portfolio
It's hard to imagine a better choice for Canada's environment portfolio than Peter Kent, appointed Tuesday by Prime Minister Stephen Harper as the key change in a minor Cabinet shuffle.
If Mr. Kent has demonstrated a special talent in his junior foreign affairs portfolio, it's an ability to hold his cool while the media try to turn some issue into a hot conflict — as is the case now over whether Canada will be forced to follow the United States on the road to economy-jolting carbon regulation.
As a former journalist and broadcaster, Mr. Kent has a knack for careful language and a reassuring voice, exactly what's needed in the face of the ongoing media storm over climate change and carbon emissions. What the media want now from the Harper Conservatives is some kind of abject admission that Canada is just going to have to fall in line behind the extreme policy action taking shape at the U.S. Environmental Protection Agency (EPA) under the Clean Air Act. Read More » (Financial Post)
They finally figured it out... Kyoto Model "Didn't Work," State Department Climate Negotiator Says
by Marlo Lewis
05 January 2011 @ 6:51 pm
Jonathan Pershing, State Department deputy special envoy for climate change and top U.S. negotiator at the Copenhagen (2009) and Cancun (2010) climate conferences, says the Kyoto Protocol "didn't work," Politico reports. Pershing explained:
Under Kyoto, which is the old model, emissions between 1990 and 2007, from [carbon dioxide], climbed on the order of 40 percent. So, if you think that that was a successful model, then you should think again. It didn't work.
The Politico article continues:
Noting that the Kyoto Protocol was never ratified in the U.S., Pershing said that despite its popularity abroad, "it is equally clear that the structures of Kyoto would not work for us.
"It is clear that it would not work politically; we couldn't move forward under that framework," he added. "We…
Read the full story (Cooler Heads)
Excellent: New Mexico threatens a U-turn on environmental regulations
New Mexico, the only state besides California to move forward on comprehensive global warming regulations, is reversing course under a new Republican governor, Susana Martinez. The move threatens to cripple the Western Climate Initiative, a California-driven effort to enact a regional trading program to curb greenhouse gas emissions.

Martinez, who replaced Democrat Bill Richardson, announced on Tuesday that she is removing all members of New Mexico's Environmental Improvement Board because of what she said was its "anti-business" policies. After a heated debate, the board last year approved measures to limit the emissions of the state's largest polluters and to join the regional cap-and-trade program. (LA Times)
Eleven Principles to advance us to a Third World Nation
Here in Australia we're copying techniques from tin-pot tyrannies. When the government wants a "consensus" that they know they have no way of achieving, they fake it. People in suits declare (with no hint of irony) that Business Needs Certainty (which means: certain-taxes, guaranteed imposts, global handicaps, Mmmm. Yes. Please).
The Ultimate State of Business Certainty will be found when the idea of costing carbon is dumped for good, laughed into history, and is mocked on whatever version of Saturday Night Live is running at the time.
Frankly the case cooked up as "Business Needs Certainty (so tax us)" is an inanity-cake with cherries on top. Can we bake it in public, chop and serve it with a smile, and all enjoy the joke together?
Is anyone kidding that there is any better kind of "business certainty" than when companies know for sure they won't be hit with unnecessary taxes based on corrupt science? How about a future where a Government guarantees to get out of the way and stay out?
Gilllard has painted herself into a corner where the only escape hatch is "a consensus" (well not just any old consensus, but a fully predetermined one — hers).
Rule number one of the Strategic Bluster is to win the argument by simply declaring you've won. But Advanced Bluster 101 is better: Don't even acknowledge there was a competition in the first place — simply proceed as if Conclusion A is so obvious that there was never even a need to discuss it. Move along people. More » (Jo Nova)
It is an article of faith among environmentalists, conventional wisdom in the media and academia, and a massive delusion afflicting California's voters, that the climate skeptic community receives massive backing from oil companies and other corporate "polluters." But when you start to look at who stands to gain from climate "mitigation" policies, and really examine the money trail behind legislative lobbying and political campaigns, the notion that the money is on the side of the deniers doesn't hold up. (CIV FI)
by Marlo Lewis
04 January 2011 @ 5:09 pm
"All politics is local," former House Speaker Tip O'Neil used to say. Accordingly, climate activists often emphasize the allegedly horrible impacts of global warming on the region, state, or locale of their target audience.
This is an old tactic. During the Clinton Administration, EPA and other agencies conducted a traveling road show touting model-projected "regional impacts" of climate change. Global warming would intensify hurricanes, EPA told Gulf Coast residents. It would destroy the ski and maple syrup industies, EPA told New Englanders. It would parch the southwest and intensify conflict over water resources, the agency told westerners.
Showcasing the alleged "local links" of global climate change looked like a winning formula for while. Then came Climategate and the outing of cap-and-trade as a stealth energy tax.
What's surprising is not that this…
Read the full story (Cooler Heads)
2010: The Year that Climate Alarmism Melted
by Robert Michaels
January 3, 2011
[Editor note: Tomorrow's post looks at Big Science-Big Environmental's new plan to push climate alarmism at the public. For a look at scientific momentum away from scary climate scenarios, see Chip Knappenberger, "What Does the Last Decade Tell Us About Global Warming? (Hint: the 'skeptics' have the momentum).]"
It was the year that climate-change alarmism (aka anthropogenic global-warming alarmism) died, a passing all the more noteworthy because it seemed so unlikely 12–15 months ago.
Few ideas in all of history had the salience and durability that warming alarmism used to have. Higher temperatures and accumulating carbon would bring planetary catastrophe–all our fault by using the dense energy known as oil, gas, and coal.
It became a religious issue, but this time one with science on its side. A consensus of scientists would team up with a consensus of busybodies to bring us an unending stream of penitential sacrifices. For politicians, sharing the pain would be an unprecedented vote-buying opportunity. And new taxes–well, politicians always need that (if they can get away with it!). (MasterResource)
'Hey America': 'Wonky' Climate Alarmism Coming at You (Big Science, Big Environment want to scare you into energy, economic retrogression)
by Robert Bradley Jr.
January 4, 2011
"Hey America! Are you ready to get wonky on global warming? After a year that started with fallout from the "Climategate" e-mail release, saw the cap-and-trade bill die in Congress, and ended with a gang of Republican climate skeptics winning House and Senate seats, global warming experts are going back to basics."
- Darren Samuelsohn, "Climate PR Effort Heats Up," Politico, December 31, 2010.
And so we now know. "Environmentalists, scientists and lawmakers have renewed public relations efforts to put global warming plainly before Americans' eyes and also rebut opponents who say nothing is happening."
What? Nothing is happening? Who said that? Didn't uber-alarmist James Hansen say the first rule of climate is that it changes–always has, always will. In his words:
"Climate is always changing. Climate would always fluctuate without any change of [man-made] climate forcing. The chaotic aspect of climate is an innate characteristic." (1)
Things are happening–sure. A lot of nature is at work, probably more than we now know about or can really appreciate. And man's influence on climate? We are trying to figure that out, but why does it have to be all bad? Is nature optimal? Didn't more climate scientists than want to admit it (Steve Schneider, et al.) sound the global cooling alarm several decades back? (MasterResource)
Apocalyptic Enthusiasm And The Royal Society
On the 350th anniversary of the Royal Society we reflect on how it first successfully promoted science as a sober and reasonable force serving society by dampening the prevailing apocalyptic 'enthusiasm' at large in Restoration England, and how the Society's relationship to fearful prognostations was recently reversed when it came to promote apocalyptic environmentalism. This reversal is indicated by the election of the Royal Society's current president in 2005, shortly after he had published one of the most extremely apocalyptic books ever written by a scientist. (GWPF)
Poor warmies... it's not working: Falling off the map
The online journal The Daily Climate is getting upset about the lack of media coverage of climate change. According to this source, in 2010, journalists published 23,156 climate-related stories in English last year - a 30 percent drop from '09's tally. This brings them back to 2005 levels, after spiking in the run-up to the much-hyped climate talks in Copenhagen and during the Climategate scandal.

Interestingly, of individual journalists, Andrew Revkin of the New York Times delivered the highest output, at 146, but it was our very own Louise Gray of The Daily Telegraph who came third, with 119. She beat even the lead Guardian journalist, Suzanne Goldenberg, who trailed in at sixth place with a mere 81 stories.

However, if the print (and online) volume is down drastically, US network news has shown an almost precipitous decline. Drexel University professor Robert Brulle has analyzed nightly network news since the 1980s. Last year's climate coverage was so miniscule, he says, that he's doubting his data.

"I can't believe it's this little. In the US, it's just gone off the map," he complains. "It's pretty clear we're back to 2004, 2005 levels." Coverage of Cancun is Exhibit A: Total meeting coverage by the networks consisted of one 10-second clip. By contrast, 2009's Copenhagen talks generated 32 stories totalling 98 minutes of airtime. "It's so little, it's stunning," Brulle says. (EU Referendum)
Are huge northeast snow storms due to global warming?
Last week's Winter Storm in the Northeastern United States - image from NOAA MODIS - click for more
Guest post by Dr. Richard Keen
The winter of 2009-2010 was a memorable one in the Northeast and Mid-Atlantic states, with locations like Philadelphia enjoying multiple massive snow storms that led to record totals for the winter. As with all exceptional weather events of late, the usual suspects blamed the occurrence on global warming. In a NOAA press release reported in USA Today (http://www.usatoday.com/weather/climate/2010-07-15-heat-record_N.htm), Jay Lawrimore stated that…
Heavy snow, like the record snows that crippled Baltimore and Washington last winter, is likely to increase because storms are moving north.
To which I commented on "Watts Up With That" on July 16, 2010 (http://wattsupwiththat.com/2010/07/16/a-spot-check-on-noaas-hottest-so-far-presser/) that Lawrimore's remarks show a complete lack of understanding of weather (which makes up climate). Continue reading → (WUWT)
They actually published this... Finding the Fingerprints of Climate Change in Storm Damage -- a Very Long Detective Story
Hurricanes could become more prevalent with climate change, but the economic pain they deliver might not be recognized as man-made for 260 years. (ClimateWire)
It's better as young Pielke tells it: Signals of Anthropogenic Climate Change in Disaster Data
[UPDATE: Joe Romm blows a gasket on this paper. Have a look at his post and you'll get a sense why it is that he dodged an opportunity to debate me last year (an offer that remains open) even after a donor promised $20,000 to Doctors Without Borders if he'd participate.]

At ClimateWire, Evan Lehmann has a lengthy overview (also here at the NYT) of a new paper by Ryan Crompton, John McAneney (both of Macquarie University) and me on detecting signals of human-caused climate change in disaster losses. Ryan, who is wicked smart, did the heavy lifting and heavy thinking on it and deserves credit for what should be a widely influential article. (Roger Pielke Jr.)
Congress May Force White House To Expand Drilling: Group
Congress should pass legislation, if necessary, to force the Obama administration to open more offshore areas to oil and gas exploration, the head of the American Petroleum Institute said on Tuesday.

The administration last month removed from its proposed five-year offshore drilling plan an earlier decision to allow energy exploration off the Atlantic coast and in Florida waters. It had pledged to open the areas to exploration shortly before last summer's BP oil spill.

Jack Gerard, president of the powerful oil industry lobby, said his group hoped the administration would change its policy again and allow drilling in the disputed areas.

If that fails, Gerard said Congress should consider putting specific language in the Interior Department's annual spending bill to require that lease sales be held in those waters. (Reuters)
Arguably the biggest story in the United States energy scene, and de facto for the rest of the world, has been the development of shale gas. Natural gas production in the United States was flat from about 1995 to 2005, standing at about 2 Tcf per month. But over the last five years, production started going up (see graph) moving to around 2.3 Tcf per month. The entire increase is because of shale gas, contributing at least 17 percent of domestic production. This is remarkable, considering that shale gas accounted for an estimated 2 percent just a few years ago. (Peter C Glover and Michael J. Economides, ET)
Lawmakers Protect Natgas From New Drilling Regulations
A bipartisan group of U.S. lawmakers pressed the Obama administration on the first day of the new Congress not to impose regulations curtailing drilling technique that taps hard-to-get natural gas reserves but has generated criticism about potential water pollution.

Thirty-two members of the Congressional Natural Gas Caucus called on the Interior Department on Wednesday not to hinder producers who use hydraulic fracturing to extract natural gas from underground rock formations. (Reuters)
Natural Gas: Changing the Geopolitics of Eastern Mediterranean and Beyond
Energy resources have always been at the center of the Arab-Israeli conflict, creating alliances and clearly influencing the policies of many nations towards the adversaries. [Read More] (Michael Economides, ET)
Wind Farms DO NOT Provide Large Economic and Job Benefits (quite the opposite)
by Glenn Schleede
January 5, 2011
One would think that by now Obama Administration officials would admit that "wind farms" do not provide large economic and job benefits. However, recent Administration statements suggest the delusion continues and, perhaps, that officials do not understand why their expectations are unrealistic. (MasterResource)
Texas Welcomes Nuclear Discards
A Texas commission Tuesday set in motion the importation of low-level radioactive-waste from 36 other states, a move long sought by the nuclear-energy industry and long opposed by environmentalists.

The Texas Low-Level Radioactive Waste Disposal Compact Commission, which manages the state's radioactive-waste dump, voted 5-2 to approve rules governing the process for accepting the out-of-state material. (WSJ)
They're from the government - and they're not helping you: Bedbug Summit
A bedbug summit has been announced for February 1st in Washington DC. Unlike the Beer summit which was called because "the police acted stupidly", the bedbug summit is necessary because the EPA acted stupidly.

The EPA has called the summit, which seems appropriate given that they created the problem. You may remember from an earlier post how we ended up with beds full of bugs:
…when Ms. Browner was the head of the EPA under Bill Clinton, she banned the use of Dursban, a chemical treatment sprayed on mattresses to prevent bedbugs. After the EPA ban went into effect it turned out that Dursban had been the victim of a junk science hit job.
By then it was too late for the EPA to admit it had been duped by activists and now ten years later New Yorkers are unable to get a good night's sleep because of critters in their beds. Just another unintended consequence of anti-science, progressive green activism. America should rest even less easily because the mother of the bedbug problem, Carol Browner, is President Obama's Climate Czar.

What could possibly go wrong? (Daily Bayonet, see original for links)
Greenies... Force the well-off to take a lodger. New year, new fascist-egalitarian proposal from the Guardian
I hope you enjoyed your holiday. I've had about 10 days off away from the world of politics, shunning the papers and Radio 4, and my blood pressure is down, my skin has returned to normal, and my Chief Inspector Dreyfus-style twitch has gone. And then I switch on a computer and saw this:
Let's take the housing fight to wealthy owners with empty spare rooms
Those who insist on under-occupying their homes should be forced to pay for the privilege, or take in a charity lodger
(Ed West, TDT)
In this morning's Guardian George Monbiot advocates that the rich should have their homes forcibly opened up to solve housing shortages and those that refuse be punished.
A bit spacious for a single man? (An Englishman's Castle)
Hypocrite George Monbiot Condemns Large, Expensive Homes – Except His Own.
(Haunting the Library)
Chromium: Where's The Balanced Reporting?
BY JACK DINI - Hinkley, California, the town made famous in the Oscar-winning Julia Roberts movie Erin Brockovich, does not show any evidence of an increased or unusual rate of cancers.

This was reported by few media outlets during the week of December 13. One would have thought this was good news and should have been covered more widely. But the fact that it was good news meant that it was not news. You would think this would have been cause for celebration- no cancer clusters, no cancers above expected limits—but not so. In fact, Erin Brockovich is back in Hinkley pursuing claims about a return of the chromium plume. (Hawaii Reporter)
Light therapy proves bright idea for treating depressed elderly
EXPOSURE to bright light may be just as effective for depressed elderly people as taking antidepressant medication, scientists have found, and the benefits seem to last even after the treatment is discontinued. (SMH)
Rob Lyons writes: Whatever happened to the 'obesity timebomb'?
The latest figures suggest that Britain's waistlines are no longer expanding. Why are there no celebratory headlines? (spiked)
Eight Botched Environmental Forecasts (Dec 30, 2010)
A new year is around the corner, and some climate scientists and environmental activists say that means we're one step closer to a climate Armageddon. But are we really?

Predicting the weather -- especially a decade or more in advance -- is unbelievably challenging. What's the track record of those most worried about global warming? Decades ago, what did prominent scientists think the environment would be like in 2010? FoxNews.com has compiled eight of the most egregiously mistaken predictions, and asked the predictors to reflect on what really happened. (FoxNews.com)
Here's a go: Climate PR effort heats up
Hey America! Are you ready to get wonky on global warming?

After a year that started with fallout from the "Climategate" e-mail release, saw the cap-and-trade bill die in Congress, and ended with a gang of Republican climate skeptics winning House and Senate seats, global warming experts are going back to basics.

Environmentalists, scientists and lawmakers have renewed public relations efforts to put global warming plainly before Americans' eyes and also rebut opponents who say nothing is happening. (Politico)
The icy grip of the politics of fear
The snow crisis of December 2010: what a striking snapshot of the chasm that separates the warming-obsessed elite from the rest of us.

You couldn't have asked for a better snapshot of the chasm that divides today's so-called expert classes from the mass of humanity than the snow crisis of Christmas 2010. They warn us endlessly about the warming of our planet; we struggle through knee-deep snow to visit loved ones. They host million-dollar conferences on how we'll cope with our Mediterranean future; we sleep for days in airport lounges waiting for runways to be de-iced. They pester the authorities for more funding for global-warming research; we keep an eye on our elderly neighbours who don't have enough cash to heat their homes.

This isn't to say that the entire climate-change thesis is wrong. I'm not one of those people who believes snowfall necessarily disproves every claim made by warming-obsessed climatologists. Rather the snow crisis demonstrated, in high definition, the gap between the fear-fuelled thinking of the elite and the struggles of everyday people. It illuminated the million metaphorical miles that now separate the fantasy politics of our so-called betters from the concerns of the rest of us.

Not surprisingly, with snowstorms smothering Western Europe and the East Coast of America, many asked: 'What happened to global warming?' On the 20-hour bus-and-boat-and-train-and-car journey I took from London to Galway, surrounded by people forced to make a similar trek because their flights were also cancelled, there was much jocular banter along the lines of: 'So this is the climate change we've been warned about…' As people made new friends and arranged impromptu carpools for the final legs of their journeys, there was a palpable sense that the world we inhabit is not the same as that inhabited by greens. (spiked)
Hot air trade hit again: Japan postpones emission trading launch
JAPAN has postponed the creation of a greenhouse gas emission trading system by a year until after April 2014 in the face of strong resistance from the business lobby, news reports said.

The centre-left government of Prime Minister Naoto Kan had planned to launch the system -- in which companies would essentially buy and sell "licences to pollute" -- in the fiscal year starting in April 2013. (AAP)
Bad Science Makes Bad Predictions: Climate Change Extremism Is Doing Its Job
"Stephen Dorling, of the University of East Anglia's school of environmental sciences, said it was not surprising the cold period raised questions over climate change - but the snowy weather should not be used as evidence against it."

When scrambling to explain all the cold weather people only expose their ignorance of climate science. They also, fortunately, produce statements that, even those who don't understand the science, see as illogical. (Tim Ball, CFP)
Well said, that man! Mainstream media helps to brainwash
Recent Coloradoan Soapbox articles by Dave Swartz (Nov. 27) and J.K. Peterson's (Dec. 13) discuss their beliefs that human-induced climate change is a serious problem that must be confronted.

I doubt that Swartz and Peterson have the detailed technical background to make reliable judgments in how human-induced carbon dioxide increases will affect climate. I view Swartz and Peterson as representative of a large group of intelligent and concerned citizens who have been (or allowed themselves to be) brainwashed by what they have heard over and over again for the last 20 years from an uncritical mainstream media.

The mainstream media have not well served the public on this topic. They have yet to dig deep and ask the tough questions. (William M. Gray, Coloradoan)
Lawrence Solomon: 75 climate scientists think humans contribute to global warming
How do we know there's a scientific consensus on climate change? Pundits and the press tell us so. And how do the pundits and the press know? Until recently, they typically pointed to the number 2500 – that's the number of scientists associated with the United Nations Intergovernmental Panel on Climate Change. Those 2500, the pundits and the press believed, had endorsed the IPCC position.

To their embarrassment, most of the pundits and press discovered that they were mistaken – those 2500 scientists hadn't endorsed the IPCC's conclusions, they had merely reviewed some part or other of the IPCC's mammoth studies. To add to their embarrassment, many of those reviewers from within the IPCC establishment actually disagreed with the IPCC's conclusions, sometimes vehemently.

The upshot? The punditry looked for and recently found an alternate number to tout — "97% of the world's climate scientists" accept the consensus, articles in the Washington Post and elsewhere have begun to claim.

This number will prove a new embarrassment to the pundits and press who use it (National Post)
Indirect effects of global climate change threaten the health of hundreds of millions of people. The very uncertainty that shrouds this issue must serve as an organizing principle for adaptation to its ill effects. (The Scientist) [em added]
No, they're not joking: Mad cow disease causes global warming
"To hold global temperature increases to 2 degrees Celsius over pre-industrial levels deforestation must be cut to half by 2020…" — so we are told by the the U.S.-based Commission on Climate and Tropical Forests (reported here).
If we believe some credible sources of information (and apply the half-and-half logic), a '4 degree rise' in globally averaged gridded temperatures will create hell on earth, which can only mean that a '2 degree rise' will create half of that hell.
Why are we cutting down tropical forests at all then?
In the IPCC-cited Governing the world's forests, Daniel Nepstad tells us (p.6):
Nepstad 2004
In order to wind back on the lethal fallout of one social scare – mad cow disease, we are now having to rely on another scare – catastrophic anthropogenic global warming, to take its firm grip on our societies.
So the fake concerns for mad cow disease led to the real problem of Amazon deforestation which causes fake concerns over catastrophic global warming and is now leading us toward the real 'solutions' of REDD and carbon trading. (Shub Niggurath Climate)
For a novelty, they haven't blamed "climate change": Ice collision creates floating Antarctic climate lab
WHEN a 78km tongue of ice split from the Mertz Glacier in east Antarctica last January, it established a natural laboratory.

The lab will enable scientists to understand the evolution of deep-sea life, the workings of ocean currents and the future of global temperatures.

The ice breakaway, or calving, was the result of a collision with a 97km iceberg and had nothing to do with climate change. (The Australian)
They're right in one respect: Dirty Coal, Clean Future
To environmentalists, "clean coal" is an insulting oxymoron. But for now, the only way to meet the world's energy needs, and to arrest climate change before it produces irreversible cataclysm, is to use coal—dirty, sooty, toxic coal—in more-sustainable ways. The good news is that new technologies are making this possible. China is now the leader in this area, the Google and Intel of the energy world. If we are serious about global warming, America needs to work with China to build a greener future on a foundation of coal. Otherwise, the clean-energy revolution will leave us behind, with grave costs for the world's climate and our economy. (The Atlantic)
Wind farms becalmed just when needed the most
Wind farms in Britain generated practically no electricity during the recent cold spell, raising fresh concerns about whether they could be relied upon to meet the country's energy needs. (TDT)
Wind power could put birds at risk
One of the nation's largest bird conservation groups says rapid construction of wind energy projects will endanger several avian species.

That includes the whooping crane, a famous migratory bird and annual visitor to central Nebraska.

Officials with American Bird Conservancy on Wednesday cited data from the U.S. Fish and Wildlife Service that estimates 400,000 birds of various species are killed by turbine blades annually.

The conservation group's concerns come as state and national officials push to expand wind energy development in the coming years. (Omaha World Herald)
Really shiny white elephant: Solar Plant to Generate Power After Sundown
Something new is headed for the Southwest desert: solar power plants that can make electricity whether or not the sun is shining.

Abengoa Solar Inc. expects to start construction in mid-2011 on a plant in Arizona that will store sun-generated heat to provide six extra hours a day of electric-generating capacity. The heat creates steam that is used to turn power turbines.


Rebecca Smith looks at solar power plants that can make electricity whether or not the sun is shining, including one scheduled to be built in Arizona in mid-2011.

Abengoa's $2 billion Solana plant is expected to be the first major stored-heat plant in the U.S. when it enters service in 2013. Some already exist in Spain and a few more are on the drawing board for Nevada and California. (WSJ)